Corby railway line re-opens
15 June 2019, 12:51 | Updated: 15 June 2019, 13:02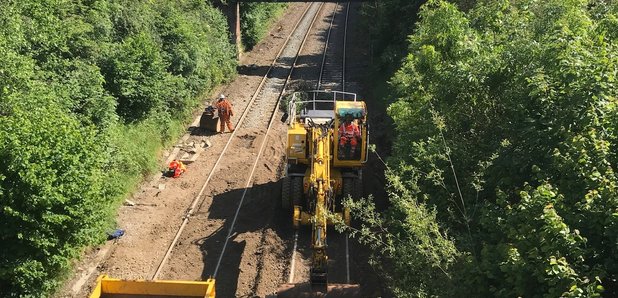 The railway between Corby, Oakham and Melton Mowbray has now reopened with train services able to run on the line once more.
On Thursday, 13 June a landslip and flooding meant the line had to be closed with no trains able to use that stretch of the railway.
It all began at around 4pm, when an East Midlands Trains at slow speed juddered to a halt after slipping off the tracks.
Attempts were made to evacuate the train with passengers being moved to another service heading in the opposite direction around 3 hours later.
But after moving slowlyy away from the landslip, the de-facto rescue train itself became stranded - returning to the original location after movements back and forth around 5 hours after the original incident.
Passengers were eventually walked back to Corby station in the dark to be put on replacement buses around EIGHT HOURS after the carriages first became stranded - with most people not getting home until the early hours.
Network Rail engineers say they worked around the clock to remove 40 tonnes of material from line and reopen the railway.

Whilst the line was closed, train services ran on diversionary routes.
Network Rail and East Midlands Trains say they want to thank all those effected by what happened for their patience and apologise for any disruption caused.