Tributes to Lauda from F1 in Beds, Bucks, Northants
21 May 2019, 12:50 | Updated: 21 May 2019, 12:53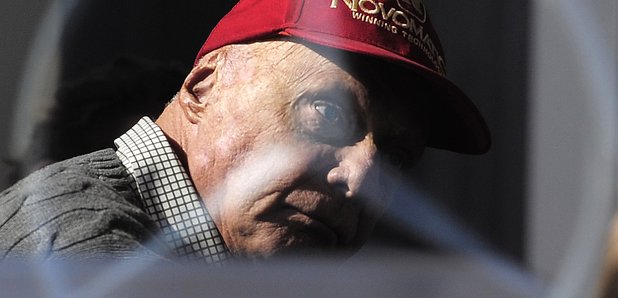 Three-time Formula One world champion Niki Lauda has died at the age of 70.
His family said the former racing driver "passed away peacefully".
MERCEDES TRIBUTES
The Northamptonshire based Mercedes team in Brackley have paid tribute this morning with team principal Toto Wolff leading the tributes to Lauder, the team's chairman saying his death "leaves a void in Formula One".

He said:

"Niki will always remain one of the greatest legends of our sport - he combined heroism, humanity and honesty inside and outside the cockpit. His passing leaves a void in Formula One.

Niki, you are quite simple irreplaceable, there will never be another like you. It was our honour to call you our chairman - and my privilege to call you my friend."

Mercedes tweeted a photograph of Lauda smiling with a love heart emoji and the words "Niki, 1949 - 2019"

FIA president Jean Todt sent his condolences in a Twitter post, which read:

"Niki Lauda was a hero of motor sport, who inspired me in my youth. He is a milestone in the history of @F1. All my thoughts go out to his family, friends and @MercedesAMGF1 team. #NikiLauda #F1."

Tributes continued to pour in for the Austrian, who was called a "legend" by British racing driver Jenson Button.

He tweeted: "A legend has left us. Rest in peace Niki."

Lauda narrowly escaped death in 1976 when his Ferrari crashed at the Nurburgring in Germany.

He made a miraculous recovery despite horrific burns and finished second in the championship to James Hunt.

The rivalry between the pair was later made into a film starring Daniel Bruhl as Lauda and Chris Hemsworth as Hunt in 2013.

Lauda went on to win two of his three titles as well as becoming a prominent figure in the aviation industry.

In 1979 he left the sport to concentrate on setting up his airline, Lauda Air.

He briefly returned to racing following an offer from McLaren, winning the F1 drivers' championship for a third time in 1984, before retiring for good the following year.

Lauda founded a new airline, Niki, in 2003.

In later years, he served as the non-executive chairman of the Mercedes team and formed a close bond with driver Lewis Hamilton, who joined the team in 2013.
RED BULL
Milton Keynes based Red Bull team principal Christian Horner posted on Instagram:

"Rest in peace to an #F1 legend that I was lucky enough to call a friend.

A very sad day for the entire motorsport community.

All at @redbullracing share their thoughts with Niki's family and friends at this time. Godspeed Niki."

Red Bull driver Max Verstappen tweeted:

"Shocked by the loss of Niki Lauda. He was a true legend in our sport and someone I had great respect for. May he rest in peace #RIPNiki."

Over the past few decades, Lauda twice underwent kidney transplants, receiving an organ donated by his brother in 1997 and a kidney donated by his girlfriend in 2005.

In August last year, he underwent a lung transplant that the Vienna General Hospital said was made necessary by a "serious lung illness."

He was released for rehabilitation nearly four months later but was back in hospital in January with influenza.

The doctor that performed the transplant, Walter Klepetko, confirmed his death early on Tuesday morning, the Associated Press reported.

Lauda is survived by his second wife Birgit, and his children, Max, Mia, Mathias, Lukas and Christoph.
CRANFIELD
Academics from across Cranfield University, have today paid tribute to the impact of Lauda had on the world of motorsport, aviation and business.

Professor Mark Jenkins, Professor of Business Strategy at Cranfield School of Management, said:

"Our thoughts today are with the Lauda, Ferrari, Mercedes and wider Formula 1 family. Niki Lauda was one of motorsport's giants. Very few have made the transition from world champion driver, to successful entrepreneur and a leading executive at Mercedes.

It was a great privilege to have had the opportunity to sit down with him and get his insights into what makes a great team. His entrepreneurial spirit, his quest for innovation and drive for constant improvement, all delivered in his characteristic, no-nonsense style are lessons that all leaders can learn from."

Andy Foster, Senior Lecturer in Air Transport, said:

"Many will know Niki Lauda for his career in motor racing and the impact he had on the sport. Fewer people, outside the industry, will know of his impact on the aviation sector. His death is a loss for the aviation industry, as well as for the millions of motor racing fans across the world.

As a pilot and an airline entrepreneur he was involved in the setting up and running of three renowned airlines – LaudaAir, Niki and, more recently, Laudamotion – the latter's aircraft carry his name today under the ownership of Ryanair. He was also a Bombardier Business Aviation ambassador."