Royal Mail responds to grieving boy, 7, who posted letter to 'dad in heaven'
29 November 2018, 12:49 | Updated: 29 November 2018, 12:51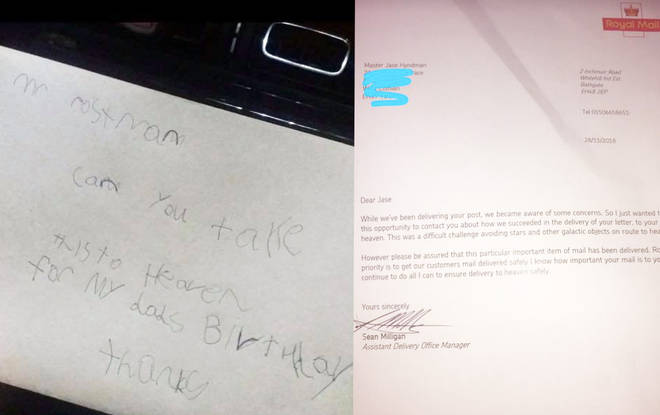 Royal Mail said they had a "difficult challenge avoiding stars and other galactic objects on route to heaven" but assured the 7-year-old his letter was delivered.
A little boy who penned a note to Royal Mail asking to post a birthday letter to his father "in heaven" was met with a tear-jerking response from the courier.
Jase Copland, seven, wrote a note to his father and asked Royal Mail: "Can you take this to heaven for my dad's birthday?"
His mum Teri, from West Lothaian Scotland, was left delighted when staff sent a reply that claimed couriers had "avoided stars and galactic objects" to make sure the letter was delivered on time for his late father's birthday.
Sharing the note on Facebook she said: "A few weeks ago my seven-year-old son posted this card to his dad in heaven and today he got a lovely reply from the postman.
"I actually cannot state how emotional he is knowing his dad got his card."You didn't have to make the effort to do this you could have just ignored it but the fact that yous have made the effort for a little boy you've never met is such a lovely thing to do.
"Royal Mail you've just restored my faith in humanity and thank you it honestly means the world to him please share this so all the staff at Royal Mail know just how grateful we are. Thanks and Merry Christmas."
Posting both pictures side by side, one was a letter typed up on official Royal Mail monogramed paper next to the handwritten letter from Jase.
Royal Mail's Assistant Delivery Office Manager, Sean Milligan, wrote: "While we've been delivering your post, we became aware of some concerns.
So I just wanted to take this opportunity to contact you about how we succeeded in the delivery of your letter, to your dad in heaven.
"This was a difficult challenge avoiding stars and other galactic objects on route to heaven.
However please be assured that this particular important item of mail has been delivered.
"Royal Mail's priority is to get our customers mail delivered safely, I know how important your mail is to you.I will continue to do all I can to ensure delivery to heaven safely."