Family claim their house is haunted after capturing footage of objects moving on their own
31 October 2018, 12:32 | Updated: 31 October 2018, 17:09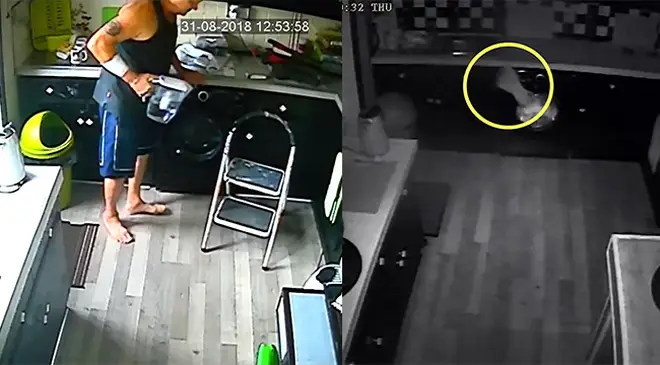 A family convinced their house is being haunted by ghosts have now caught camera evidence of some creepy goings on happening right under their nose.
Husband and wife Robert and Pauline believe the have caught video evidence of a ghoul caught haunting their home on CCTV and think it's following their son Barry, 33. 
The trio have been terrorised by spooky goings-on in their Gravesend, Kent, home over a six year period but after capturing the footage believe it is getting worse and worse.
The eerie video shows Robert place a pair of stepladders down in the kitchen only for them to open on their own.
The family have been so shaken by the events that they are now trying to arrange for a vicar to come and bless the house.
54-year-old Robert said: "I rested the ladder against the side then went to put the kettle on. It only took a couple of seconds.
"Then I realised the ladders were open. They can't do it by themselves because they have rubber feet.
"So I asked Pauline if she moved the ladder but she wasn't in the kitchen. 
"At first I thought it was the dogs or the wind but once I realised it wasn't any of them I checked the cameras and saw it move.
"It looked to me like someone had pulled it open to sit on."
Much of the activity centres around their son Barry and it has led the family to believe it could be a 'demon' that has become attached to him. 
More CCTV footage shows a mug moving on its own as Barry tries to pour hot water into it, a tea towel being thrown across the room in the middle of the night and a chair swivelling around on its own.
Speaking of the terrifying series of events Robert said:"I know Barry and Pauline are scared. I am but I am a bit worried because I like to think things through and find the answer but on this, I can't.
"Pauline did suggest us moving but I don't want to run. If it is a ghost or spirit, what would stop it from coming with us?
"Now Pauline has made me promise to go to the church we got married in and ask the vicar to come bless the house.
"I need to protect my family and I don't know how to. If I was worried I would not show it. They depend on me not being scared.
"I don't know if it is a ghost or a sprite or something else but something is here and we need to find out who or what."
One thing's for sure, Pauline is adamant that" it was not a figment of my imagination."
Do you believe in ghosts?