Are flights still being cancelled? Latest from flight checker, airports and airlines
30 August 2023, 11:29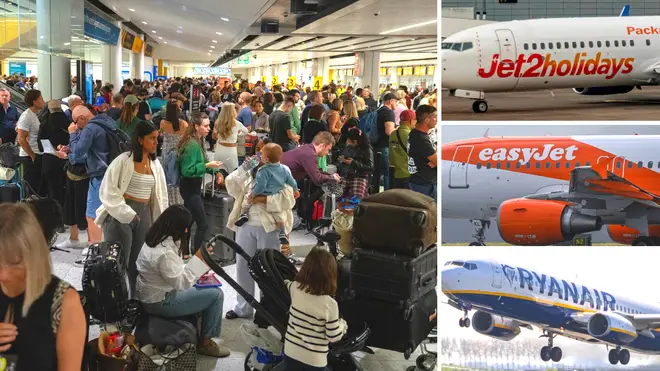 Are flights still be cancelled across UK airports, what is the latest on delays and how can I find out if my flight it delayed?
Thousands of holidaymakers have been left stranded in airports this week after a technical issue caused the UK Air Traffic Control System to fail.
While the issue, which occurred on Monday 28th August, has now been fixed, there are still significant delays across airlines and airports.
Airports across the UK such as London Stansted, London Heathrow and Manchester Airport have been keeping passengers updated as they await their flights to either return to the UK or fly abroad.
The main message from there airports is that while delays are reducing, passengers should check with their airlines and flight checkers before setting off to the airport.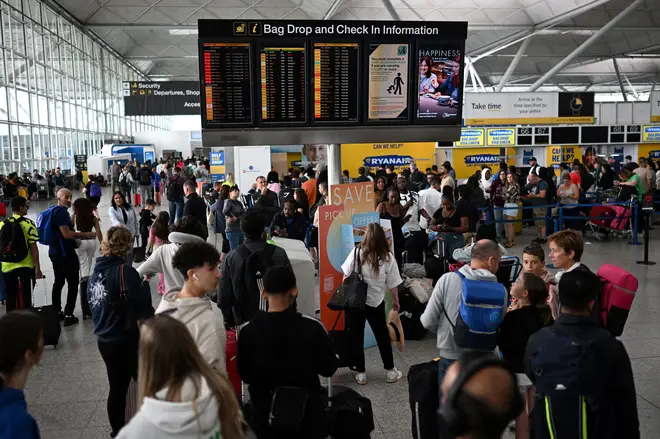 Here's the latest messages from the airports:
Latest from Heathrow Airport
Heathrow Airport have said in a statement shared online like they are still suffering from disruptions, but that most passengers will be able to travel as planned through the airport today.
They added, however, that people should still check with their airline for the latest details about their flight before travelling to the airport.
Latest from Gatwick Airport
Gatwick Airport confirmed delays and cancellations on Monday when the National Air Traffic Services' fault occurred.
The airport revealed plans to operate as scheduled on Tuesday, however, told passengers to check their flight status before travelling to their airport.
Latest from London Luton Airport
The most recent update from London Luton Airport was posted on Tuesday, where they explained that the Air Traffic Control disruptions meant flights "may be subject to delay or cancellation" before adding that people should "check with their airline for the latest status on their flight".
Latest from London Stansted Airport
Stanstead Airport told passengers on Tuesday they they are operating a "near normal" flight schedule, but added that some delays and cancellations may still occur.
They also warned of busier airports due to those with cancelled or delayed travel plans.
Latest from Manchester Airport
Manchester Airport were still reporting delays and cancellations on Tuesday this week, and warned people of busier terminals.
They added that people travelling to the airport for a flight should check with their airlines before leaving for their journey.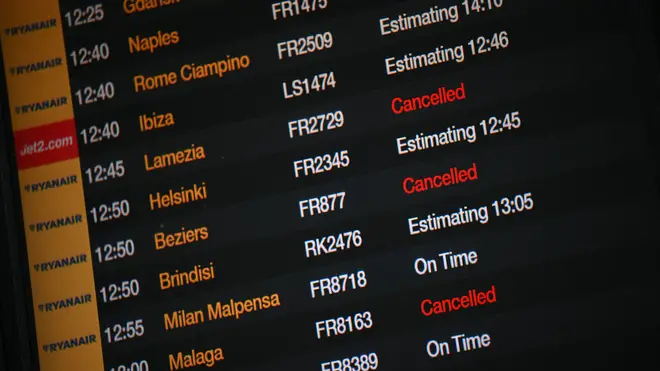 Here's what the airlines are saying:
EasyJet
EasyJet released a statement on Monday following the Air Traffic Control system failure, updating their customers on delays and cancellations.
They wrote: "We have been advised of an Air Traffic Control systems failure affecting UK airspace, which is currently causing disruption to flying programmes for airlines operating to and from the UK.
"We are providing customers on cancelled flights with the option to transfer their flight free of charge or receive a refund and recommend that all passengers flying with us today, regardless of their destination, check the status of their flight on our Flight Tracker for real time information before travelling to the airport."
EasyJet added: "The safety and wellbeing of our customers and crew is our highest priority and while these circumstances are outside of our control, we would like to apologise for the inconvenience caused and to reassure customers that we are doing everything possible to minimise the impact of the disruption.
You can check the status of your EasyJet flight here.
Ryanair
On Tuesday, Ryanair CEO Michael O'Leary told passengers that they sadly had to cancel around 250 flights due to the Air Traffic Control failure, affecting around 40,000 passengers.
He added that they would have to cancel a further 70 flights on Tuesday, but that on Wednesday operations would return to normal.
You can check your Ryanair flight status here.
Jet2
Jet2 are still experiencing delays on Wednesday, 30th August, due to the Air Control System failure on Monday.
They have explained that this is due to a "knock-on" effect, which means some flights will be delayed until tomorrow (Thursday).
You can check your Jet2 flight status here.
Here's where you can check other airline flight statuses: