Eleanor Cross work being in Northampton
1 April 2019, 12:10 | Updated: 1 April 2019, 12:12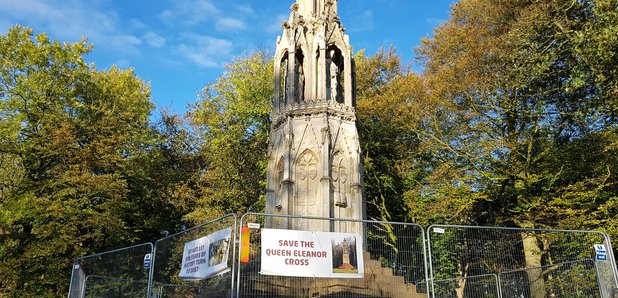 Conservation work begins today on Northampton's historic Eleanor Cross.
A site set-up begins today with scaffolding going up around the monument in due course ahead of the main work.

During previous exploration work, expert expert conservators and a specialist engineer had revealed issues with degraded iron cramps which were more than a century old.

These were last weatherproofed in the 1980s and might now need to be replaced with more durable stainless steel equivalents.

The Cross, situated at the southern end of London Road close to Delapré Wood, was commissioned by Edward I between 1291 and 1294.

Only three of twelve original monuments remain.

Each marks one of the nightly resting places of the King's wife, Queen Eleanor of Castile's, funeral procession between Harby, near Lincoln, to London.