Hospice gives worried kids a virtual re-assurance
2 April 2019, 18:12 | Updated: 2 April 2019, 18:24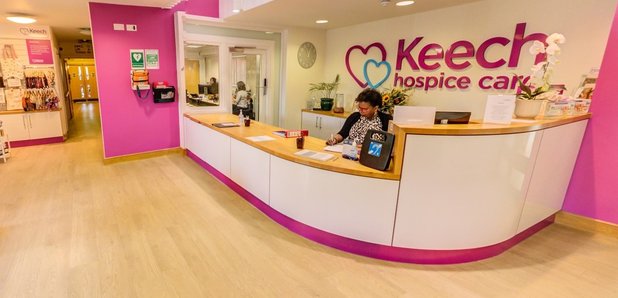 Virtual tours have become available to help families of children with life-limiting or terminal illness in Herts, Beds and Milton Keynes - better understand the care available at one of the region's hospices.
A dad whose terminally ill baby sadly died at a children's hospice is backing the launch of a cutting-edge virtual tour to help families like his discover the wonderful care it provides.

Tim Butler from Welwyn Garden City came to Keech Hospice Care in Luton for the first time when his baby son Alexander was seriously ill last year and now wants everyone else to see what a special place it is too.

"We said goodbye to our baby son Alexander at Keech when he was just days old. The staff made the end of his short life a very personal experience and were so supportive.

We spent a truly magical morning together outside in the garden with the sun shining and shared some special memories which will stay with us forever. The garden especially was such a beautiful setting to be in at the most difficult time in our lives. People just need to see what a wonderful place the hospice is."

Thanks to the new technology, the charity, which cares for adults in Luton and south Bedfordshire, and children in Bedfordshire, Hertfordshire and Milton Keynes, is now able to open its doors to everyone online, helping people to explore the facility from the comfort of their own home.

Elaine Tolliday, Clinical Director at Keech Hospice Care, said she hopes the virtual tour will encourage more children and adults with terminal or life-limiting illnesses and their families like Tim's to access the excellent care and support the hospice can offer.

"Many seriously ill children and adults who are referred to us for the first time are understandably worried, as are their families - and we want to change that. They have this misconception that hospices are dark and gloomy, but as soon as you step through the doors, you know Keech is a special place," said Elaine.

Previously, the charity's community teams didn't have a way to show families what the building looked like inside before they visited for the first time. Now, thanks to this incredible technology, staff can guide them around the building using specialised virtual reality headsets as if they are really there, showing them there truly is nothing to be afraid of.

"This new tool will be invaluable for staff to help change what people think about visiting a hospice. GPs and health professionals can use it too to demonstrate to patients that Keech is a warm and welcoming environment right from the moment when they make a referral," said Elaine.

Louis Cooper, Digital Marketing Officer at Keech Hospice Care, said:
"The virtual reality tour includes high definition 360-degree images of our amazing facilities, from our modern hydrotherapy pool to our beautiful gardens at the hospice. It has an easy-to-use menu, so people can find their way around even if they've never visited us before. It's an immersive experience and you really feel like you're at the hospice."