Sywell fire - closures remain
7 May 2019, 18:43 | Updated: 7 May 2019, 18:50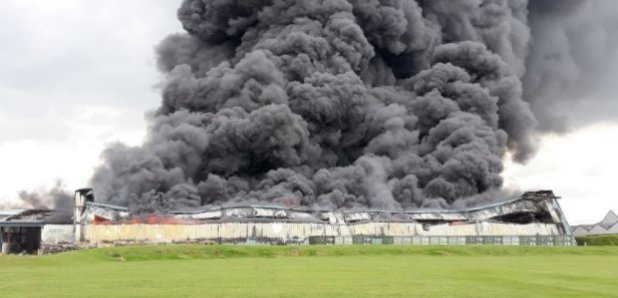 After a fire broke out at the Sywell Aerodrome near Northampton, it sparked a "huge dust cloud" - with warnings homes and businesses across the area should keep doors and windows closed
Huge plumes of dark grey smoke were seen rising into the sky above Sywell Aerodrome Business Park in Wellingborough Road.

Fire crews were called at 1247pm (today 7th May 2019) to the blaze at a factory, and workers from surrounding businesses were evacuated.

The service said the building where the blaze happened was not occupied at the time, and there are not thought to be any casualties.

Rob Doyle, a local resident, said:
"It's a huge dust cloud and whilst we were there, the police advised that the roof of the buildings that went up was asbestos, so bit of a health concern for local residents and further afield."

He added that he believed dust was spreading and settling miles away from the scene.

Rachel Noding, who works in a marketing business near to where the fire broke out, said she and her colleagues were shocked at how quickly it spread.

She said:
"The fire took hold really quickly. Within 20 minutes it was just massive. It was quite scary."

Residents have been advised to shut their windows and doors for health and safety reasons while the firefighters tackle the blaze.

A number of road closures are in place:
• Glebe Road - shut at the junction with Wellingborough Road
• Holcot Lane - shut at the junction with Overstone Road
• Holcot Lane - shut at the junction with A43
• Sywell Road - shut at the junction with Overstone Road
• Church Lane - shut at the junction of Sywell Road
• Sywell Road - shut at the junction with Wellingborough Road
• Traffic management is in place at the junction of Sywell Road/Moonshine Gap
Northants Fire & Rescue Service Area Manager Paul Greenwood said:

"We have around 15 fire service vehicles at the scene, including two aerial ladder platforms, two water bowsers, a high-volume pump, and our joint command unit.

Although the affected building has been badly damaged, crews have been able to prevent the fire from spreading and causing further damage to nearby buildings and property."

Those living nearby or affected by the smoke plume or ash from the fire are urged to close windows and doors and avoid unnecessary exposure. Drivers are also asked to avoid the area while the fire is dealt with.

AM Greenwood said:

"All smoke is toxic. This is why we have issued precautionary advice about avoiding the smoke as much as possible and keeping windows and doors closed, especially if you are downwind of the fire."

Two people have received medical attention for smoke inhalation, but there are not believed to be any casualties as a result of the fire.

Northamptonshire Police has a presence at the scene to support NFRS colleagues, along with colleagues from East Midlands Ambulance Service (EMAS).