Tesco Christmas advert 2018: When is it aired, what's the song and what was the Tesco ad in 2017
7 November 2018, 06:19 | Updated: 7 November 2018, 08:00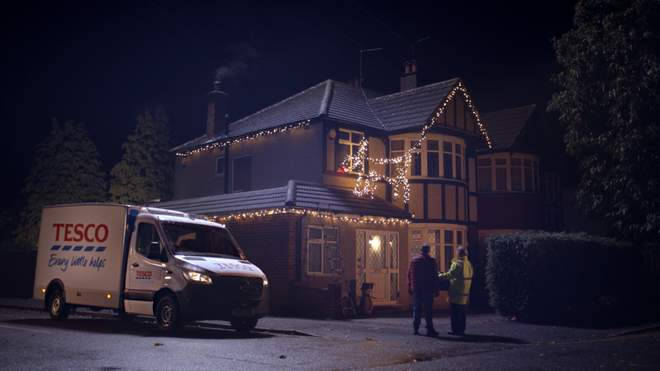 Christmas isn't just about waiting for Santa... festive adverts are just as anticipated
When did Tesco's 2018 advert first air?
Tesco's Christmas advert premiered on November 6 2018, and was dubbed "However You Do Christmas".
However, unlike most ads, this one is broken in to minute-long sections that will be aired all the way up to Christmas.
What happens in the Tesco 2018 advert?
Tesco's Christmas adverts focus on the different ways people celebrate Christmas.
The first advert featured several different households all enjoying their own festive rituals.
One family plays board games, while another takes selfies. An older man enjoys a brisk ramble, while a couple bed down for the day on the sofa.
There's also a nod to people working on December 25th - and the nativity story - with a midwife comforting a new mum and her baby.
Alessandra Bellini, Tesco Chief Customer Officer said: "We know our customers each have their own Christmas traditions to help them celebrate.
"Whether it's choosing turkey or goose, a full vegetarian or vegan option or having Yorkshire puddings with Christmas dinner, this year our campaign celebrates the festive favourites and little quirks that make Christmas so special."
What song is used in the Tesco 2018 advert?
The advert soundtrack is a cover of Fleetwood Mac's You Can Go Your Own Way.
While it is hard to make out the track in the first ad, the chances are it will feature more prominently as the narrative develops.
What was the Tesco 2017 Christmas advert?
Last year's Tesco advert - "Turkey, every which way" - again featured all the different ways people celebrate Christmas across Britain.
It showed the birds being roasted, forced in to too-small ovens, and turned in to sandwiches as the finale.
It caused controversy because it featured a Muslim family gathering to spend the festive period together - which some people thought was inappropriate as Christmas is a Christian holiday.