Dad raises £240,000 to build skate park for kids
17 December 2018, 12:01 | Updated: 17 December 2018, 12:42

Promoted by TSB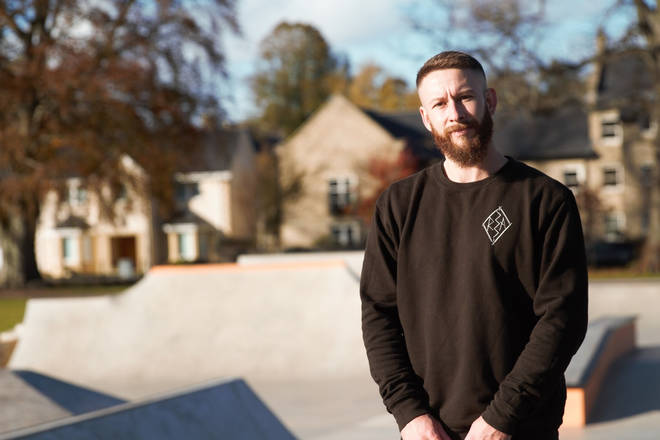 Skater dad is passionate about fitness and has raised more than £240,000 to build a skate park for kids.
He's known to his fans as the Bearded Ninja, but down to earth Ali Hay is a superstar to his local community.
The talented and fitness-mad Scot has won hearts and minds for his drive and determination to not only raise the funds - but go on to help build - a skate park for children in his home town of Kelso.
Ali was honoured at the Mirror's Pride of Sport Awards, in partnership with TSB.
He collected the TSB Community Partner Award at the glittering event to honour the unsung heroes of grassroots sport, hosted by TV star Ben Shephard at London's Grosvenor House.
Ali started skating when he was younger, but there weren't any facilities for him to hone his skills anywhere in the rural Scottish borders. The nearest park was Edinburgh.
When he went travelling around the world, his passion for the sport was re-ignited.
"I found it was really unifying. Wherever I went, people would come together in skate parks to stay fit and learn sports. There was a real sense of community," he says.
He dreamt of creating this community spirit on his doorstep, so when he got back home, in 2011, he worked with the council to create a skatepark in his area.
Five years on, it was no longer fit for purpose, so Ali ploughed his energy into creating an innovative state-of-the-art concrete one - the first of its kind in the area.
The ambitious project took two years and Ali, 30, didn't just fundraise, he designed it, shovelled dirt and planted flowers.
He did all this while juggling two businesses and his two young sons.
He also has chronic asthma and is an ambassador for Asthma UK.
All his hard work was worth it, and now the Kelso Skate Park is open 24/7. Not only is it "an escape for so many people", but has also helped tackle social issues and bring the community together.
"We've seen the park make a real difference to people's lives," says Ali. "There's a few kids who are autistic and the thing they struggled with the most is social cues - they could be standing in the way but not realise it or say something upsetting without understanding why.
"But since we built the park, the kids are so much more relaxed. If it wasn't here, they could be sat in their rooms not learning these skills."
The dad of two also believes that the park has provided a safe space for teens to channel their energies and deter them from going down destructive paths.
"There are a lot of kids whose home lives aren't stable and so they use the park as a place where they can let loose. I know from being a young guy that if you have nothing in your area to put your energy into, it's hard not to go down those routes."
Ali, who has reached the final of ITV's Ninja Warrior for the last two years, has high hopes for the talented youngsters.
"We've got a lot of kids who look they could go pro and possibly become Olympians.
"The sky is the limit for these young girls and guys. To see my dream come to life and being enjoyed by so many people is a crazy thing."
TSB are all about people helping people. That's why they are proud to share stories like these. 
Find more stories over on our interactive map