Outrage as skint dad pleads for £2,000 to give his five kids a 'Christmas to remember'
19 November 2018, 12:16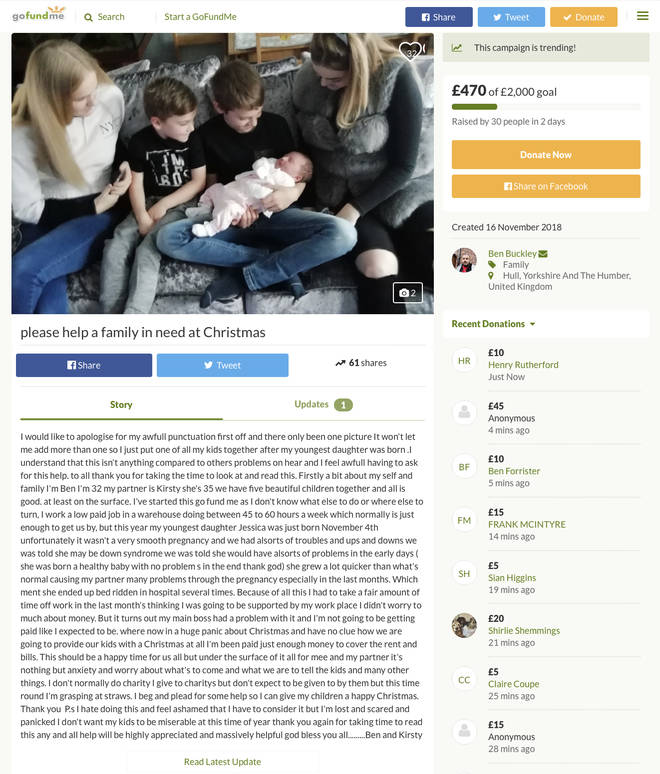 Ben Buckley claims he has no other choice but beg for donations after having to reduce his hours at work to look after his sick wife.
A struggling dad has divided opinion after asking strangers to donate thousands of pounds to fund his family's Christmas.
Ben Buckley, 32, has launched a GoFundMe page requesting £2,000 to give his wife and five kids a "Christmas to remember".
He claims that he was forced to cut his hours at work to when his wife Kirsty, 35, was hospitalised with a lung infection when she fell ill during an already "complicated" pregnancy - and now he's scared he won't be able to afford Christmas for her and their brood of five.
Speaking to Hull Live, the warehouse worker said: "My partner fell pregnant earlier this year and it was quite complicated. We had ups and downs over the last few months.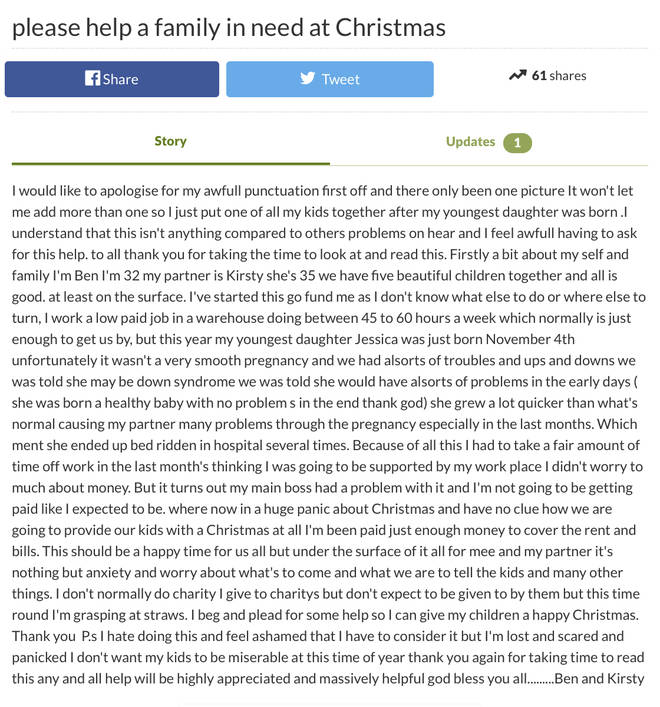 "She ended up in hospital two or three times with a lung infection so I had to take time off work to help out. Her breathing was laboured and had to go on oxygen for four days straight.
"My contract at work was only 24 hours per week but I did overtime up to 45 hours to make it up. I ended up suffering for a few months when I didn't get my full wage.
"We don't have a big family network. My mum and dad only make enough to fund themselves so they couldn't help, so I didn't know where to turn and what to do.
"We just need a bit of help. I'm struggling and panicking."
At time of publication, he has received £554 in donations - and a lot of abuse for demanding money when plenty of other families are in a similar boat, or worse off.
He added that the whole scenario - his wife's health, money worries, stress of an extra mouth to feed - has spoilt the start of what should be a joyful season, but a cash injection would help put a smile on their faces.
He said: "This should be a happy time for us all, but under the surface of it all for me and my partner, it's nothing but anxiety and worry about what's to come and what we are to tell the kids and many other things.

"I'm feeling a lot of panic and anxiety and feeling shameful. It feels embarrassing but I've never felt like going doing that (crowdfunding route) before.
"I've never done it before. It's what I figured would make things comfortable.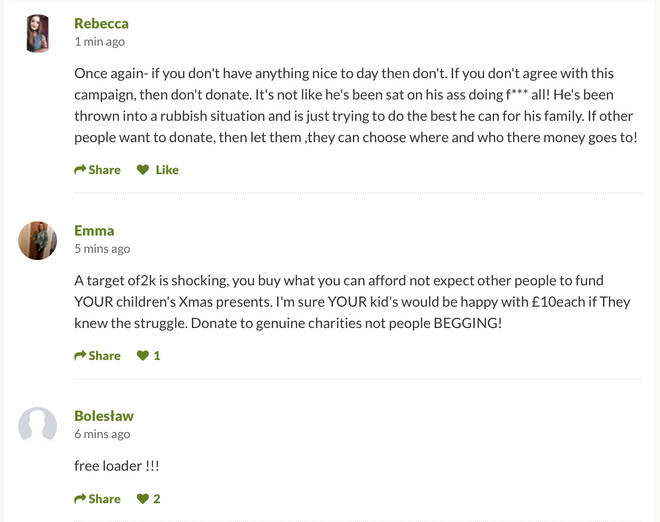 "At the minute, what I have coming in covers surviving. I don't like the feeling of being a charity case. I don't like to feel like I'm begging."
However, people were quick to slam Ben for even daring to ask for handouts.
One commented: "Ben, I was born with no hands and I wear two artificial legs below the knee. I am married and we have one adopted daughter.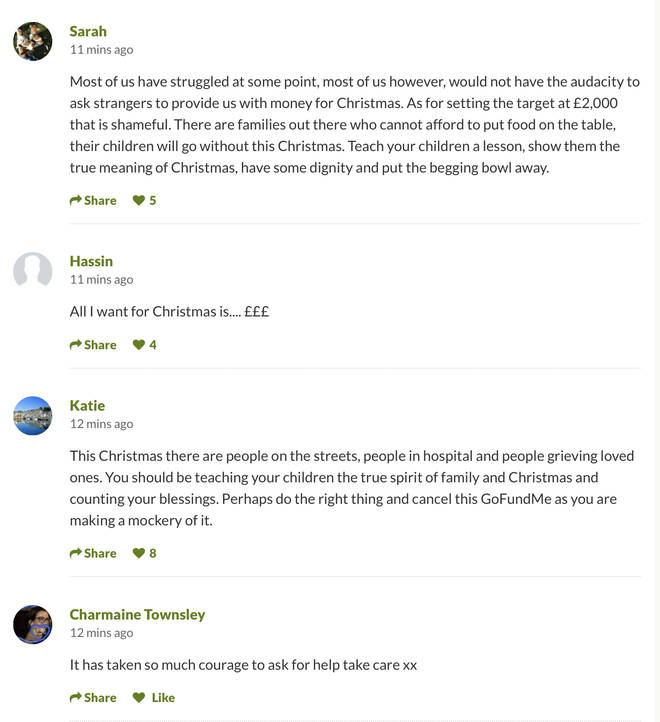 "I was made to work so hard and school and I really struggled. The school was four floors, no lift and I had to carry all books and belongings. I then went to Uni and struggled there.
"Do you know what though, hard work pays off and I have (thank God) never asked anyone for help. Its about dignity and self respect. I could easily start begging and asking for money and I am sure in my situation I would get thousands.
"Ben, man to man you need to get a grip. Everyone has issues, I don't understand why you feel lost, scared and panicked! You should be thankful you are in the UK and that there is so much help available."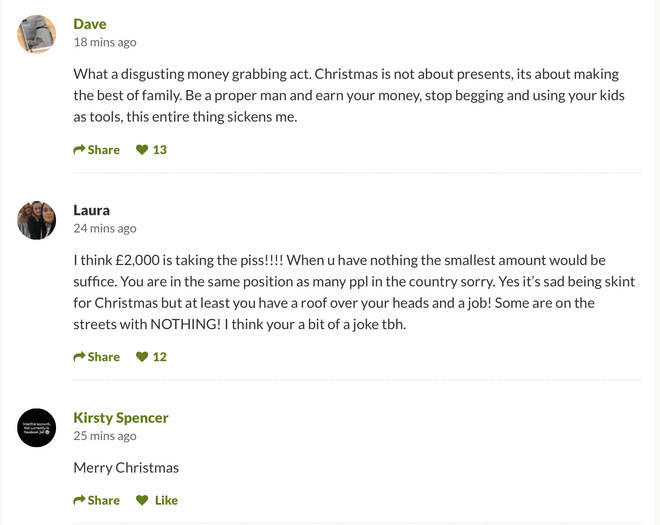 Another raged: "Get a grip of yourself the whole country is struggling what a joke stop scabbing from others and get handle on your life I'm a single parent with 2 children and I'm giving my kids a Christmas I can afford your just greedy and you think everyone owes you something you should be ashamed of yourself."
And one commenter claimed that in the future, Ben's kids would need counselling to deal with his actions.
They posted: "Maybe your kids could start a funding page when they grow up = "WE NEED FUNDING FOR COUNSELLING BECAUSE OUR DAD SPENT £2000 OF GREEDY SELFISH BEGGING MONEY ON US SO WE HAVE NO APPRECIATION FOR THE VALUE OF MONEY AND WE JUST WANT TO SPONGE AND GET EVERYTHING FOR FREE."