The best ways to enjoy nature with your kids this autumn
1 October 2018, 17:18 | Updated: 1 October 2018, 17:21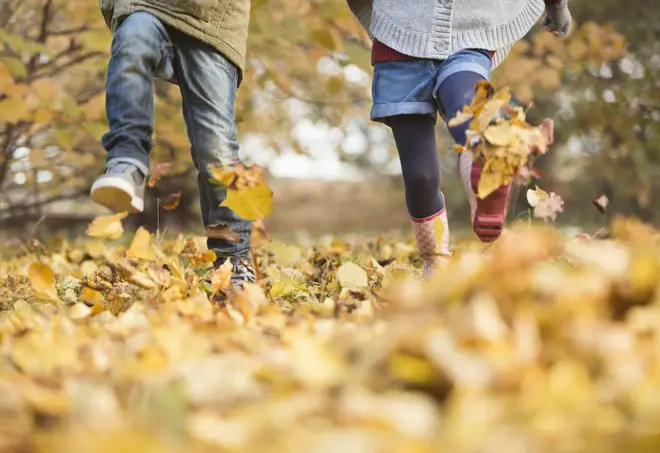 Promoted by Kleenex
Autumn brings a change in weather and for kids it brings more fun! There are puddles to be jumped in, piles of leaves to be kicked. The entertainment doesn't stop but neither does the mess.
Scavenger hunt

Make the most of the autumn weather and head outdoors.

Picture: Getty

Pay attention to how nature has changed this season with a fun scavenger hunt with the kids.

Head to the local nature reserve or park and hunt down some typically autumnal features of the great outdoors such as orange leaves, red leaves, pine cones, acorns squirrels and more.

To make it even more interactive, mock up a fun checklist using images found online and arm the kids with a clipboard and a pen - the first one to find the whole list wins a prize!

For older kids, why not make it even tougher by splitting into teams to hunt find something beginning with each letter of the alphabet! Again, you'll need some paper and a pen, as well as a bag to collect your findings.

Make an autumn collage

Challenge the kids to forage in the garden for some natural materials to make a beautiful autumn collage.

Using leaves, twigs and paints they can make a beautiful picture using materials all found in the great outdoors that would look perfect stuck to the fridge.

Use appropriately autumnal paint colours such as reds, oranges and browns to really make it feel seasonal!

Build a den

Building a den is a lot of fun!

Picture: Getty

The beauty of autumn is that nature is changing but it isn't too cold to enjoy it yet!

Head to a wooded area and help the kids build dens to spend an afternoon picnicking in. Use a tree as a base and build outwards using sticks to make a sturdy structure.

Next layer up a roof using crunchy leaves and you'll have the perfect woodland den in no time! For older children make it competitive, you can play judge and decide whose den is the best.

Nature trail

Spend as much time outdoors as possible before the nights start getting dark again after school.

The best way to do this is swap your usual walk home from school for a nature trail!

See how many different animals you can spot, from squirrels to rabbits, and how many insects you can find on your route home.

Like the scavenger hunt it might be a good idea to make a list of animals to spot that you and the kids can tick off along the way.

Painting pumpkins

Pumpkins look great around the house in autumn.

Picture: Getty

Even if you don't celebrate Halloween, there is no fruit more autumnal than a pumpkin!

Their big orange appearance make them the perfect canvas for a seasonal painting and a great excuse for the kids to splash the paints around.

Challenge them to paint autumnal animals, halloween phantoms and other pretty pictures.
Be prepared for messy days out with the kids with a packet of Kleenex, perfect for those everyday splashes, sniffles and spills! Plus, right now, we're giving one lucky family the chance to win the ultimate countryside weekend. Click here to enter.