First Minister opens new University of the West of Scotland campus
24 June 2019, 12:38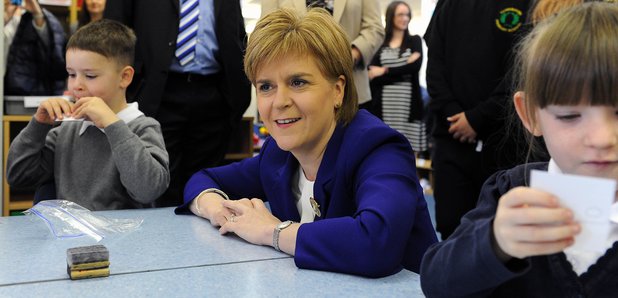 A new University of the West of Scotland campus has been officially opened by First Minister Nicola Sturgeon.
The facility, located in Hamilton, opens following the completion of a two-year project and investment of around £110 million.

At a special ceremony on Monday, students and staff joined invited guests including the First Minister and former lord advocate Dame Elish Angiolini to declare the campus open.

Having toured the grounds, the First Minister said it would be a "fantastic addition" to the country's higher education sector.

"With top-class teaching spaces and state-of-the-art labs hosted in buildings that are entirely powered by renewables, the new UWS Lanarkshire campus is a fantastic addition to Scotland's higher education sector," she said.

"It was a pleasure to officially open the campus and hear from students who are benefiting from the new facilities, which are expected to bring a major economic boost to the region over the next few decades.

"By focusing on providing practical and immersive training, the UWS Lanarkshire Campus is helping students to get the real-life experience and confidence they need to enter into the workforce."

Among the facilities available at the campus is an environmental chamber, which is one of only two in the country.

It seeks to replicate environmental extremes, such as temperature and altitude, enabling students to study and research the effects these elements have on the human body.

Professional athletes will also be able to use the chamber to train ahead of intense sporting events.

It was used by the Scotland Women's National football team in their preparations for the World Cup in France this month.

Professor Craig Mahoney, principal and vice-chancellor of the UWS, said: "We are delighted the First Minister has officially opened UWS' Lanarkshire campus, marking a truly momentous occasion in our University's rich history.

"From the outset, UWS Lanarkshire was designed to embody our vision of providing students and staff with a sustainable, dynamic, innovative and highly creative environment, engaging them in personalised, collaborative, technology-rich and exciting academic experiences which we were proud to show the First Minister during her visit today.

"At UWS, we are constantly innovating, both in our ground-breaking research and enterprise activity but also in our world-leading learning and teaching approaches.

"Today we displayed to the First Minister how our vision has become a reality in our Lanarkshire campus and we look forward to witnessing the impact the campus will have for generations to come."