Viewers in tears as OAP comforts girl whose mum has died from cancer on Old People's Home For 4-Year-Olds
9 October 2018, 12:31 | Updated: 9 October 2018, 14:57
The heart-breaking scenes between 4-year-old Scarlett and 84-year-old Beryl left viewers sobbing.
A blossoming friendship between a young girl and a woman 80 years her senior pulled on the nation's heartstrings last night.
Scarlett, 4, and 84-year-old Beryl were the stand out moment on last night's episode of Old People's Home For 4-Year-Olds.
The youngster was tasked with making and writing a card for her parents to invite them to a party - and pensioner Beryl offered to help her.
However, when a care assistant explained Scarlett was to write 'to mummy and daddy' in the card, the youngster responded: "No my mum died, so Gran-Gran and daddy."
READ MORE: Four year olds attempt to explain marriage and it's too real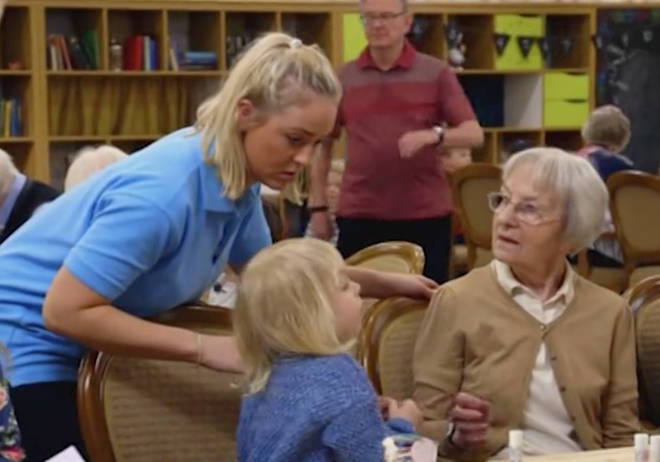 Beryl was then seen guiding Scarlett with her writing, as together they wrote 'to Gran and daddy'.
These heart-warming moments sent social media into an emotional mess, with many fans openly admitting to sobbing at the scenes.
One wrote: "When Scarlett politely announced that her mummy had died so she couldn't invite her to the party...my heart", whilst another posted: "Old people's home for 4 year olds has got me in a complete mess."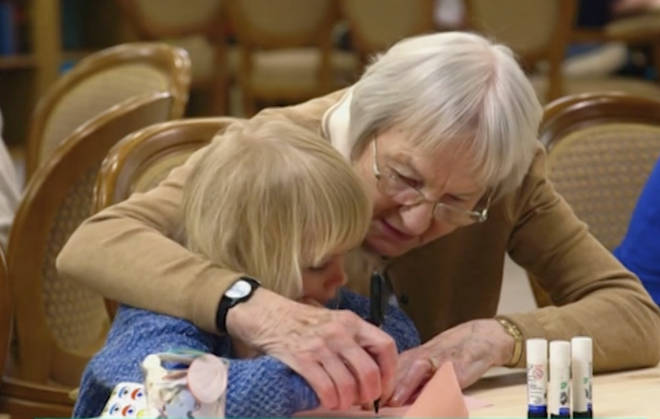 The popular show documents a group of 4-year-olds, who are unleashed onto the residents of a care home in Nottingham.
This is the second series, after last year's Bristol-based experiment received rave reviews.
Makers of the show also produced a spin-off Christmas special, in which the tots encouraged their old friends to enjoy a snowball fight.
Old People's Home For 4 Year Olds continues on Monday at 9pm on Channel 4.