Outrage as Ruth Langsford makes cuppa... but puts milk in FIRST
22 January 2019, 08:46 | Updated: 7 February 2020, 12:40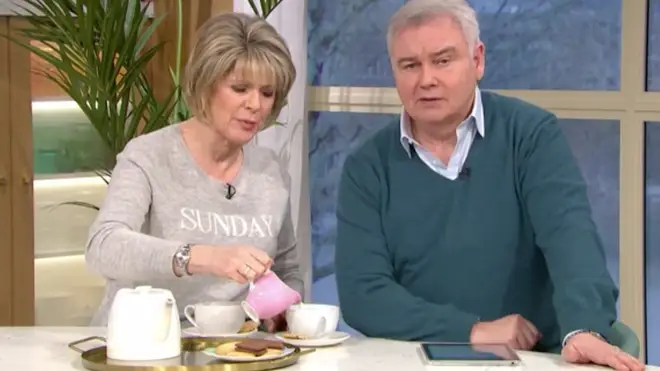 On Sunday's This Morning the telly favourite caused controversy with her hot drink skills.
Ruth Langsford has sparked debate after making a cup of tea... MILK FIRST.
The presenter's hot drink faux-pas came during Sunday's first ever broadcast of This Morning.
Viewers watched on as the 58-year-old poured milk in to the cup ahead of the tea - which thankfully was brewing in a teapot, rather than being dunked in as separate components of teabag and hot water.
Read more: Eamonn Holmes left feeling 'vulnerable' after conman stole £60k
One tweeted: "You put the milk in after!! Milk in first just isn't right!!"
Another said: "Never milk first! Ugh."
Other comments included "I don't even drink hot drinks but come on Ruth we all know the hot water goes in BEFORE the milk"; "Ruth just offered to make tea and put milk first, that's just wrong"; and "Ruth puts milk in her tea first what have I just witnessed! It's tea first then milk surely?"
Read more: Meet Eamonn Holmes' FOUR lookalike kids
Even Davina McCall chimed in and said she was doing it wrong.
However, it seems that the the teapot made Ruth's methods perfectly acceptable.
One viewer explained: "If you're having tea made in a pot its milk in the cup then the ready brewed tea from the pot, if you're making the tea in the cup it's teabag, water then milk!"