Darth Vader in Bristol
25 June 2019, 11:48 | Updated: 25 June 2019, 11:53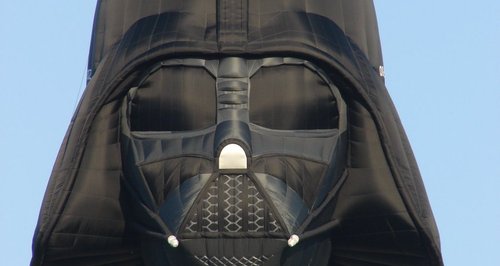 It's hoped a balloon that looks like Darth Vader will take part in this years Bristol Balloon Fiesta.
The balloon - which is basically a giant version of Darth Vader's head - was built in Bristol in 2017, but has never flown in the city despite touring the world.
It's currently in Belgium, but organisers hope to raise the £10,000 they need to pay for the balloon to attend the event in August.
The fiesta is a not for profit event, and costs more than £750,000 to run every year, so organisers hope to also crowdfund money to help with this large cost.
Chris Allcock, chair of the 2019 Bristol International Balloon Fiesta organising committee, commented:
"This year the Fiesta is marking the 'icons of Bristol' in celebration of Concorde's 50th anniversary and the 30th anniversary of Aardman's Wallace and Gromit so it only seems right to bring another Bristol icon back home for the festivities.
"The Darth Vader balloon has been pictured around the world but never against some of its home city's well-known icons so this crowdfunder will hopefully help us change that, while enabling us to raise the funds needed to once again, deliver an event that has become synonymous with the city."
The crowdfunding campaign goes live on Tuesday 25th June and will run until Friday 2 August here
Now in its 41st year, the Fiesta has become one of Europe's largest annual hot air balloon festivals, attracting over half a million locals and visitors alike.