Plans to stop harassment in Bristol
8 April 2019, 16:23 | Updated: 8 April 2019, 16:48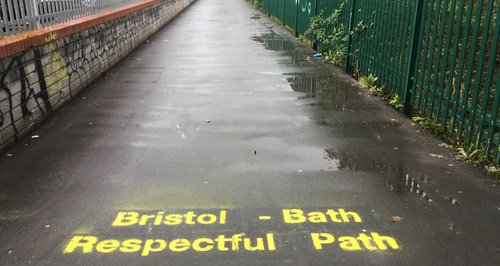 A new campaign has been launched to stop people being harassed in Bristol.
This action is centred on the Bristol to Bath Railway Path, where campaigners from Sustrans and Bristol Zero Tolerance say there has been a problem with people being harassed for some time.
The say in 2017 a number of reports of harassment along the Railway Path were reported to the Bristol Street Harassment Project, run by Bristol Zero Tolerance, including women being approached, followed and comments made as they cycled or walked past.
Sustrans have been working with the three Local Authorities who manage the path to tackle poor behaviour but has now teamed up with Bristol Zero Tolerance to raise more awareness about the problem and push the message that harassment is not acceptable.
Charlotte Gage from Bristol Zero Tolerance said: "Harassment that makes anyone feel uncomfortable or unsafe in public spaces is not acceptable behaviour or normal.
"No one should have to experience this on the Railway Path and we are working with Sustrans as we want people to feel able to respond safely if something happens but also know that they are not alone and can get support if they need it.
"We hope that bystanders will also feel able to support anyone who is being harassed to show a community response that this behaviour is not tolerated here.
"We are lucky that in Avon and Somerset gender-based harassment is understood as a hate crime and so can be reported to the police in this way which acknowledges how serious this kind of behaviour is and the impact it can have."
James Cleeton from Sustrans South said: "The Bristol and Bath Railway Path is a great resource for people to use. Unfortunately the behaviour of a small number of people means that for some the path has become an exclusive space and they avoid it.
"We are working hard with the three councils, partner organisation and the communities who use the path to create a truly inclusive space. Tackling all forms of harassment is critical if everyone is to be able to use the path and not feel uncomfortable or unsafe.
"We call on everyone to make it clear that harassment is not tolerated here."
Both groups will be carrying out events and a tweetathon throughout the second week of April to raise awareness and encourage people to take a stand against harassment both on the Railway Path and across the West Country.