Robbie Williams tattoos list: From two pairs of glasses to matching with Louis Tomlinson
28 September 2018, 15:21 | Updated: 31 December 2019, 11:07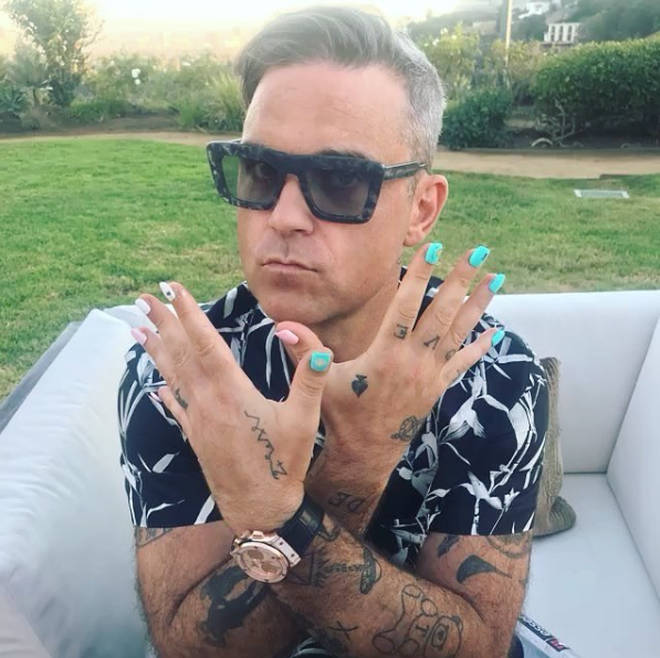 The former Take That singer has tattoos of two pairs of glasses on his neck plus a matching 'X' with X Factor judge Louis Tomlinson - here's a full list of all his body art and their meanings.
X Factor judge Robbie Williams has been settling into his role on the panel, alongside wife Ayda Field, Simon Cowell and One Direction's Louis Tomlinson.
The father-of-three - who recently welcomed a little girl via surrogate – has an impressive array of tattoos, particularly of two pairs of glasses on his neck, but what are they and what do they mean? We investigate.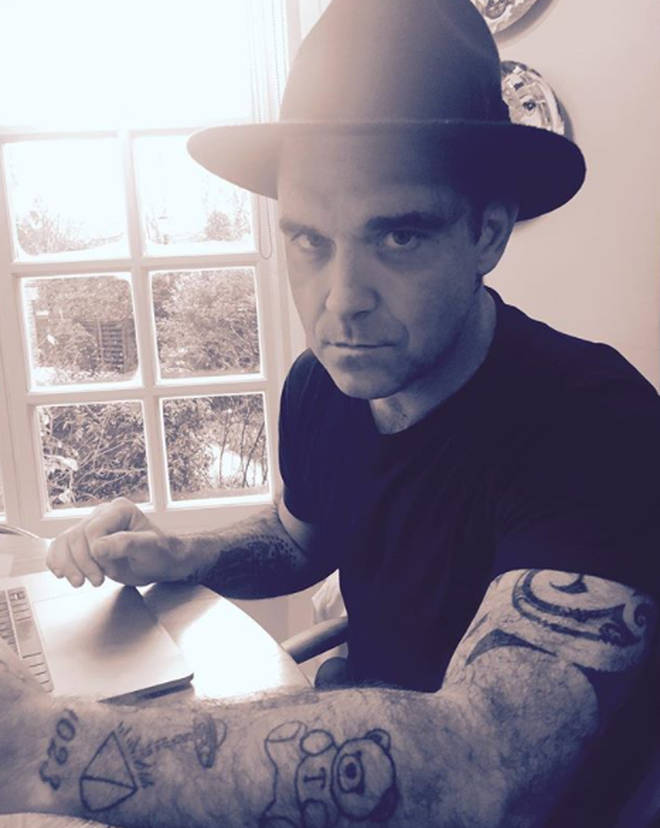 Why does Robbie Williams have two pairs of glasses tattooed on his neck?
The inking is a tribute to The Two Ronnies - the late comedians Ronnie Barker and Ronnie Corbett, who were both famed for their thick-rimmed frames.
READ MORE: Robbie Williams and Jason Orange will feature on Take That's new album
After Corbett passed away in 2016, Robbie chose to get a tattoo in his honour, expressing that the comic had: "inspired me at a very young age."
What is Robbie's matching X Factor tattoo with Louis Tomlinson?
Robbie recently got an 'X' tattoo, with One Direction star Louis Tomlinson.
Louis, who is also in this year's X Factor judging line-up, has formed a close relationship with Robbie during their time on the show, and decided to give each other matching ink work.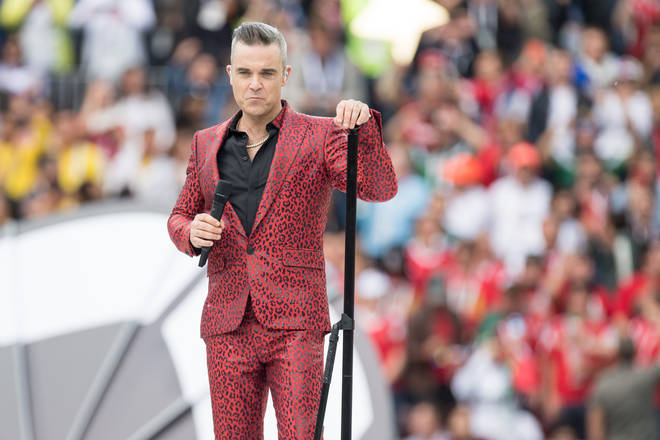 How many tattoos does Robbie have?
Robbie has 30 tattoos in total, his first whilst he was still a member in Take That - stated on RWDB.info.
The inking depicted a Pagan Celtic cross, which symbolises protection, and is positioned on his right thigh. Robbie has previously claimed that he "has the devil inside him".
His full list of tattoos are (newest first):
- An 'x' (to symbolise his judging role on X Factor)
- Ace of spades (for his love of Motorhead)
- A fez (A tribute to the late Tommy Cooper)
- Initials 'DE' for David Enthoven (his long-term manager who passed away in 2016)
- The Saint (a tribute to Sir Roger Moore)
- Two pairs of glasses (a tribute to The Two Ronnies)
- Morecome & Wise silhouettes
- A teddy bear (for his daughter Theodora - aka Teddy)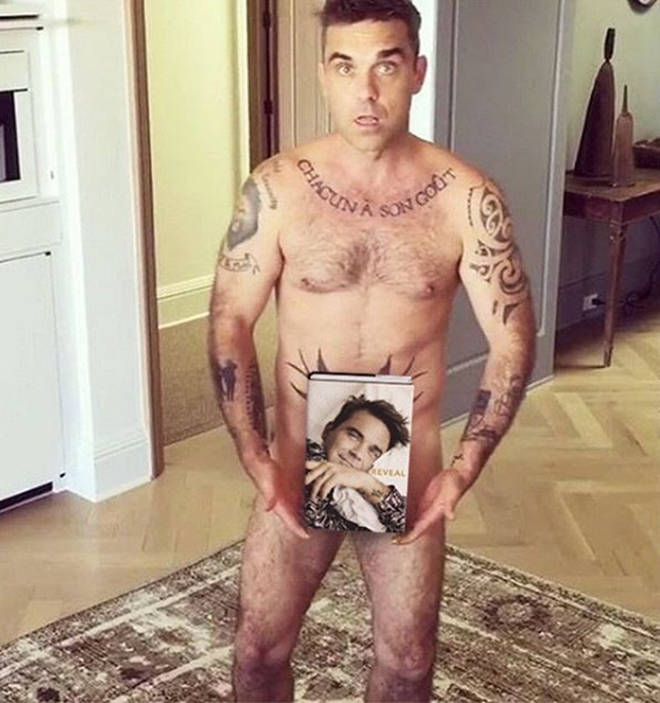 - A Staffordshire knot (to symbolise his Stafford roots)
- Sigil of Archangel Michael (to protect him against evil forces)
- Pyramid & UFO (for his scientology beliefs)
- The letter 'A' (inked on his wedding ring finger for his wife Ayda)
- Take That logo (need we say more?)
- The letters L O V E (tattooed on his knuckles)
- Burslem coat of arms (to represent the area of Stoke-on-Trent he grew up in)
- 'Mother I Love You' in Old English
- The number 1023 (represents the initials of Robbie's BFF Jonathan Wilkes - and he has the same for Rob)
- 'Chacun A Son Gout' text (It's actually meant to say 'A Chacun Son Gout' which means 'To each his own [taste]')
- Two Swallows (representing freedom and loyalty - and also a tribute to his female fans)
- Two hearts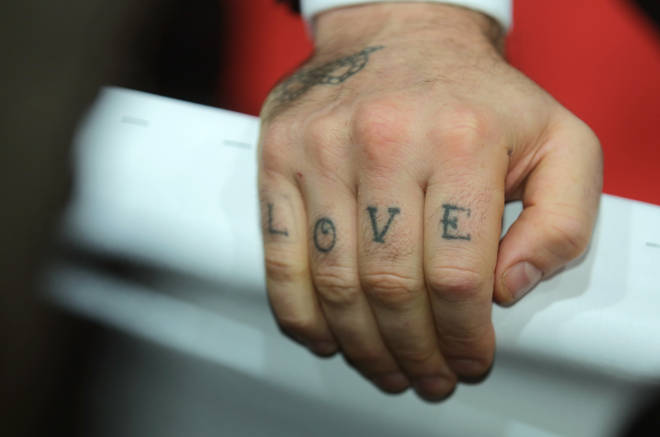 - Letter 'B' (a tribute to his late grandmother Betty)
- Musical notes (a tribute to The Beatles song All You Need Is Love)
- The name Jack Farrell (a tribute to his late grandfather)
- 'The Christian' featuring the name Jack (another tribute to his grandfather)
- The words 'Elvis grant me serenity' (Robbie learnt the prayer during his stint in rehab and devotes the prayer to Elvis Presley)
- Born To Be Mild (A variation of the song Born To Be Wild)
- Lions head (to symbolise a lion's characteristics - strength, manliness and virility)
- Maori prayer (based on a shark and the sea - the shark protecting Robbie and the sea represents the swiftness of his mind) - Celtic cross (meant for protection)