Second Norfolk Seal Found With Frisbee Around Neck
20 December 2018, 16:02 | Updated: 20 December 2018, 17:07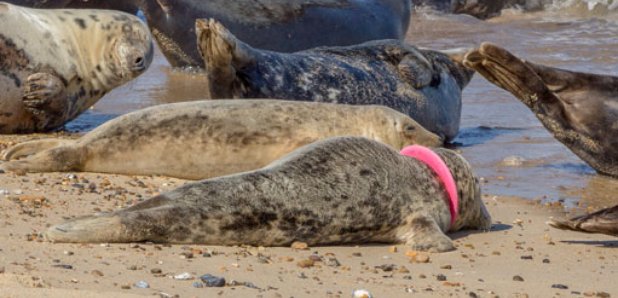 A grey seal found with a pink plastic frisbee deeply embedded in her neck has been rescued from a Norfolk beach.
She was admitted to the RSPCA's East Winch Wildlife Centre near King's Lynn.

The severely ill and weakened seal was caught on Waxham Beach in Norfolk in a joint operation between local charities Friends of Horsey Seals and Marine & Wildlife Rescue yesterday (Wednesday 19th December).
On admission to RSPCA East Winch, the seal, named Pinkafo, was examined by the wildlife centre's vet who found the pink plastic frisbee was embedded in the seal's neck, causing a deep neck wound which had become severely infected. The incident echoes a very similar one from September 2017 when a very ill grey seal, later dubbed Mrs Frisbee, was also rescued and admitted to RSPCA East Winch with a yellow plastic frisbee cutting deeply into her neck.
Alison Charles, Manager of RSPCA East Winch Wildlife Centre said:
"When this poor seal arrived, she was in an appalling state - very sick and weak with a heavily infected neck wound. Our priority was to remove the pink plastic frisbee which was deeply embedded in poor Pinkafo's neck. It was a very difficult job, as the plastic was particularly tough, and we had to remove it piece by piece with a pair of garden secateurs.
We treated her immediately with pain relief medicine and antibiotics before leaving her in peace and quiet, settling her down for the night as she was very stressed. We were extremely concerned about her condition overnight, but thankfully this morning she was still hanging on. As well as continuing medication, we will be floating her in salty water to help the deep wound start to heal.
Sadly, this is not the first time we've had to care for a seal injured by plastic litter. In September last year, we admitted Mrs Frisbee, another female grey seal with a yellow plastic frisbee deeply embedded in her neck. Happily, she responded to treatment, and following several months of rehabilitation, we were able to release her in February this year.
We sincerely hope that Pinkafo also has the strength to pull through, but she is definitely not out of the woods yet and the next few days will be critical.
Pinkafo's predicament had been known for some time, with many sightings of her, but unfortunately it was impossible to catch her until she had deteriorated so badly that she had become very weak. We are so grateful to the Friends of Horsey Seals and the Marine and Wildlife Rescue for their perseverance.
It is heartbreaking to think that this could have been prevented if people just took extra care with their litter. Many people are just unaware of the problems discarded plastic can cause for our wildlife."