Puppies Dumped in Forest of Dean
3 January 2019, 11:17 | Updated: 3 January 2019, 12:21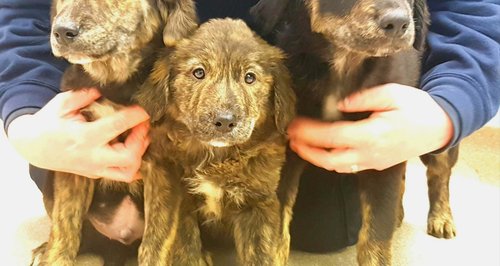 Three young puppies have been found abandoned in the Forest of Dean.
The RSPCA say the dogs are about 11 weeks old, and were found on Sunday the 30th of December in Stenders Court in Mitcheldean.
It's thought they'd been dumped there overnight and the RSPCA is appealing for information.
RSPCA inspector Suzi Smith, who is investigating for the animal welfare charity, said: "We are urging anyone who has any information about how these dogs came to be abandoned to please contact us in complete confidence on 0300 123 8018. It is very important that we find out more information.
"We're hoping somebody will recognise the puppies, and help us find out how they came to be abandoned."
The pups have been named Packham, Twiggy, and Harry after recent New Year's honours recipients - and will now be cared for at an RSPCA centre before new homes are found.