CEO praised for refusing to give up plane seat to let mum sit next to her children
14 July 2023, 12:44 | Updated: 14 July 2023, 15:07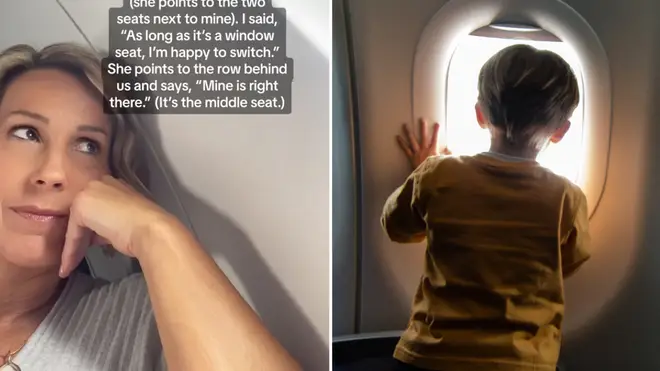 A woman has defended herself after she refused to switch seats with a mother on an airplane.
A woman has gone viral after she refused to switch seats with a mum so she could sit next to her kids on an airplane.
Tammy Nelson, who runs global jewellery brand CONQUERing, was flying on a Delta Airlines flight from Cincinnati, Ohio to San Jose, California when the incident took place.
Taking to TikTok, she explained that another woman approached to ask if she could switch seats to sit next to her two children.
Along with a video of her sat in a window seat, Tammy wrote: "What would you do? I got on the plane and a woman was sitting in my seat.
"When I mentioned it to her, she said, 'oh, you want to sit here? I thought we could switch because these are my kids'. She points at the two seats next to mine.
"I said 'as long as it's a window seat, I'm happy to switch'. She points to the row behind us and says, 'mine is right there'. It's the middle seat."
Needless to say, Tammy didn't switch seats and took back her window seat, as she explained in the caption: "I did not agree to switch seats. 🤷‍♀️ Before anyone comes after me… the kids looked like they were about 11 and 15 years old.
"And the mom was in arms-reach of both of them from the middle seat in the row behind us. The mom proceeded to complain for at least 15 minutes to the person next to her loud enough for me to hear.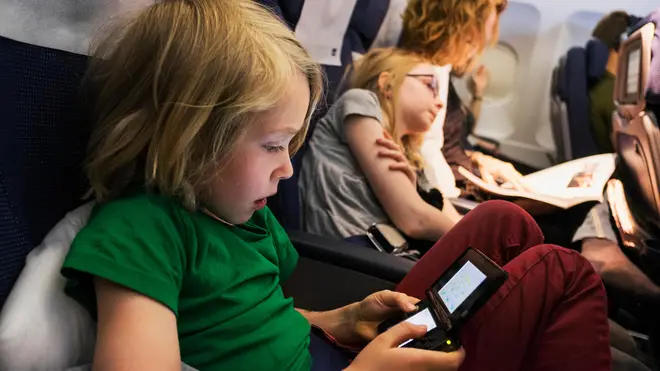 "But the woman actually defended me – several times. It was so kind and I appreciated it so much because I was feeling really guilty. 🤦‍♀️"
Despite feeling guilty, many users praised Tammy for refusing to move as one person commented: "As a single mom who traveled w/2 young boys I always booked our seats together. I never expect ppl to accommodate me if I didn't do what was needed."
"People should book seats together if they want to sit together," someone else wrote, with Tammy replying: "exactly!"
Someone else said: "I always pay extra for a window. Better belive I'm never giving up my seat unless it's the exact same. THE ENTITLEMENT!! 😡."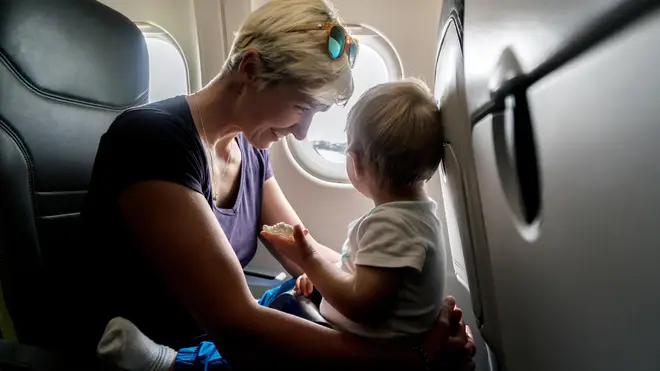 While a third added: "The amount of families who aren't paying to select their seats together is mind blowing! You were 100% right to not give up your seat."
Tammy has since opened up about the incident with Newsweek, saying she originally thought the mother had just mistakenly sat in the wrong seat.
She explained: "So I said, 'I'm sorry but it seems you're in my seat', thinking she would realise it and move.
The mum then replied: "Oh you want to sit here?", with Tammy continuing: "I was pretty surprised at the question but replied simply saying, 'Yes, that's the seat I selected.'"
To which she said: "Oh well I just thought we could switch since these are my kids."
At this point, Tammy explained the real reason for refusing to switch with the mother was that she gets motion sickness during takeoff and landing if she can't see out the window.
She added: "I also don't get a lot of sleep. I often try to get a little sleep on planes which is easiest with a window seat.
"On that particular day, I only had 90 minutes of sleep the night before. And I was headed into a high-pressure work week where I would be presenting to 500 people and really needed to be at my very best so getting a little sleep on that flight was extra-important."