Christmas gifts for foodies: Delicious food and drink hampers to send to loved ones
1 December 2020, 17:21 | Updated: 1 December 2020, 17:28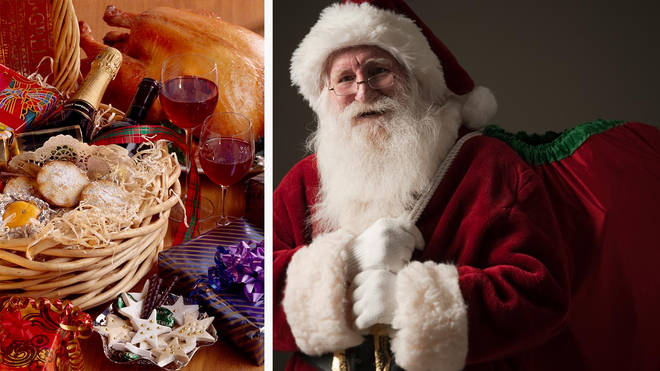 Christmas is the season to eat, drink and be merry - and thanks to these gorgeous food and drink hampers, you can still send some festive cheer to loved ones - and keep socially distanced.
The Larder Hamper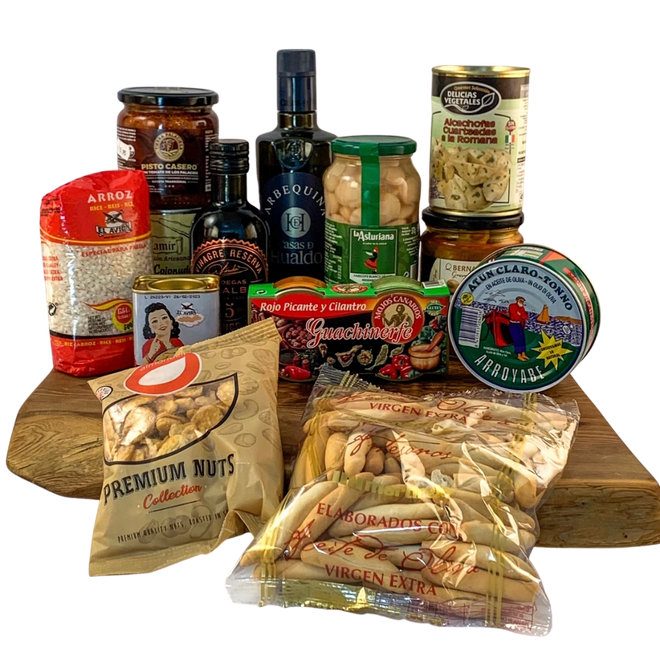 Pack the pantry with Spanish food and drink to last all season long - this hamper is designed to fill your larder with Spanish favourites.
It includes: a tin of artichokes, pisto casero, a tin of Arroyabe yellow-fin tuna, piquillo peppers, mojo picon olives, paella rice, a jar of butter beans, a pack of habas fritas, a pack of bread sticks, rojo picante and cilantro, smoked mild paprika, extra virgin olive oil and Toro Albala balsamic vinegar.
If you decide to save it until New Year's Eve, be sure to indulge in another Spanish tradition and eat a grape every time the clock strikes twelve to guarantee a prosperous 2021.
Where to buy: Ultracomida, £60
Piccadilly Hamper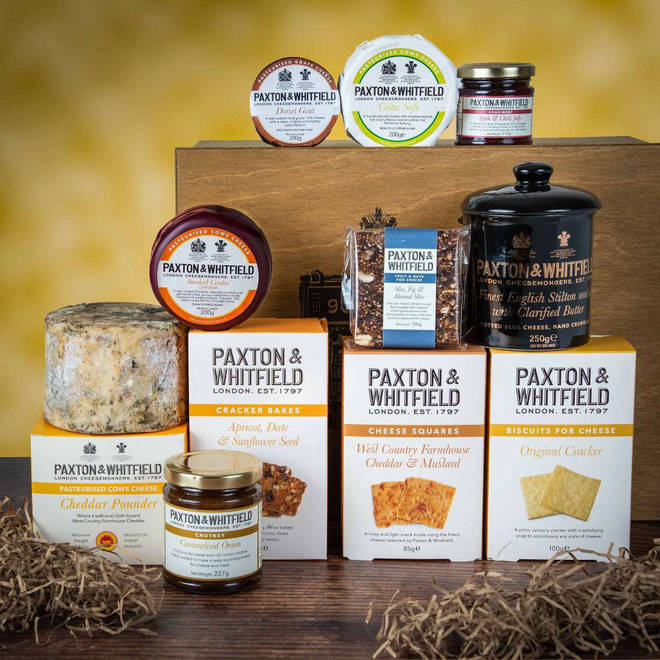 The most popular of Paxton & Whitfield's hampers for at least the past decade, The Piccadilly is a nostalgic favourite for many cheese lovers who rely on it for their annual Christmas traditions.
Send (or receive!) exquisite cheeses, moreish crackers and well-balanced condiments that will elevate your cheese and cracker combo.
The hamper contains: Dorset Goat 200g; Stilton Jar with clarified butter 250g; Cheddar Pounder PDO 550g; Celtic Soft Cheese 200g; Paxton & Whitfield Original Crackers 100g; Paxton & Whitfield Apricot Cracker Bakes 100g; Paxton & Whitfield Cheddar Cheese Squares 85g; Paxton & Whitfield Apple & Chilli Jelly 113g; Paxton & Whitfield Sloe, Fig and Almond Slice 100g; Paxton & Whitfield Caramelised Onion Chutney 227g.
Where to buy: Paxton and Whitfield, £100
Chocolate Christmas Hamper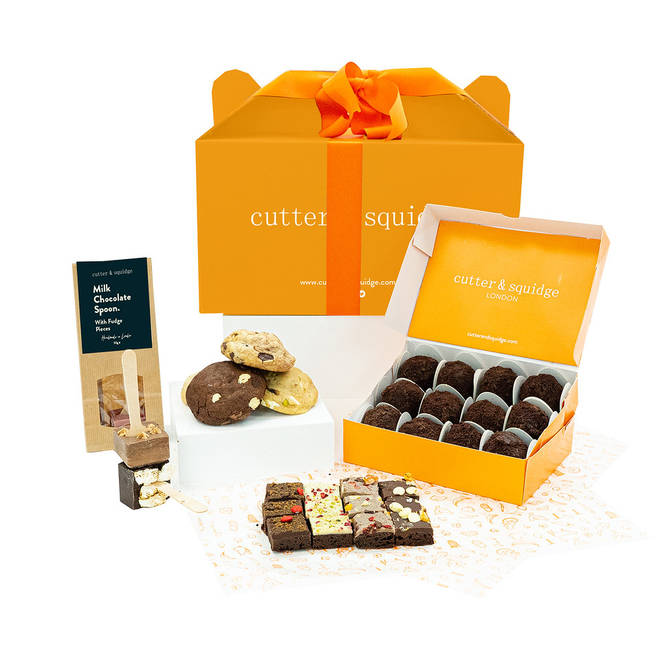 Send your favourite chocaholic heaven in a hamper with this special delivery from natural bakery Cutter and Squidge.
They'll receive, 2x mini brownies, 4x cookies, 2x hot chocolate spoons, and12x chocolate cake truffles.
But will they have eaten them all by 2021? Probably!
Where to buy: Chocolate Christmas Hamper, £40, Cutter and Squidge
The Tinsel Turkey Christmas Box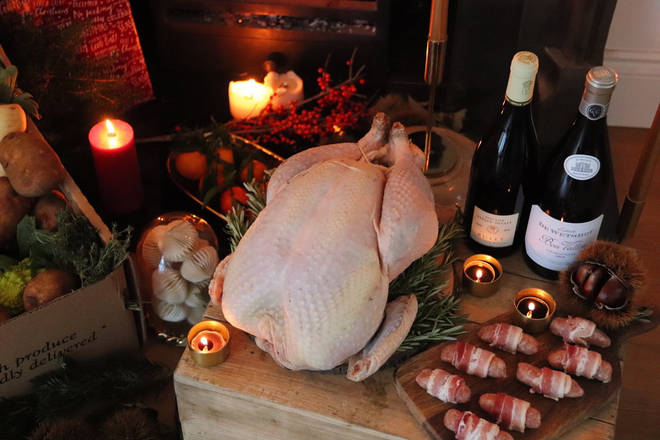 Get a full turkey dinner with all the trimmings delivered directly to your door the week starting December 21, ready to cook.
Available in two sizes (4-6 diners, or 7-9), the boxes include all the tips for you to prepare the ingredients like a chef and cook one of the best Christmas meals you've ever had!  
The hamper includes everything, from turkey to veggies, pigs in blankets and duck fat for indulgent roasting.
Knock Knock currently only delivers in London and surrounding counties.
Where to buy: Knock Knock, £175
Carluccio's Grandioso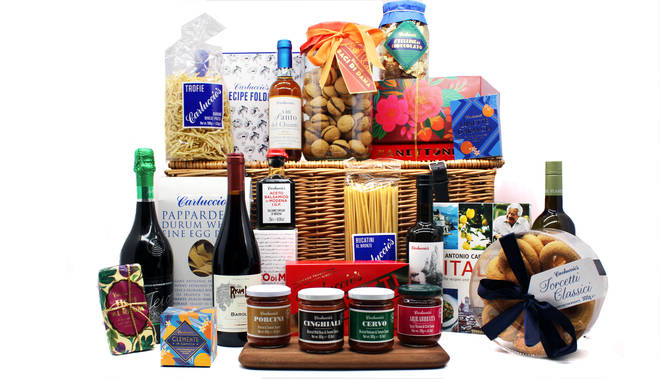 Attempt to recreate the delicious dishes available at Italian restaurant chain Carluccio's with this bumper hamper of traditional ingredients and flavours.
This huge hamper contains: Panettone Tradizionale 1Kg; Baci di Dama 875g; Lunette d'Arancia, Torcetti Biscuits 300g; Chocolate Coated Candied Clementine 300g; Matured Balsamic Vinegar of Modena 25cl; Sardinian Extra Virgin Olive Oil; Porcini Sauce 180g; Wild Boar Ragu 180g; Venison Ragu 180g; Arrabbiata Sauce; Bucatini 500g; Amaretti Tradizionale 250g; Dark Chocolate Truffles 600g; Pappardelle Fine Egg Pasta; Trofie Pasta 500g; Fichi al Rhum 200g; Antonio Carluccio Italian Feast Book; Acacia Wooden Cheese Board; a bottle of La Segreta Bianco Sicilia; a bottle of Riva Leone Barolo; a bottle of Jeioi Prosecco and a bottle of Vin Santo.
Phew! There's LOADS in there! The brand also have other, smaller, hampers available on their site.
Where to buy: Carluccio's £280
Luxury Vegan Hamper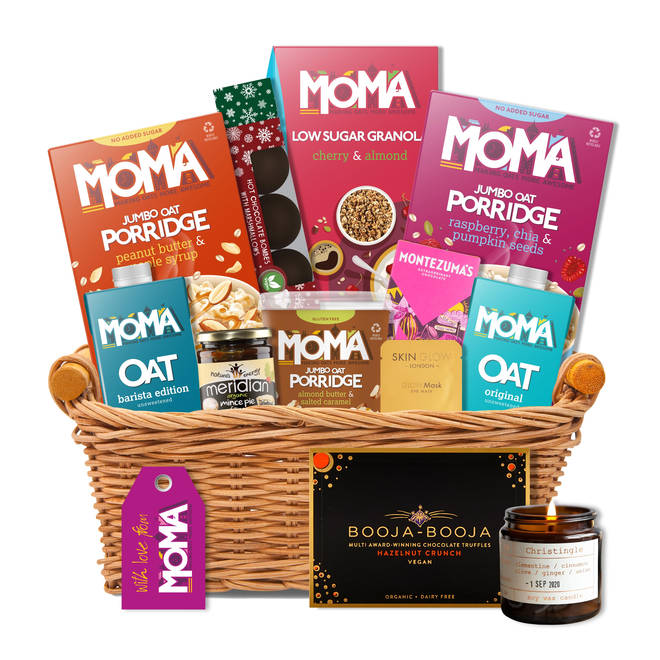 If you've got a vegan loved one who happily tells everyone that breakfast is their favourite meal of the day, they'll love this hamper. 
It has a selection of MOMA oat-based products, and other festive treats including Meridian's Mince Pie Filling, Booja Booja Truffles, and Cocoba Hot Chocolate Bombes.
Plus there's a Christmas scented candle from Tiger & Co and a refreshing eye mask from Skin Glow London. 
Even better, 50 per cent of the price of each and every hamper going to Age UK, you'll also be helping this important charity with their work to give older people the support they so urgently need.
Where to buy: MOMA Foods, £50
Dickinson & Morris pork hamper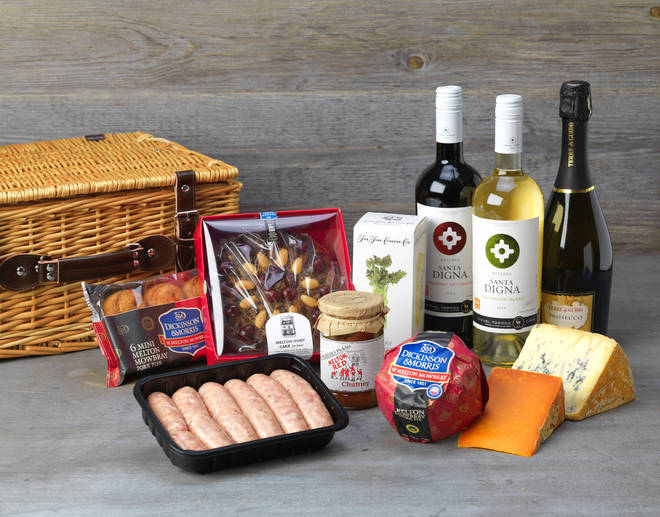 This best-selling luxury hamper from Dickinson & Morris contains a selection of their delicious Pork Pies made with 100% British pork shoulder, thick pork sausages, their famous Melton Hunt Cake, local Stilton and chutney and a selection of wine and prosecco.
Send your loved one a: Large Pork Pie (454g), 6 Mini Pork Pies (300g), Wedge Blue Stilton Cheese (454g), Wedge Rutland Red Cheese (200g), Melton Red Chutney (280g), Walnut, Honey & Olive Oil Crackers (125g), Fair Trade Santa Digna Cabernet Sauvignon (75cl), Fair Trade Santa Digna Sauvignon Blanc (75cl), Prosecco (75cl), Dickinson & Morris Thick Pork Sausages (454g), Melton Hunt Cake (907g).
Where to buy: Porkpie.co.uk, £99 (plus delivery)
Scotch and seafood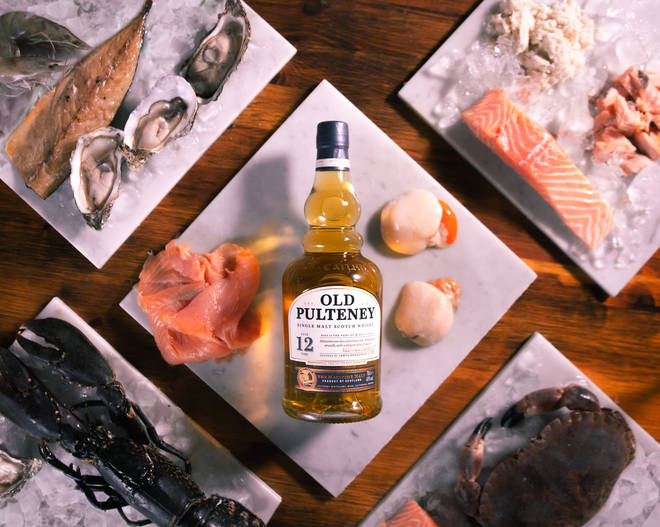 What could be more delightfully wintery than a cosy night at home in front of a roaring fire with a bottle of scotch and some seafood that is so fresh you can still taste the sea air?
Distilled and matured by the sea on Scotland's most northerly shores, Old Pulteney whisky has partnered with Fish to Your Door for a special hamper including an indulgent, yet effortless meal, ideal for relaxed dining: Old Pulteney 12 Years Old, oysters, an oyster shucking knife, smoked salmon, dressed crabs, a cooked or dressed lobster.
Available for delivery nationwide.
Where to buy: Fish to Your Door, £115
Palace Deluxe Small Hamper (vegan)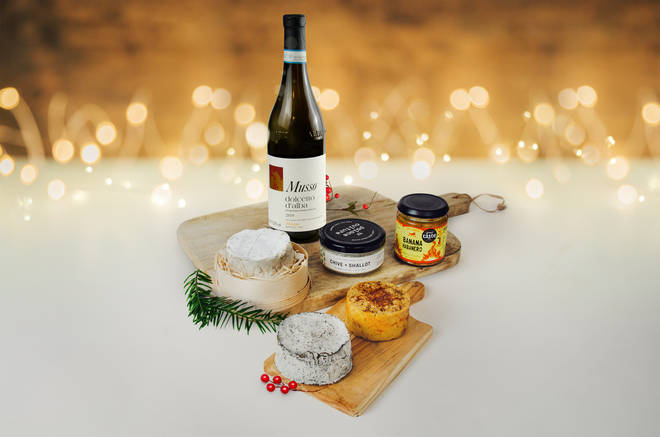 There has never been a better time to be vegan, as this selection of dairy-free cheese prove.
Palace Culture have put together a carefully curated stash of festive delights featuring three amazing fermented cheeses complemented by sensational nibbles and drink from some of their favourite small artisanal producers.
You'll be sending: 1 Palace Culture Special edition Truffled Organic Camemvert 140g; 1 Palace Culture Truffle Black Pepper Ash Organic 140g; 1 Palace Culture Old West Smokey Organic 140g; Wanderlust Wines Musso Dolcetto (red) x 1 bottle; Mr Vikki's Banana Habanero Chutney; The Cracker Kitchen digestives; Gemini organic vegan chocolate; Oliveology black olives; Farey's Smoker Hot Sauce.
Sending vegan food is also a thoughtful and supportive way to buoy along loved ones looking to take part in Veganuary.
Where to buy: Palace Culture, £65
All Day Favourites cheese and preserves hamper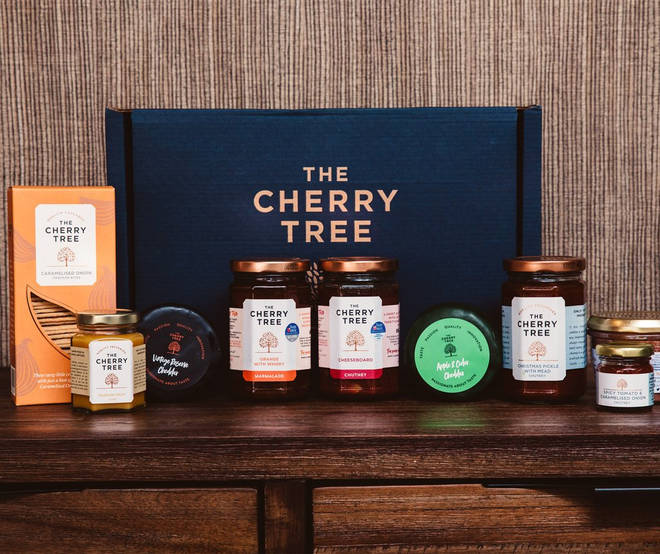 The Cherry Tree has been producing the delicious chutneys, preserves, cheese and marmalades since 1997, and now you can send some of their most popular products to loved ones in time for Christmas.
The All Day Favourites hamper is great value, and is packed with: Vintage Reserve Cheddar Apple & Cider Cheddar Christmas Pickle with Mead 320g; Cheeseboard Chutney 310g; Orange with Whisky Marmalade 340g; Passion Fruit Curd 100g; Caramelised Onion Cracker Bites; Spicy Tomato & Caramelised Onion Chutney 42g; and Venison Pâté with Cognac.
Another really nice touch is for those who won't be able to see all their friends or loved ones over the Christmas period, The Cherry Tree will include a handmade card (made by the founder's wife) with a message of your choice, meaning you can buy the gift online and have it sent with a personalised message.
Where to buy: The Cherry Tree, £35
Best of Italy Hamper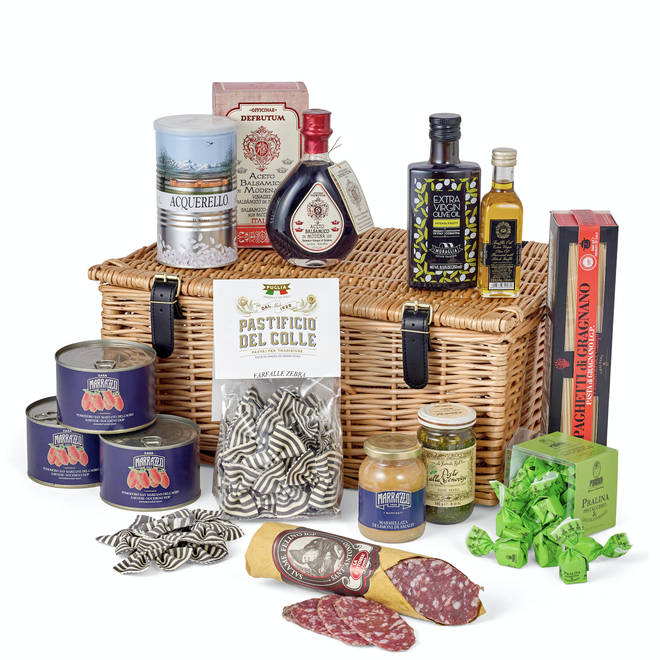 Delight a fan of Italian cuisine with an impressive hamper packed to bursting with speciality Italian foods.
The foodies at Sous Chef have hand-picked 11 store cupboard stars that you'll use every day, to indulgent sweet snacks that make perfect after dinner treats.
Pair Pastificio dei Campi's 100% durum wheat spaghetti with Casa Marrazzo's DOP San Marzano tomatoes for a classic pasta pomodoro, spread silky smooth Amalfi lemon jam over brioche, or snack on sweet, delicate salami, made in rural northern Italy.
Where to buy: Sous Chef, £110
Bolney's Christmas Wine & Cheese Lovers Hamper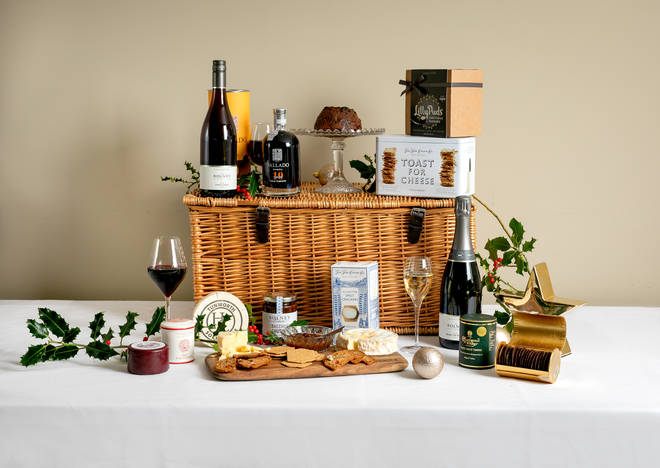 This hamper is a brilliant introduction to English wine - which is absolutely delicious.
This bumper hamper has so much to munch through, there is every chance there will be some left by the time social distancing restrictions are lifted and we can go to people's homes again!
It contains: 75cl Blanc de Blanc, 75cl Pinot Noir, Quinta do Vallado 10 yr Tawny Port, English Farmhouse Cheddar 200g, Tunworth 250g, Stilon in a Pot, Bolney Bacchus Chutney, Toast for Cheese Gift Tin, All Butter Spelt Crackers, Lilly Puds Xmas Pudding 485g, Charbonnel et Walker Dark Chocolate Mint Thins.
Where to buy: Bolney Wine Estate, £195
Large Festive Hamper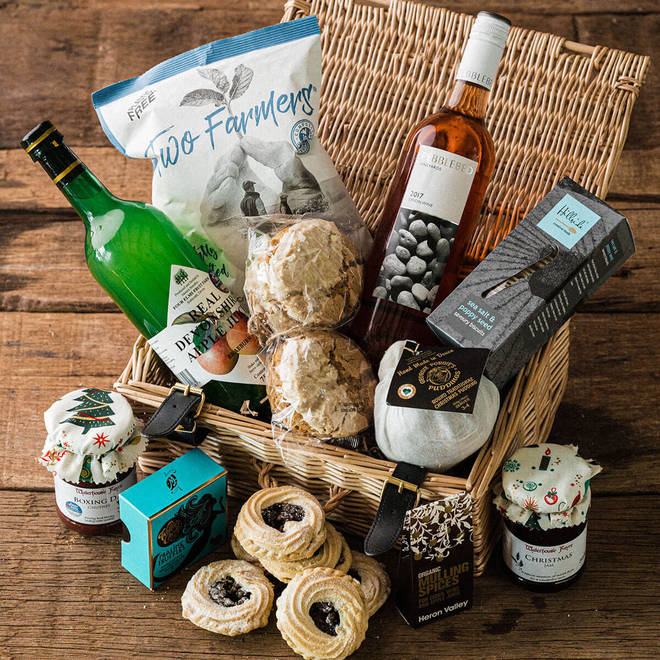 Enjoy the spoils of Devon without gambling on the traffic of the A303 by ordering a gorgeous festive hamper from Darts Farm.
They have a huge variety of hampers available (with Christmas delivery guaranteed for orders up until the 18 December), with prices starting from just £19.99.
The Large Festive Hamper is packed full of the best seasonal produce from their local artisan food and drink producers.
Where to buy: Darts Farm, £79
Home of Bombay Hamper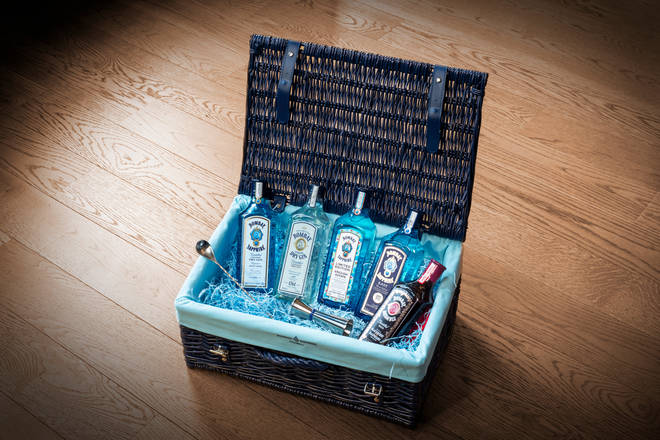 A great gift for the cocktail connoisseur or gin-expert... with a love of luxury.
This Bombay hamper is perfect for the budding home-bartender, and features their full range with Bombay Sapphire, Bombay Dry, Bombay English Estate, Bombay Sapphire East and Bombay Bramble with a bar spoon and jigger.
(You might want to warn them in advance to get some tonic in!)
Where to buy: Laverstoke e-shop, from £120
The BonBox Hot Chocolate x Candy Cane Gin
If you know someone with a seriously sweet tooth, snap up one of these 100 limited edition gin hot chocolate kits.
The collaboration, between St. Andrews distillery Eden Mill and artisan chocolatier BonBox, includes all of the ingredients needed to create the ultimate, luxury boozy festive white hot chocolate.
In the kit is a bottle of Eden Mill Candy Cane Christmas Gin - described as the perfect balance of juniper and cool candy cane freshness – red, delicious, with a candied, cool peppermint twist.
You mix it up with BonBox Artisan Chocolates' Luxury White Drinking Chocolate, which is made of finely grated white chocolate with a sweet vanilla finish, loaded with cocoa butter ensuring a velvety, luxurious and indulgent drink. 
Where to buy: Eden Mill, £30
Mionetto Aperol Spritz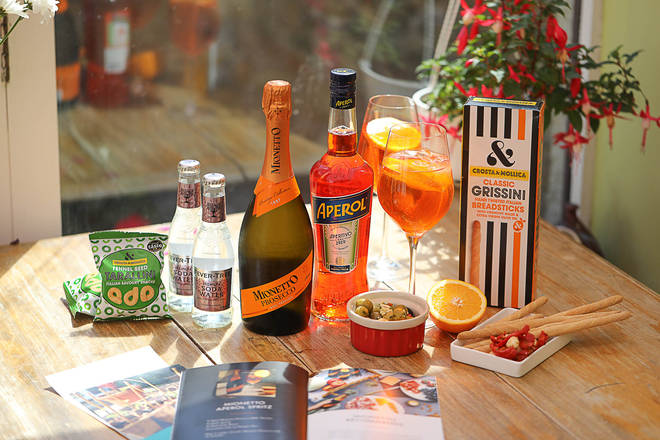 Transport your tastebuds to Northern Italy with a refreshing Mionetto Aperol Spritz and delicious Crosta & Mollica snacks.
Perfect to send to a couple you will only be able to ring the New Year in with remotely, get the first round in with inimitable style.
The box includes: 1 x Mionetto DOC Treviso Prosecco 75cl; 1 x Aperol 70cl; 2 x Fever Tree Soda Water 200ml; 2 x Crosta & Mollica Snacks (Tarallini and Grissini) .
Where to buy: Slurp, £27.95
Wild and Game meat hamper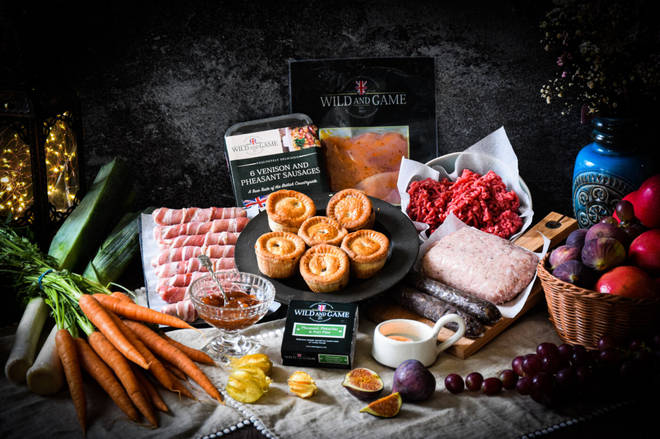 Delight lovers of fine food with this collection of traditional (yet unusal!) meats in a multitude of forms.
There is... 1 x Pheasant pistachio & port pate; 1 x Pork & pheasant cranberry jelly dinky pies x6; 1 x Marinated garlic & herb pheasant breast x4; 1 x Venison & pheasant sausages x6; 1 x Venison Mince; 1 x Wild boar pigs in blankets 300g; 1 x Venison Salami; 1 x Wild Boar Salami; 1 x Gamekeepers chutney.
The food arrives frozen, and the hamper is not included.
Where to buy: Wild and Game, £64.99