Creative mum shares genius hack that keeps her baby asleep while she has a coffee break
16 November 2018, 10:57 | Updated: 5 December 2019, 17:07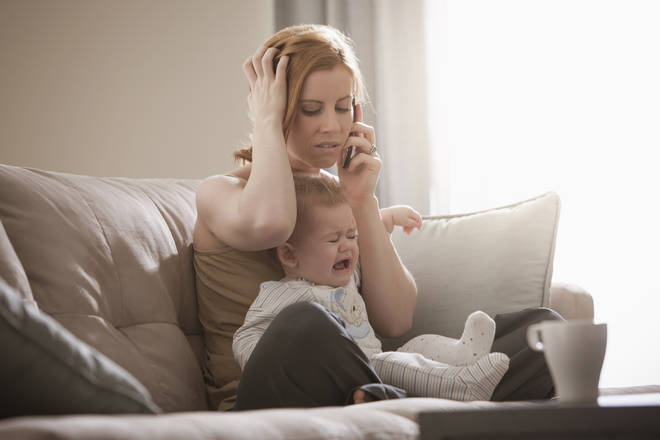 An Australian mum might have the answer to frazzled parents' prayers with this genius life hack.
Trying to catch a moment to yourself as a new mum can seem like Mission Impossible at the best of times.
But one genius mum has gone where no other tired parent has gone before, creating a hack that might just allow new mummies to have that well deserved coffee break they've been daydreaming of.
Sharing a photo of her sleeping baby with a stuffed rubber glove placed over their tummy, Australian mum, Melissa Dykstra wrote: "Going on 20 minutes now and she hasn't realised.
"She will crack it when she wakes up but for now I actually get to finish my coffee!! #BabyHack"
Read more: This adorable book might help encourage your kids to eat their greens
Hailing from Australia's Gold Coast, Melissa - who is reported as the owner of the original post - shared this baby hack on her one-month-old daughter Olivia and it worked.
Posting the clever hack on Baby Hints & Tips' Facebook page, it wasn't long before the handy tip went viral, racking up over 10K comments, 6.8K likes and 3.6K shares.
People were quick to praise the mum's smart idea with one person commenting: "Why didn't I think of this!"
Another curious mum wrote: "What a good idea. Wonder if it fools the bigger babies?"
One mummy commented: "Totes need to do this! My arm can't take much more of this."
Read more: This is why you should NEVER give water to a baby
Speaking to News.com.au, Melissa said: "It gave me enough time for a shower and to finish my coffee while it was still hot.
"I did sit with her and she wasn't upset when she woke up, just looked a little confused.
"She's going through her first 'leap' (in her mental development) so she's been extra clingy the last few days and makes it so hard to even go to the bathroom so I thought I'd try it."