Orlando Bloom gets mums hot under the collar as he reads CBeebies bedtime story
13 November 2018, 12:01 | Updated: 13 November 2018, 14:02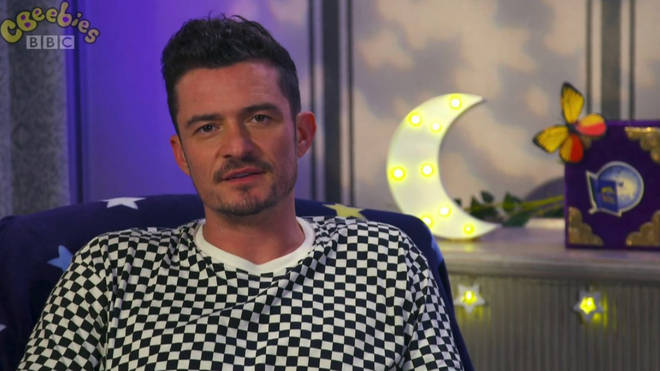 The Pirates of the Caribbean actor gave a sultry reading of a bedtime story on kids TV channel CBeebies.
Mums across the country were left hot and bothered after Orlando Bloom got comfy and read the CBeebies bedtime story.
Celebrities such as Tom Hardy and Elton John have taken on the job in the past, but this time around it was the Pirates of the Caribbean actor's turn to read We Are Together by Britta Teckentrup.
Read more: Tom Hardy read the Valentines Day CBeebies bedtime story
But despite the channel being aimed at children it seemed like the parents out there were more excited by the 41-year-old actor's appearance.
Orlando read the entire story with his adorable dog on his lap, and surrounded by a sea of cuddly toys.
He said: "Hello, I'm Orlando. The teddies, Mighty, and I are spending a little time together as we settle down for bed."
His sultry introduction had his female fans wild as the watched on with their kids and many took to Twitter to swoon over the star...
Oh @CBeebiesHQ, you really are spoiling us. Last night Tom Hardy reading the bedtime story, tonight Orlando Bloom. On behalf of Mum's everywhere......Thank you 😊 #cbeebies

— Laura (@LauraJane2905) November 9, 2018
Some even admitted to tuning into the show despite not having children to watch it with....
I just watched Orlando Bloom read a bedtime story on Cbeebies, I don't have a child

— Kt but an elf🤶🏻🎅🏻 (@KDaphers) November 9, 2018
A list bedtime stories on Cbeebies have become more and more popular and now the BBC have revealed that they often ask the celebs to choose their own story.
According to BBC News: "The programme producers have the final say - but stars are asked if they have family favourites they're keen to read so they'll be read 'from the heart'."