Hunt for grandma's killer continues
1 April 2019, 05:41 | Updated: 1 April 2019, 05:44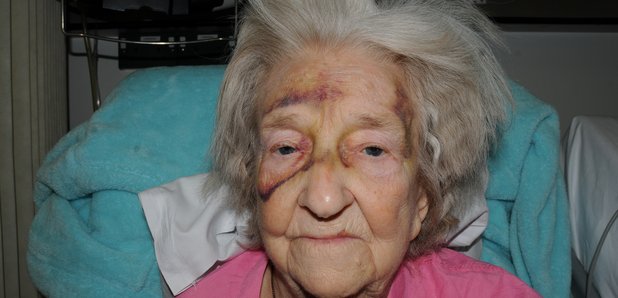 Police believe that someone in the community is protecting the identity of a murderer who broke into a Stretford home and brutally assaulted an 87-year-old woman– leaving her for dead.
Eileen Blane died after being relentlessly beaten by a man who forced his way into her house on Castleton Avenue, Stretford at around 2.30pm on Friday 3 February 2017.
The man struck Eileen on the head multiple times before throwing her to the floor and snatching the wedding ring from her finger.
While he ransacked upstairs she bravely managed to escape and alert her neighbours.
Her attacker inflicted countless injuries including broken ribs, a fractured vertebrae and further internal injuries and bruises.
She was discharged from hospital the following month but was sadly found dead at home on Saturday 1 April 2017.
Police believe that a person or persons know the identity of the murderer, but are yet to come forward to police.
On the second anniversary of Eileen's death, detectives investigating the case are reminding the public that a £50,000 reward remains in place for information leading to the conviction of those responsible.
Her attacker is described as white, aged in his 20s, about 5ft 8ins tall, of slim build and he was wearing a dark coloured jacket with the hood covering his face.
Detective Inspector Ben Cottam of GMP's Major Incident Team said: "This is one of the most shocking crimes that I've dealt with during my policing career.
"The cruelty and brutally involved was quite staggering. It's hard to imagine what kind of person would do this to another human being.
"While we would always welcome any information from members of the public in relation to this crime, I want to go further on this occasion and pointedly appeal to the person or persons we believe are out there who know who committed this abhorrent crime.
"To them I'd say: 'Do the right thing and give us the name.'
"Imagine if this happened to one of your loved ones. You'd be heartbroken, angry and determined that the killer is brought to justice.
"This is a crime that shocked the community in Stretford, across Greater Manchester and indeed the whole country.
"A life-changing reward of £50,000 still stands for anyone with information that leads to the successful conviction of those responsible for Eileen's death.
"Our thoughts remain with her family on this anniversary. We are determined to give them the answers they deserve.
Anyone with any information should call police on 0161 856 4342 or Crimestoppers anonymously on 0800 555 111.