A380 in numbers as service between Glasgow and Dubai begins
16 April 2019, 14:59 | Updated: 16 April 2019, 15:00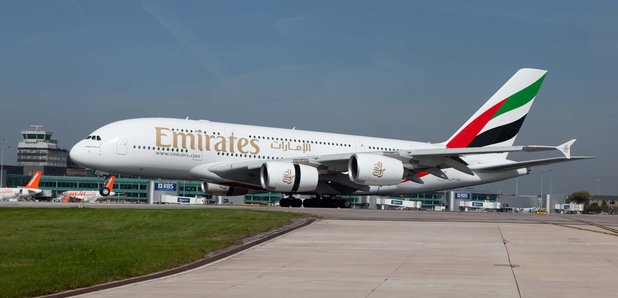 Regular flights between Scotland and the UAE will step up a gear with the introduction of the Airbus A380.

The world's largest passenger airliner will fly between Glasgow and Dubai for six months after lots of planning and preparation.
Here are the stats:
489 - Capacity for passengers, the same as the main auditorium in Glasgow's Citizens Theatre.
575 - Tonnes the aircraft can weigh.
£8 million - Spent by Glasgow Airport upgrading the runway and infrastructure to support the A380.
79.8 metres - Wingspan of the superjumbo, more than twice the height of Glasgow Cathedral.
29,340 - Meals due to be served every single month on the Glasgow to Dubai route.
24 - Emirates cabin crew on every flight, meaning the six-month service will be supported by 4,320 crew.
15,000 - Maximum kilometres flown between take-off and landing, one of the longest-ranges in the world.
14 - Private suites on board with the option of selecting your own meal and bed times.
43,100ft - Cruising altitude.
15 - Years since Emirates first arrived in Glasgow.