Athletes descend on Glasgow for Euro Championships
1 March 2019, 08:23 | Updated: 1 March 2019, 08:26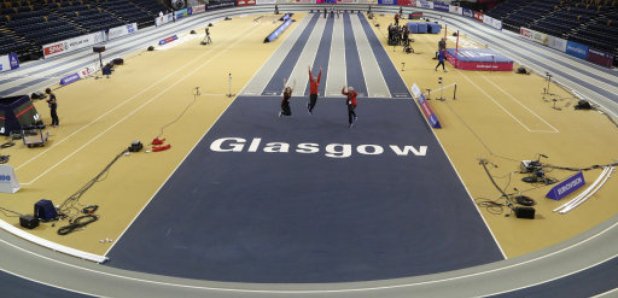 The European Indoor Athletics Championships start in Glasgow this morning.
Jemma Reekie says nerves will not be an issue as she prepares to line up alongside Europe's elite - because she takes on the best in the world on a daily basis.
The 20-year-old Scot's training partner is Laura Muir, the Diamond League champion who will be looking to take another step towards superstardom this weekend by claiming a 1,500 metre and 3,000 metre golden double at the European Indoor Championships in Glasgow.
Reekie's targets may be more modest, with the British indoor 1500m champion's primary aim just to qualify out of her heat on Friday night, but the Beith athlete will not let stage-fright put her off her step as she runs out in front of a sold-out Emirates Arena.
She said: "I'd love to line up alongside Laura in the final. I can take a lot of confidence from the fact I go up against her every day in training.
"I don't really get that fazed no matter who I'm up against because I face the best in the world every day on the practice track.
"That will take some of the nerves out of this weekend. Just growing up in Laura's environment where I'm always around high-class athletes means I don't really get bothered by big names now.
"I appreciate how good they are but I'm up against this level of athlete every day, so I just get on with it."
The Emirates track in the city's east end is where Reekie and Muir are put through their paces by coach Andy Young on a daily basis.
Reekie may not quite be up to the task of matching her team-mate - whose 2018 highlights include winning the European 1500m outdoor gold in Berlin as well as claiming a silver and bronze at the world indoors in Birmingham - but she is refusing to put a ceiling on her eventual ambitions.
"Laura is so fierce and very brave when she's racing," she said. "It really shows in training and we're always competitive with each other.
"I've not got the best of her yet - I think I've got a while to go yet. But I'm working my way closer and closer to her.
"I try keeping up with her in training but then end up dying so bad.
"I'll just keep trying until I can keep up.
"I'm 20 years old. I don't want to peak at this age. I want to have a long career. Andy knows that and he is great at making sure I'm not running too much.
"From training with Laura I know she's gone through the same things I have and it's not impossible for me to achieve some of the things she has.
"No one is unbeatable. I don't want to put any limits on myself. I don't just want to say 'I want to be as good as Laura'.
"It's about having no limits and seeing how fast I can go."