Sussex Police Launch Burglary Campaign
29 May 2019, 12:49 | Updated: 29 May 2019, 12:50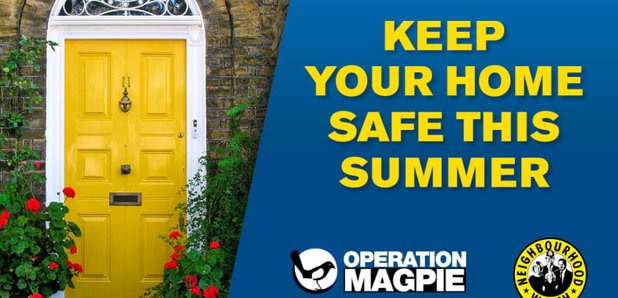 Sussex Police have launched Operation Magpie - a week-long summer burglary crime prevention and awareness campaign.
Out of 43 UK police forces, Sussex is one of the safest places to live with low rates of burglary compared to other counties across England and Wales. There were 7170 reports of burglary from January - December 2018, 1134 fewer offences (13.6%) over the same period in 2017 (8304).
The campaign aims to raise awareness and share advice about protecting homes during the summer months. Police say they also want to show their commitment to bring offenders to justice for this type of crime, especially where vulnerable people are targeted.
During this week (28 May to 3 June,) prevention advice and social media messages will be shared to help further prevent burglaries.
Detective Chief Inspector Alasdair Henry, Sussex Police burglary prevention lead said: "We have worked hard to reduce instances of burglary in Sussex over the last year and have seen a significant reduction in reports of this crime. We continue to work to protect members of our communities from this crime and through this campaign we will be offering advice on keeping homes, outbuildings and business premises safe.
"We treat burglary as a serious matter, especially where vulnerable members of the community are targeted and will be sharing examples of where we have prosecuted individuals for such crimes. None of this is achieved without your support and I am really grateful to all our partners, including Neighbourhood Watch and members of the community who work with us to reduce burglary and bring offenders to justice."
Katy Bourne, Sussex Police and Crime Commissioner said: "Sussex is the fifth least likely county to be burgled in the country which means it's generally a safe place to live. However, this does not take away from the profound effect this crime can have on a victim. We often forget the personal impact someone experiences and nobody should ever feel unsafe in their home.
"I am confident that Sussex Police is proactively tackling this issue but I will continue to ensure that they maintain their effective levels of prevention and deterrent activities. This is why I support Operation Magpie which will see officers directly targeting those who commit burglary whilst continuing to give crime prevention advice to homeowners.
"We all have a part to play to help keep Sussex safe and I urge residents to follow police advice and keep their property secure so that they are not a target for burglars."