Wales at the World Cup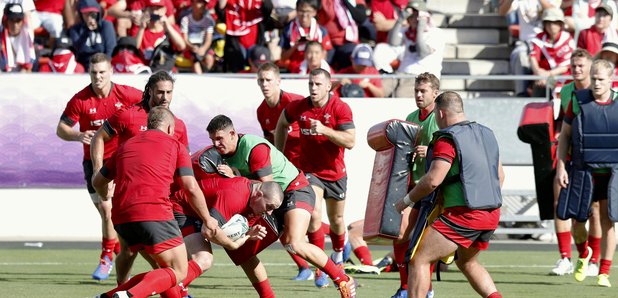 The Rugby World Cup 2019 begins on the 20th of September in Japan. It'll be Warren Gatland's final tournament in charge of Wales.
Who will Wales play in the group stage?
Wales have been drawn in Pool D along with Australia, Georgia, Fiji and Uruguay.
When are the games?
As Japan is eight hours ahead of Wales, the games will take place in the morning here, so get that early Sunday morning alarm set!
Monday 23rd September - 11:5am - Wales v Georgia
Sunday 29th September - 8:45am - Wales v Australia
Wednesday 9th October - 10:45am - Wales v Fiji
Sunday 13th October - 9:15am - Wales v Uruguay
Where have Wales set up camp?
Wales will be based in the city of Kitakyushu for their pre-tournament camp. At a training session at the stadium there over 15,000 local people turned out, with many singing the welsh national anthem Mae Hen Wlad Fy Nhadau and popular Welsh songs like Calon Lan.
Gofyn wyf am galon hapus,
Calon onest, calon lân

This is music to our ears! Domo arigato, Kitakyushu #RWC2019 pic.twitter.com/TW2QcVL99y

— Welsh Rugby Union (@WelshRugbyUnion) September 16, 2019
How are Wales' chances rated?
Bookmaker Paddy Power have Wales as 5th favourite at odds of 10 to 1. That's behind Ireland, England, South Africa and favourites New Zealand.