Man Shot Dead In Birmingham
7 May 2019, 20:20 | Updated: 10 May 2019, 11:51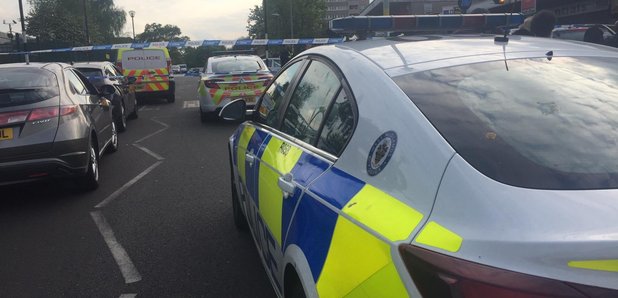 A 23 year old man has been shot dead in broad daylight near a school in the Ladywood area of the city.
Forensic markers can be seen on St Vincent Street West after shots were fired just after 5pm on Tuesday afternoon (7 May).
Two other men aged 20 and 19 are in hospital with injuries not thought to be life threatening.
Extra patrols will be visible in the area to support and reassure the community.
Residents have told us they "feel sick and frightened".
#LISTEN "I feel sick... frightened"

Residents in #Ladywood #Birmingham react to yesterday's shooting which left a 23 year-old man dead #HeartNews pic.twitter.com/03CxxqmLYb

— Heart West Midlands News (@HeartWMidsNews) May 8, 2019
No one has been arrested yet
Detectives are asking anyone with information to contact police via Live Chat at west-midlands.police.uk between 8am and midnight, or call 101 anytime quoting log number 1754 of 7 May.
Crimestoppers can be called anonymously on 0800 555 111.
TIMELINE
20:44
Our Reporter Emma Reid is at the scene:
20:10
Forensic teams are arriving at the scene of a shooting outside a school in #Ladywood in #Birmingham. There are unconfirmed reports that a young man has died after paramedics were called just after 5pm #HeartNews pic.twitter.com/iTqCYnlvo2

— Heart West Midlands News (@HeartWMidsNews) May 7, 2019
19:44
There are forensic markers by a car behind the police cordon as @WMPolice investigate a shooting outside a school in #Ladywood in #Birmingham @OFFICIALWMAS critical care team and the air ambulances were called.

There are unconfirmed reports one person's died #HeartNews pic.twitter.com/MqhRXHn69Z

— Heart West Midlands News (@HeartWMidsNews) May 7, 2019
19:36
Police cordon outside a #Birmingham school after a shooting just after 5pm. Somber mood as community gather with unconfirmed reports that one person has died #HeartNews pic.twitter.com/OqH2JM0HNC

— Heart West Midlands News (@HeartWMidsNews) May 7, 2019
19:21
.@WMPolice are advising the public to avoid St Vincent Street in #Ladywood #Birmingham after a shooting in broad daylight just after 5pm this afternoon.

A cordon is in place.#HeartNews pic.twitter.com/zJ0Fx6Ti57

— Heart West Midlands News (@HeartWMidsNews) May 7, 2019
18:53
#BREAKING: @WMPolice remain at the scene of a shooting in #Ladywood in #Birmingham this afternoon.

Cordons are in place and the public are advised to avoid the area #HeartNews pic.twitter.com/kCqznD6niw

— Heart West Midlands News (@HeartWMidsNews) May 7, 2019