Boost for low carbon Cambridge district
13 March 2019, 18:24 | Updated: 13 March 2019, 18:42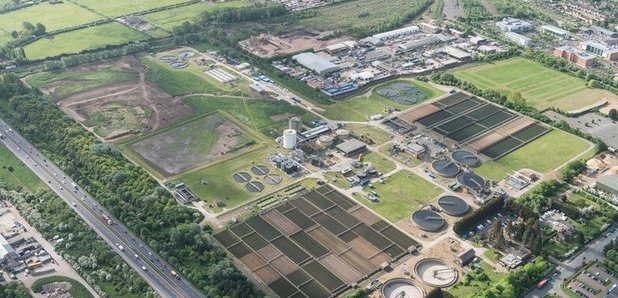 Tens of millions of pounds of investment's been announced for the Cambridge area by the Chancellor in his Spring Statement - including for a so-called low-carbon district on the edge of the city.
Some of the £717m housing funding across the country will unlock one of the last remaining brownfield sites for regeneration in Cambridge the current site of Anglian Water's Water Recycling Centre (pictured).
The cash will relocate the recycling centre - and the creation of some 5,000 homes on the land owned by Anglian Water and the City Council and 3000 homes on adjacent land.

37,000 new homes will also be built at four sites across the UK, one of those being Cambridge with more, across the wider Oxford to Cambridge corridor.

£45m has also been put aside for genomics research, in Cambridge.

Mayor James Palmer said:

"The development of the Cambridge Northern Fringe East site has been an important priority in the Combined Authority's mission to increase housing delivery and foster economic growth.

I'm delighted the Chancellor in his Spring Statement was able announce his support for the scheme. It is testament to the ability of the Combined Authority to secure funding of this scale, and testament to the work of all the partners involved in putting together a compelling scheme which has attracted this Government investment.

This has the potential to deliver around 8,000 homes, including affordable housing, and around 7,000 new jobs. It is a brownfield site, in a well-connected area, supported by Cambridge North station, and close to centres of employment like Cambridge Science Park.

I think we can also be encouraged by the fact the Chancellor in his statement expressly mentioned the importance of investment in the Cambridge to Oxford Arc. This Housing Infrastructure Fund award was announced very much in the context of this. It also comes on the day when the Chancellor announced a joint declaration between the Government and local partners, including the Cambridgeshire and Peterborough Combined Authority, to work together to fully realise the potential of this area.

And while this funding is a hugely significant step forward for Cambridge Northern Fringe East, there is now much work to be done in ensuring the delivery of a much-needed new, exciting, thriving, low-cost and sustainable community in which people can live."