Cambridge Prepares for Dragon Boat Festival
21 May 2019, 06:43 | Updated: 21 May 2019, 07:16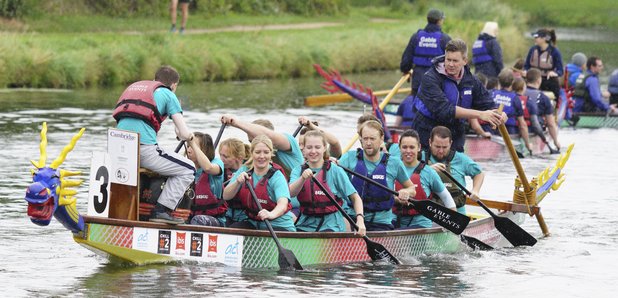 Companies, clubs and organisations from across the region are getting their teams together and signing up to take part in this year's eagerly anticipated Cambridge Dragon Boat Festival in aid of Addenbrooke's Charitable Trust (ACT).
Now in
its 1
5
th
year, the Festival has become one of the biggest corporate team events in the regional calendar
and there's plenty of time to get a team together and
guarantee a place
on
the start line
in
Fen Ditton
on
Saturday
7
th
Septembe
r.
One of the
early entrants
is
Grant Instruments from
Shepreth
in Cambridgeshire who have been
designing and manufacturing innovative scientific and data acquisition tools to markets worldwide since 1951.
C
rew manager, Charlotte Houlihan
is looking forward to strengthening internal company relationships
and
supporting a charity which is very close to their hearts
,
"
Our company is made up of more than 60 energetic, passionate and technically-mind experts – all of whom are up for a challenge! Grant's 'Water Bath Warriors' will be made up of willing volunteers from all departments within the business including Sales, Research & Development and Manufacturing.
This is our second time at the event and n
ot only
is it
a fun day out for all involved, it act
s
as an invaluable team building exercise and fundrais
ing opportunity".
Other e
arly
Festival
entrants include
Addenbrooke's Charitable Trust,
Cambridge Education Group,
eHospital
Cambridge University Hospitals, Frames Conservatories Direct, Kerio, Oval Medical Technologies,
Provisio
,
Sitec
Infrastr
ucture Services (two teams) and
Woodland Group (three teams)
with Gold and Silver teams from
Cooke Curtis & Co, Bouygues UK and The A14.
Gold
and
Silver entries include a
significant
donation to
Festival charity
ACT
as well as
marketing benefits such as the company logo on the side
s
of a dragon boat
.
To take part in the dragon boat racing,
no previous experience is required, just plenty of team spirit and enthusiasm! The dragon boats, qualified helms and all racing equipment are
provided
and each crew is guaranteed a minimum of three races.
Addenbrooke's Charitable Trust is the only charity dedicated to making a difference for patients at Addenbrooke's and the Rosie Hospitals and
Emily
Willdigg
,
ACT's Events
Lead
is
look
ing
forward to building on the success of
last year's event,
"
We hope that businesses will support our much-loved hospitals by getting a team together. With the help of many generous supporters, we can provide funds so that our local hospitals can offer the very best care day after day, year after year."
The Festival
promises a fantastic day for competitors and spectators alike with
Chinese themed
entertainment,
children's
rides and plenty of food and drink for all the family
as well as a
flypast
from a Lancaster Bomber
.
The team raising the most money for ACT will be awarded the charity trophy and enjoy a fabulous
group prize courtesy of Cambridge Escape Rooms
.