Thousands Back Better Cambridge Journeys
23 May 2019, 06:22 | Updated: 23 May 2019, 07:44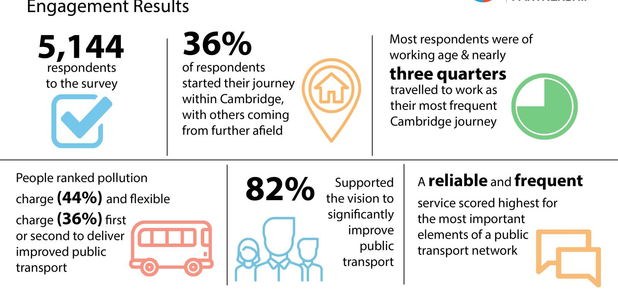 A report commissioned by the Greater Cambridge Partnership that was published in February shows that 106 deaths every year can be attributed to poor air quality in Greater Cambridge.
Thousands of people have backed action in Greater Cambridge to reduce traffic and dramatically improve public transport to achieve better journeys for everyone across the city and beyond.
More than 5,000 residents and travelers told the Greater Cambridge Partnership (GCP) their views by returning surveys recently on options that could cut congestion, improve air quality and double provision of public transport including local bus services to provide faster and more reliable journeys.
The vast majority (82%) backed the GCP's vision to significantly improve public transport, with 81% choosing a traffic-reducing measure as their first choice for both funding this and also slashing congestion – with a charge for more polluting vehicles coming out as top choice.
As a follow-up, the GCP now plans to hold a 'Citizens' Assembly', where dozens of people – supported by an expert advisory panel – will scrutinise the evidence and make recommendations for the GCP Board to consider later this year.
Councillor Lewis Herbert, chair of the Greater Cambridge Partnership's Executive Board, said:
"It's terrific that so many people have responded to our Choices for Better Journeys survey and backed our vision that Cambridge needs a first-class public transport system and a radical improvement to local bus services.
"The findings show that people share our appetite for reducing traffic and improving our public transport so people have better options to using cars, particularly at peak time.
"We need to double the capacity of our local public transport network - particularly bus services - and significantly upgrade walking and cycling routes to help all of us get into and around Greater Cambridge quicker and more reliably. We must take these steps now to improve people's journeys, tackle traffic congestion, clean up the air we breathe and reduce emissions that are a major local contributor to climate change.
"We will now consider all the responses and take the next steps towards developing what a detailed scheme could look like."
The findings from the Choices for Better Journeys engagement campaign will be published on the GCP website this week and will be considered in detail by the GCP's Joint Assembly and Executive Board in June.
Respondents opted for pollution charging (44%) as their first or second choice option for funding public transport and cutting congestion, followed by a flexible charge to drive at the busiest times (36%).
32% chose introducing pedestrianised zones or physical restrictions, while another 29% opted for introducing a Workplace Parking Levy, which would charge employers for parking spaces that they provide. Finally, 20% thought higher parking charges would be the best option.
Of the 19% who put forward an alternative idea first, these included improving public transport to encourage greater use, better Park & Ride provision and higher taxation to fund better vehicles.
Jane Paterson-Todd, CEO of Cambridge Ahead said:
"The level of participation in the survey is very encouraging, highlighting people's recognition of the challenges of congestion, pollution and the current provision of public transport, as well as their motivation to have a say in what could be done to improve it.
"The introduction of a pollution charge garnered noticeable support as people considered a range of options to fund improvements in public transport.
"The survey also gave valuable insights into the prioritisation of other ideas - the objective must now be to ensure that any recommendations are fair and representative of the entire community, and that the wider public is kept informed of all initiatives as they are considered in more detail and eventually implemented."