Herts & Beds Fire Services Must Improve
20 December 2018, 12:50 | Updated: 20 December 2018, 12:57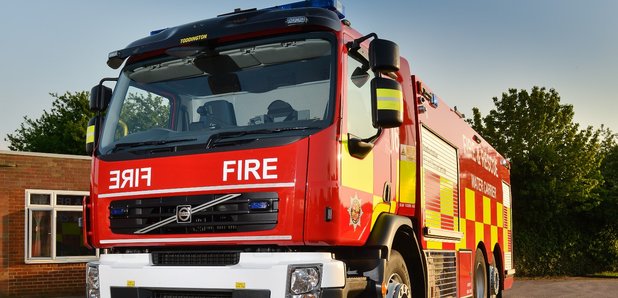 The people running the fire service in Bedfordshire and Hertfordshire have been told they're got work to do to improve the service they offer the public.
Fire chiefs in both counties have been told they're not as efficient as they should be at keeping residents safe.

In Bedfordshire, the Fire Service have been criticised for being too bureaucratic and relying too much on old-fashioned paper-based systems.
In the first inspection of fire and rescue services in various parts of the UK, Her Majesty's Inspectorate of Constabulary and Fire & Rescue Services (HMICFRS) judged that Hertfordshire Fire and Rescue Service:
"requires improvement" at effectively keeping people safe and secure from fire and other risks
"requires improvement" at efficiently keeping people safe and secure from fire and other risks
"requires improvement" at looking after its people
HM Inspector of Fire and Rescue Services Zoë Billingham said:

"While Hertfordshire Fire and Rescue Service can be proud of how it responds to fires and other emergencies – and how it keeps the public safe by enforcing fire regulation – it has more to do before we can call it a fully efficient and effective service.

We found evidence of some innovative work on community safety and the service is good at using its powers to uphold fire regulations and bring prosecutions against businesses who aren't following the letter of the law.

But the service's risk management plan is out of date, its local risk profiles are out of date and its prevention strategy is about to expire too. This has the potential for having a significant impact on how Hertfordshire Fire and Rescue service can manage and mitigate risk in its communities, and it could prevent the service from working as effectively as it should.

Because the service doesn't have an up-to-date plan, it can't be sure that it is getting the most out of its resources. The true cost of running this fire and rescue service is unclear. The county council carries out a lot of back-office work, but the service doesn't factor this into its annual budget. Without a proper understanding of its financial resources and local risk, the service can't explain its rationale for how it allocates resources between its prevention, protection and response duties. The service understands that this needs to change.

I am encouraged to see that staff speak highly of the service's open leadership style. The chief and deputy chief fire officers have the trust of their workforce, who believe they want to see the service change for the better.

I am also encouraged that since our inspection, Hertfordshire Fire and Rescue Service has already taken steps to address the areas for improvement. Importantly, the service is at an advanced stage of updating its risk management plan. The service will then be in a better position to plan for and deliver more effective services to the communities across Hertfordshire."
BEDFORDSHIRE
"Our first inspection of Bedfordshire Fire and Rescue Service has shown that the service is good at responding to fires and other emergencies and has a good handle on local risk. It uses a wide range of information to recognise where the real risk lies, so it can prioritise its protection and prevention work. That's why I can confidently say that Bedfordshire is an effective service.

But while it may be an effective service, we are not convinced that it represents good value for money yet. For example, we found that Bedfordshire Fire and Rescue Service hasn't kept up with the pace in technology. There are too many layers of bureaucracy and duplication which is preventing hardworking staff from doing their jobs effectively as possible. Out-of-date IT can be a real source of frustration and it can keep staff from accessing vital information when they need it most.

However, I was pleased to see that Bedfordshire prioritises the health and wellbeing of its staff. They had good things to say about the support they get from the occupational health team and employee assistance programme.

But staff also told us that they didn't have much faith in the service's disciplinary procedures and that they doubted many recent improvements in the culture of the organisation would last. I recognise that senior management have introduced new programmes to improve engagement, but more needs to be done to earn the workforce's trust.

Overall, the people of Bedfordshire can be confident that their local fire and rescue service is keeping them safe. It has some considerable work to do around the edges, but it does a good job at its core responsibilities of managing local and national risk and responding to incidents. I look forward to seeing what Bedfordshire Fire and Rescue Service does over the next year to make sure it is running a truly efficient service."