Northampton - Future King Has Sole
28 January 2019, 20:02 | Updated: 28 January 2019, 20:05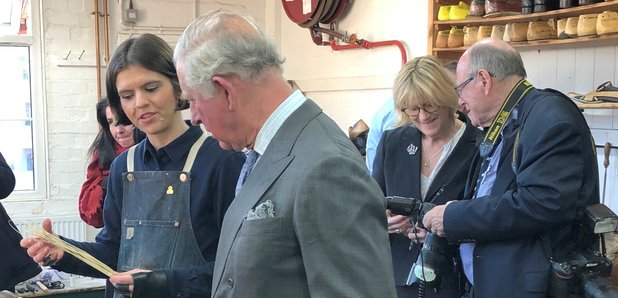 HRH Prince Charles has been in Northamptonshire today visiting shoe manufacturers.

Charles first stop was at Tricker's in Northampton, and was shown wooden moulds, known as lasts, used to make shoes for the Queen, Gringotts goblins from the Harry Potter films and size 22 lasts for former American basketball star Shaquille O'Neal.

Established in 1829, the company has held a Royal Warrant from the prince since 1989 and decades ago established a reputation for its heavy country boots and shoes for farm, estate owners and the landed gentry.

Charles wished the firm happy birthday during his visit, saying:

"Many congratulations everybody on reaching your 190th birthday.

Sorry it has taken me 190 years to get here. Marvellous to see such a highly skilled operation. I do congratulate you and I hope you manage to keep it all going for many, many more years."

HRH concluded his trip to the county with a visit to Gaziano & Girling shoe makers in Kettering.