New Fire Station For Ramsgate
6 February 2019, 10:19 | Updated: 6 February 2019, 10:21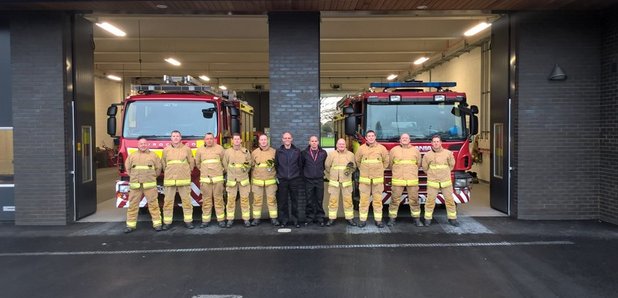 A new fire station and training facility's been officially opened in Ramsgate.
The site in Newington Road was chosen for its good location in terms of accessibility to key road networks, and has been built to provide a reliable and efficient modern day service for local people.
Whole-time crews, 14 on-call firefighters and a British Red Cross team will all be based there around the clock. In addition, the station provides space that other agencies, such as police and the ambulance service, can use.

Chairman of the Kent and Medway Fire and Rescue Authority Nick Chard said: "I am delighted to be officially opening the new Ramsgate fire station that will provide effective emergency cover for the area for generations to come.
"It's in a good location for road networks that will help us provide an excellent emergency service for local people.
"As well as being an operational fire station and training facility for firefighters across the county, it's a hub for partnership working with agencies such as Kent Police and South East Coast Ambulance Service, as well as the British Red Cross who we are happy to share our new premises with."
The old Effingham Street fire station building, which was occupied by the fire service for more than 100 years and designed to for horse drawn manual fire engines, will soon be the property of Ramsgate Town Council and will be retained for community use.
A little piece of the old station's history has made its way to the Newington Road site, in the form of a mould of the original Effingham Street station plaque which now sits in the new station's entrance.
The earliest record of a fire station in Ramsgate is dated 1878 in York Street, before relocating to Effingham Street in 1905, and 113 years later moving to its new home, Newington Road.