'I kiss my five-year-old son on the lips and ignore what trolls say'
30 June 2023, 12:17
The dad of a five-year-old has defended kissing his son on the lips after receiving backlash.
A Yorkshire dad has hit back at trolls who told him he should stop kissing his son on the lips.
Tom is the proud dad of five-year-old Roman, who he often kisses on the lips in his popular TikTok videos.
However, it was after some bizarre backlash on the video hub that Tom decided to defend himself, his parenting and his son.
Replying to trolls on TikTok, Tom said that he will continue to kiss his son on the lips for "as long as he deems necessary" and as "long as Roman lets him".
Tom said in the video: "I find it worrying that it bothers you. I will kiss my son, my five-year-old child, on the lips for as long as I deem necessary and as long as he lets me, right, 'cause I love him to bits and he's my best pal and one day he won't want me to and he probably won't want much to do with me. So for now, I'll carry on as I am."
Some of the comments Tom received from people on TikTok argued that he could be making his child "more susceptible to cavities" by kissing him, with another saying that he shouldn't be making it "acceptable" as "not all humans have the right intentions".
One reply read: "You can make your child more susceptible to cavities if you have them and kiss them", with another writing: "Don't kiss your children on the lips fact...Because not all humans have the right intentions do you see what I'm saying? Don't make it acceptable!
Responding to the latter point, Tom said in a video: "So the logic here is, if I kiss my five-year-old, he will think that he can go off and it's OK to kiss strangers, strange adults... obviously!"
He continued: "So let's apply that logic. I can't have him in my car anymore to take him places because he could get in a stranger's car and think that's normal.
"He can't live in my house anymore because - well, he could just walk in a stranger's house and think that's normal."
Continuing to mock the comment, Tom went on: "Or we could, now hear me out, we could... teach him that he's got a mummy and a daddy and kissing them is normal, but kissing dodgy Barry down the road is a bit weird."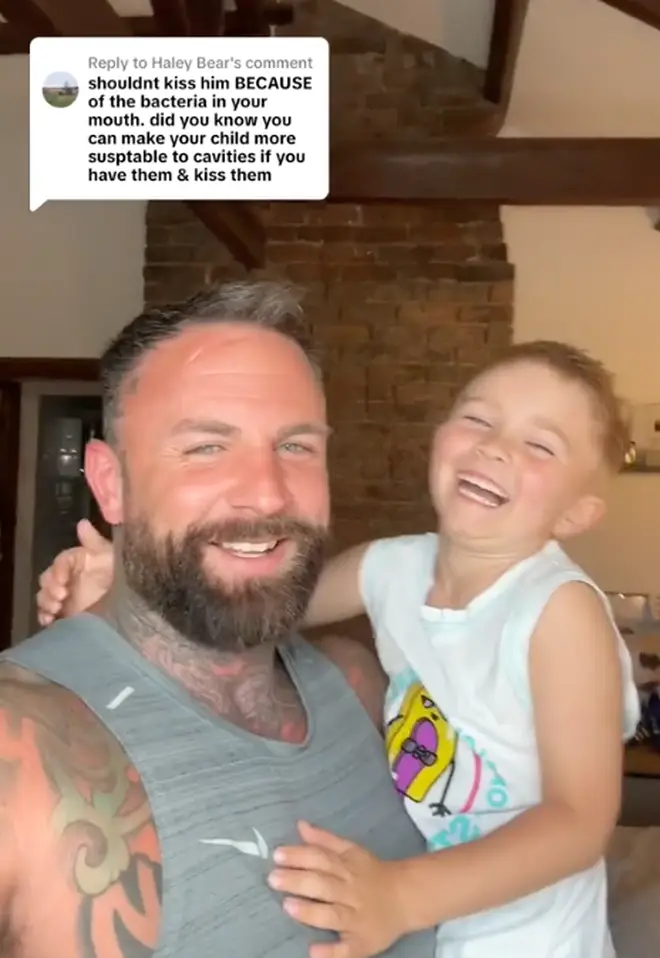 Of course, not all the comments have been negative, with a lot of fellow parents commending Tom and his parenting style.
One commenter defended the father, writing: "What is wrong with people? It's his SON!!! His dad showing him love will make him a more gentle loving boy/man one day!!!"
Another shared: "You keep kissing your gorgeous boy and show him all the love and affection in the world! Enjoy that beautiful family of yours."
Read more: