Mum reveals her kids' nursery hands out gourmet breakfasts during drop-off
28 July 2023, 16:26 | Updated: 28 July 2023, 16:31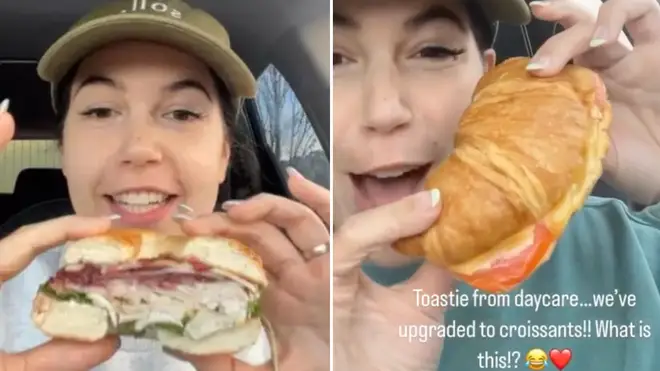 TikTok star Maggie Chretien said she'd "hit the damn jackpot" as she munched down on toasted croissants.
A mum-of-two has left parents seething with jealousy after revealing her children's nursery dishes out gourmet pastries at drop off.
Australian influencer Maggie Chretien, who goes by @thepeninsulamumma, told followers her kids' kindergarten cook whips up tasty takeaway breakfasts for busy mums and dads on-the-go – and they're completely free.
Sharing a reel of free treats she was given by pre-school, the Melbourne-based writer took to TikTok to post a video titled: "What I got from daycare this month 😂💁🏻‍♀️".
At the start of the clip, the jammy podcast host admitted she had "hit the damn jackpot" then proceeded to list off toasties, croissants and bagels.
It began: "On today's episode of 'What Did Daycare Give Parents', you're not going to believe it, this is GOURMET!" she squealed, whilst holding up a jam-packed delight.
"Turkey, cranberry, rocket, and Swiss cheese in a bagel! It just keeps getting better."
The montage contained with a rundown of nursery's baked goods, with Maggie showing off her brekkie gifts to the camera.
"Toastie of the day from daycare is spaghetti and cheese. YUM! This daycare is next level."
"What did daycare have for the parents today, nobody asked...? Ham and cheese croissants. TOASTED HAM AND CHEESE CROISSANTS!"
"I'm about to eat what daycare gave parents this morning. Chicken salad bagel and sun-dried tomato and pesto and cream cheese. I am blessed. Grateful and blessed."
Envious parents were quick to comment on the now viral video, which has amassed over 70,000 views.
"All I got from our daycare this week was HFM and conjunctivitis 🥲," wrote one follower.
"What!? All I get is bloody phone calls about head injuries and a million sicknesses," fumed another.
While a third joked: "Our daycare just gives us shoes full of sand 🫣😂."
Some people couldn't believe Maggie didn't pay for her pasty privilege, but this lucky lady confirmed no additional fees were added to her bill.
One follower asked: "How good 🙌 does the centre charge extra for this? Curious to know your daily fee they charge!"
To which she replied: "No, doesn't charge extra! I've asked a bunch of my friends with kids in daycare & we are all paying pretty much the same daily fee! ❤️."
Sadly, this nursery is a 21-hour flight from the UK so doesn't look that feasible, but if ever there was an idea to bring up during a PTA meeting...
Read more: