Parent breaks 10 road laws in 90 seconds dropping child to school - can you spot them?
11 October 2018, 12:35 | Updated: 11 October 2018, 16:24
Shocking footage shows an 'arrogant driver' break ten road laws in just 90 seconds.
Frustrated road users were forced to drive into oncoming traffic as a careless driver broke ten highway codes in less than two minutes as he dropped his child off at school.
Shocking footage shows a woman clothed in a dressing gown get out of the passenger side of the vehicle with her child, as the male driver causes disruption outside a school in Bridgwater, Somerset.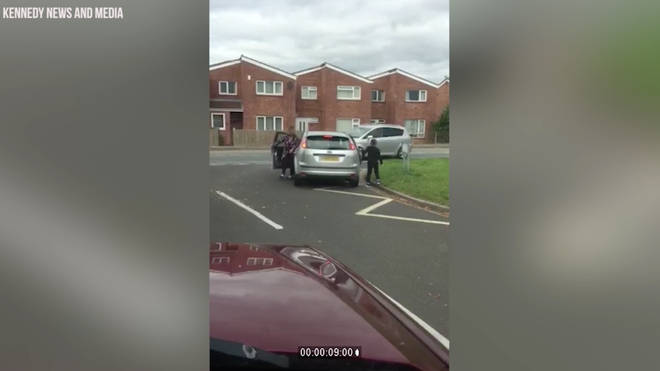 The shameless driver remains parked on zigzags, on a corner and at a junction, on the WRONG side of the road, before making a poor U-turn right in the centre of a busy junction, before driving back past the school.
READ MORE: Parking your car on the wrong side of the road could land you a £1000 fine
The full list of highway codes believed to have been broken are:
Rule 144 - You MUST NOT drive without reasonable consideration for other road users.
Rule 160 - Once moving you should keep to the left and keep well to the left on right-hand bends.
Rule 191 - You MUST NOT park on a crossing or in the area covered by the zig-zag lines.
Rule 200 - Choose an appropriate place to manoeuvre.
Rule 201 - Do not reverse from a side road into a main road.
Rule 239 - Do not park facing against the traffic flow.
Rule 239 - It is safer for your passengers (especially children) to get out of the vehicle on the side next to the kerb.
Rule 240 - You MUST NOT stop or park on: a pedestrian crossing, including the area marked by the zig-zag lines.
Rule 242 - You MUST NOT leave your vehicle or trailer in a dangerous position or where it causes any unnecessary obstruction of the road.
Rule 243 - DO NOT stop or park: near a school entrance / opposite or within 10 metres (32 feet) of a junction, except in an authorised parking space.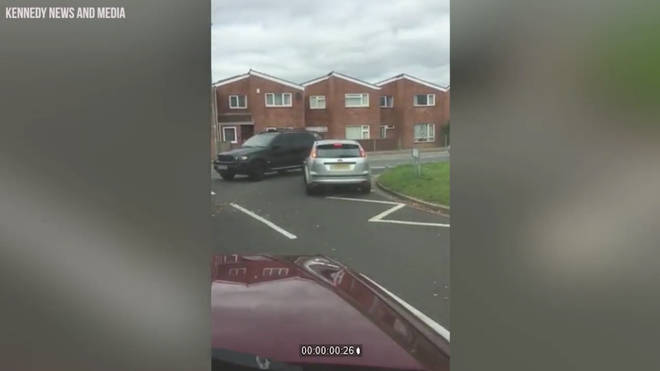 The parent, who caught the shocking display on camera but chose to remain anonymous, explained: "I couldn't believe it.
"It's careless and dangerous driving. It scares the c**p out of me.
"What this clip doesn't show was he'd driven down the other side of the road before that and forced people out of the way.
READ MORE: Should parents have to pay to drop their kids outside school?
"There were cars coming towards him and he didn't move over at all.
"I saw him force his way down the other side then I thought 'there's something not right about that' so I started recording him.
"I was just going to quickly record it then send it to the police, but I ended up catching a lot more than I thought I was going to get.
"By the time he went it'd been ten minutes of forcing people out the way and causing havoc."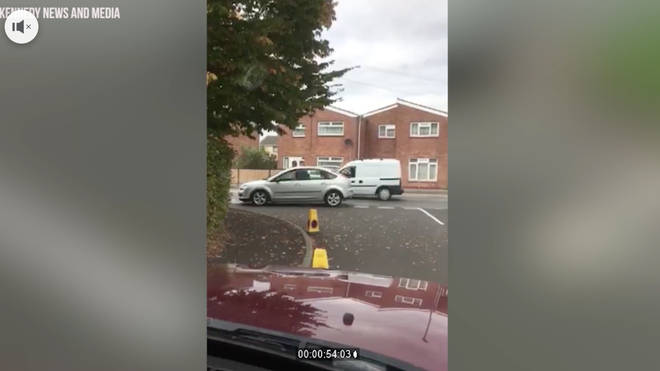 The frustrated parent added: "The one thing that gets me is the way he was moving. He wasn't even looking around to see what was behind him.
"Especially when it's right outside a school as well. He wasn't paying any attention - if there was a kid right behind him it could have been a lot worse."
Despite handing the footage into the police, the anonymous driver revealed that it's "gone absolutely nowhere".
"I had a email asking me to upload the video on the online service [for reporting motoring crime], but because the video does not have time and date on it they cannot accept it."
Avon and Somerset Police have 'increased patrols' near the school to tackle 'anti-social driving'.
A spokesperson for the police force said: "We are aware of the video and are looking into the matter.
"We have increased patrols in the area following concerns raised in the community over anti-social driving and parking."