Major airlines Jet2 and TUI cancel all flights to Rhodes as wildfires rage on
24 July 2023, 12:23 | Updated: 24 July 2023, 12:25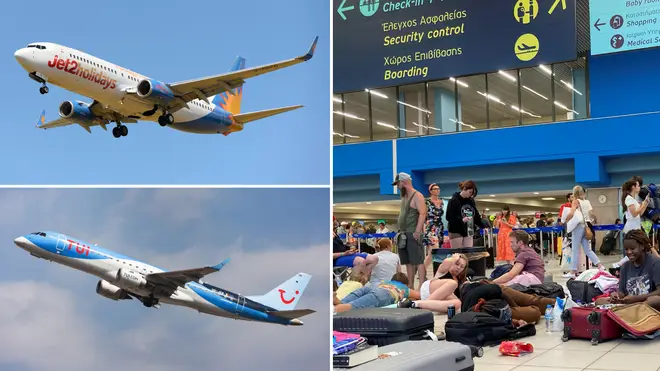 Up to 30,000 locals and tourists have been forced to evacuate danger zones on the Greek island.
Two major British airlines have been forced to cancel all flights to Rhodes as huge wildfires continue to rip across the Greek island.
Jet2 and TUI are putting holidays on hold for Brits as they turn their focus to evacuating customers trapped in the burning region and bringing them safely back to the UK.
Dangerous blazes have engulfed parts of the popular tourist destination, forcing up to 30,000 locals and tourists to escape the danger zones.
Some of the planes scheduled to depart from East Midlands, Leeds Bradford, Manchester, Newcastle and Stansted will instead fly out empty to bring home those fleeing their resorts.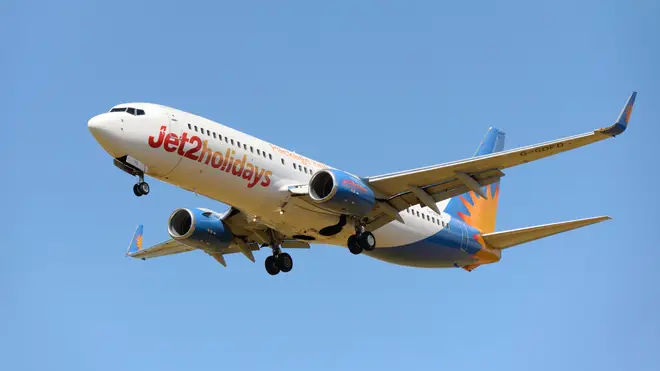 Jet2 said in a statement: "We have cancelled all flights and holidays that are due to depart to Rhodes today.
"We will be contacting affected customers to update them, and to let them know that they will be provided with a full refund and the opportunity to rebook.
"We will fly those five aircraft to Rhodes with no customers onboard, so that we can bring customers back to the UK on their scheduled flight.
"We are keeping the situation under constant review, and we will continue to make decisions in the best interests of our customers.
"We continue to ask customers in affected areas to follow the advice of the local authorities, as well as staff in their hotels, and we are contacting customers as quickly as possible."
TUI also issued a notice to customers on its website, writing: "We have cancelled all outbound flights to Rhodes up to and including Tuesday 25th of July 2023.
"Customers currently in Rhodes will return on their intended flight home."
The airline described the situation in Southern Rhodes as "volatile and challenging", which led to its decision to cancel all immediate flights.
British families trapped on the burning island have described the wildfires as "terrifying", with many left with no choice but to leave their accommodation.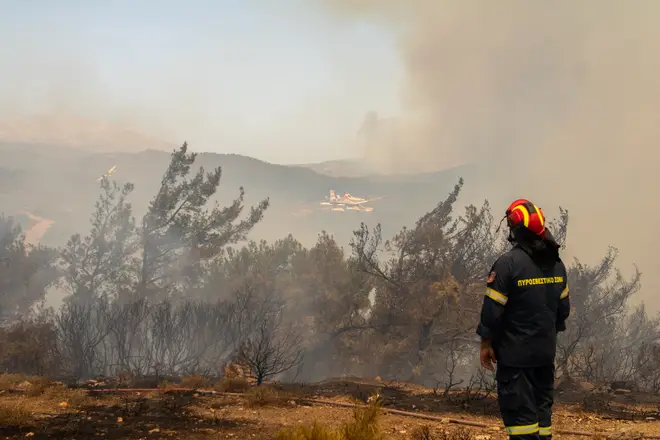 Over 3,500 people were evacuated from Rhodes over the weekend, with another 1,200 to be rescued from Pefki, Lindos, and Kalathos this week.
The Greek government confirmed a total of 19,000 locals and tourists have been evacuated or redirected since the start of the blaze.
200 firefighters and 40 fire engines have been battling the uncontrollable fires, which have been burning for five days straight.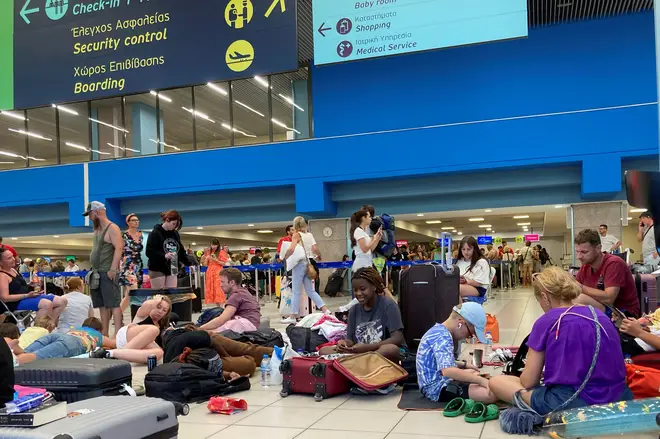 The UK's ambassador to Greece, Matthew Lodge, said: "Since the #wildfires situation deteriorated yesterday @ukingreece has been working with the Greek authorities, airlines and tour operators to support UK nationals on #Rhodes.
"A rapid deployment team from @FCDOGovUK is on its way."
Thankfully no fatalities have been reported as of yet, but the deputy major of Rhodes, Athanasios Vyrinis, confessed the island is lacking in essential supplies and many people are being forced to sleep in cardboard boxes among the carnage.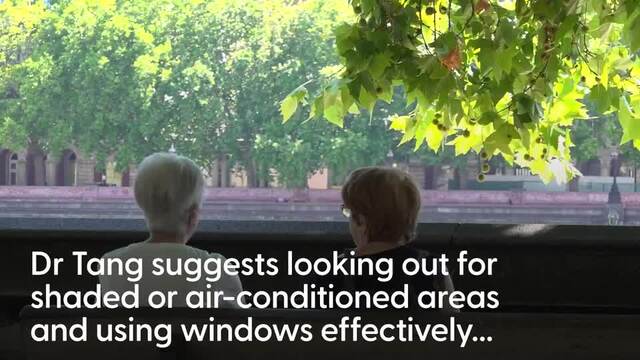 Holidaying in Europe - How to travel safely in extreme heatwaves
The Foreign Office recently issued updated travel advice for those affected by the blaze.
The ministerial department said: "If you are a British national affected by wildfires in Rhodes, please follow the guidance from the emergency services. Call the Greek emergency services on 112 if you are in immediate danger.
"The Greek government has established a crisis management Unit to facilitate the evacuation of foreign citizens from Rhodes. They can be contacted on +30 210 368 1730. For 24/7 British consular assistance, call +4420 7008 5000.
"If you are planning to travel to Rhodes, please check with your travel operator or hotel prior to travel that the area you plan to visit is not impacted by the current wildfires."
Read more: