Teesside campaign highlights violence and forced marriage is abuse - NOT culture
10 July 2019, 07:32 | Updated: 10 July 2019, 10:38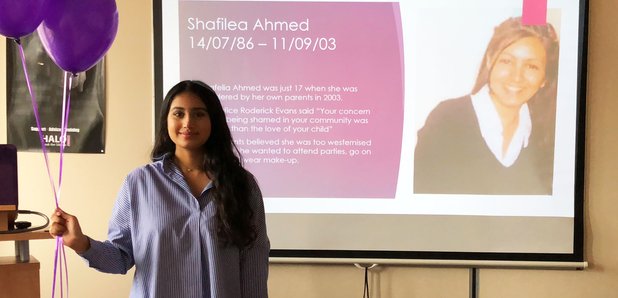 A new campaign is spreading the message that forced marriage and 'honour-based' violence are abuse - not cultural norms.
This week, the Tees-wide Violence Against Women group is working alongside partner agencies, including Cleveland Police and the Police & Crime Commissioner, specialist domestic abuse services and health authorities, to spread the word.
The campaign centres around the 'Day of Memory' on Sunday, July 14th, in rememberance of victims of honour-based violence.
It is held on the birthday of Shafilea Ahmed, who was murdered by her parents in 2003 at the age of 17 after suffering years of abuse.
Teesside-based charity The Halo Project will host an event aiming at tackling the way the public view and deal with the problem by showcasing good practice when working with victims and hearing first-hand survivors' accounts.
People will also see a range of groups from across the region, discussing how to overcome the challenges involved in safeguarding victims and working to reduce the risks of abuse within the BAME communities.
During this week smaller events will also be taking place, with survivors and organisations offering support to survivors and increasing understanding of illegal cultural harms.
Yasmin Khan, founder of The Halo Project, said there is still a lot of work to be done in terms of prevention, protection and support.
"Women who we work with are like warriors in terms of their tolerance of inhumane treatment," she said.
"We must work with communities, victims and survivors to help them before they reach crisis level.
"Survivors can help us to learn, act and change the way society deals with honour-based violence.
"Change is now, change is together, together we must eradicate this abhorrent abuse of human rights."
Councillor Mieka Smiles, Middlesbrough Council's Executive member for Culture and Communities, added: "Honour-based violence has nothing to do with honour - it is just a crime.
"The same is true of forced marriage, so is vital that we increase awareness and learn from survivors and specialist services to improve prevention and response, across all cultures and communities."
Cleveland Police and Crime Commissioner Barry Coppinger, said: "Crimes like forced marriage and honour-based violence can be complex and challenging for agencies to tackle, as it requires them to challenge long-standing cultural practices that are, in fact, abuse.
"The key to breaking the cycle of illegal cultural harms is educating communities to understand that these practices are criminal offences under UK law and to encourage community leaders to join the police and other agencies in condemning them.
"It's clear that this must be a multi-agency process, as victims and perpetrators may come into access with a range of different services.
"The perpetrators of these crimes are often close relatives of the victim and the impact of this betrayal of trust can have a significant impact on those affected and their community.
"I'm proud to fund the Halo Project to provide specialist support for victims of illegal cultural harms in Cleveland, to allow them to repair the damage caused and move forward with their lives."
Ron Hogg, Police, Crime and Victims Commissioner for County Durham and Darlington, said: "The continued prevalence of forced marriage and honour-based violence is unacceptable, and it is poignant that this conference takes place on the anniversary of Shafilea's tragic death.
"I completely support the aims of the event and I hope it goes well."