Cast of Industry on Instagram: Find all the stars of the new drama on social media
17 November 2020, 20:00
Here are all the Instagram handles of the cast of BBC's new drama Industry including Harry Lawtey and Myha'la Herrold.
The BBC is back with a brand new drama to keep you entertained this winter in the form of Industry.
The eight-part series - which was a joint project with HBO - follows a group of graduate investment bankers at a company called Pierpoint & Co.
The cut throat new workers have six months to prove themselves before half of them are fired.
Viewers see the drama unfold through the eyes of Harper Stern, who is a talented young woman from upstate New York.
As well as covering important issues, the show also touches on work place bullying and sexual harassment.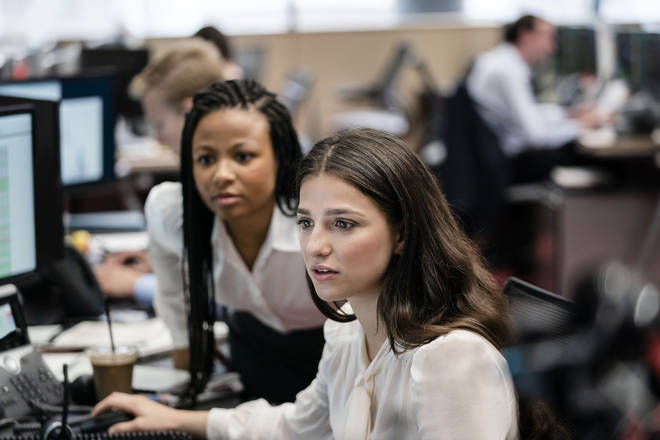 The synopsis reads: "Examining issues of gender, race, class, and privilege in the workplace, Industry shows how these impressionable young minds begin to forge their identities within the pressure-cooker environment and sensory blitz of Pierpoint & Co's trading floor, where meritocracy is promised but hierarchy is king."
It also has a talented cast of new stars, including Myha'la Herrold plays Harper and Harry Lawtey as Robert Spearing.
So, if you want to get to know them more - check out their Instagram pages.
Read More: I'm A Celebrity 2020: Everything you need to know about the new series...
The cast of Industry on Instagram
Myha'la Herrold
You can find the Harper Stern actress @mmyhala
Harry Lawtey
The Robert Spearing actor can be found on Instagram @harry_lawtey.
Marisa Abela
Marisa Abela plays Yasmin Kara-Hanani and she is on Instagram @marisaabela_.
David Jonsson
David Jonsson plays Gus Sackey and his Instagram handle is @davidjonsson__.
Nabhaan Rizwan
Hari Dhar actor Nabhaan Rizwan can be found on Instagram @nabhaanr.
Ruby Bentall
Lucinda is played by Ruby Bentall and her Instagram handle is @rubybentall.
Will Tudor
Will Tudor - aka Theo Tuck - is on Instagram @willtudor1.
Freya Mavor
Daria Greenock actress Freya Mavor is on Instagram @frejska.
Ben Lloyd-Hughes
Ben Lloyd-Hughes, who plays Grey Grayson, doesn't seem to have a public Instagram or Twitter.
Now Read: Are Eamonn Holmes and Ruth Langsford leaving This Morning?