Lisa Riley is returning to Emmerdale as Mandy Dingle... just in time for Christmas
13 November 2018, 00:01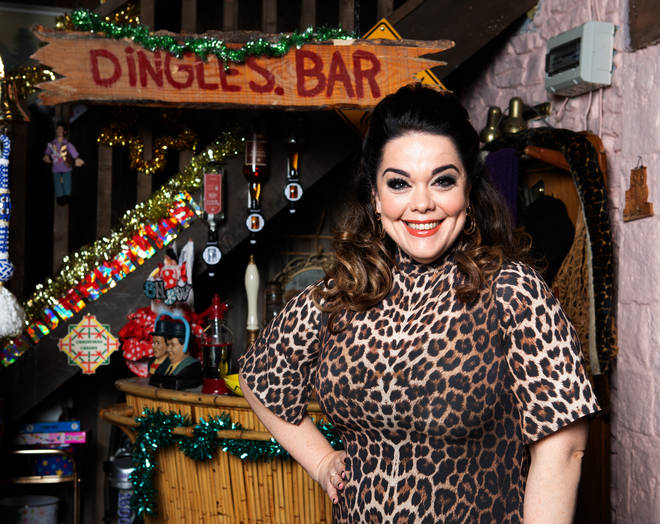 The actress was last seen on the show SEVENTEEN years ago - and she can't wait to get back to the village.
Lisa Riley is reprising the role that made her famous - Emmerdale's Mandy Dingle.
The 42-year-old left the show back in 2001, but fans have always hoped to see the larger than life character return to the Dales.
Mandy left the village in a cloud of shame after romping with her college tutor behind her husband's back, packing her things and moving to London to live with best friend Kelly Windsor.
In a statement, Lisa said: "I could not be happier to be returning in the New Year to Emmerdale.
"It's something I never thought would happen after 17 years and I am so interested to see what trouble Mandy is capable of causing.
"But mostly being back with all my old friends, it's like I've never been away."
Read more: Lisa Riley opens up about terrifying panic attacks
Lisa is expected to be seen on screen as 2019 approaches.
A new promo image shows her standing next to the Dingle's at-home bar, which is dripping in tinsel ready for the big day.
It's not clear how her ex-husband Paddy will react seeing her - or how she will feel about seeing him shacked up with one of her cousins, Chastity 'Chas' Dingle.
Emmerdale's Producer, Kate Brooks said that Lisa will return with a bombshell secret that will change the Dingle's lives forever.
She explained: "Iconic Mandy Dingle returns to the village carrying a secret that turns lives upside down. 
Read more: Lisa Riley reveals the food that helped her shed 12 stone
"She's a character bursting with fun who certainly ruffles a few feathers during her short stint back in the village, and she clearly hasn't lost any of the joie de vivre that made Mandy so popular and enjoyable to watch.
"We're delighted to welcome Lisa back to Emmerdale."
Mandy isn't the only familiar face on her way back to the Dales. Soap superbitch Kim Tate is also back.