The World Cup that's come to Wales this week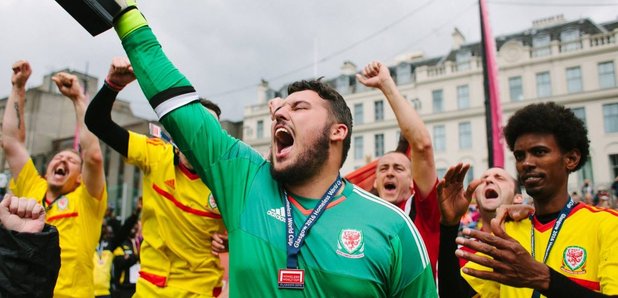 This week our capital city is host to a world sporting event with a difference as football's Homeless World Cup comes to town.
Lead by Welsh acting legend and Hollywood star Michael Sheen, the event is a celebration of how football and sport can help people affected by homelessness.
It's the 17th year the tournament has run, with over a million people benefiting from the good work around the event. Last year in Mexico City almost 200,000 people attended the free event.
This year over 500 players from 51 countries around the world will compete in Cardiff's Bute Park as the tournament reaches its conclusion on August the 3rd.
Two Welsh teams will take part and for the first time in the tournament's history players have been honoured with official Wales caps for their involvement.
As well as the football there will be a full programme of music including a performance from Charlotte Church and Manic Street Preachers' James Dean Bradfield. Other cultural and debate events will also take place to explore issues related to homelessness.
The entire event is privately funded with partners including Michael Sheen, Cardiff University, the Football Association of Wales, Street Football Wales and Cardiff City FC Foundation coming together to deliver the event.
Where does the event take place?
The games along with the music and cultural events all take place in Cardiff's Bute Park. The teams will be based in the near by Cardiff University Talybont complex.
Who much are tickets?
The entire event is free to attend, with no tickets required.
When does it take place.
The event kicked off when Wales men tooj on Denmark at 12.30pm on Saturday July 27th running all week until the final on Saturday August 3rd.

What music is on?
There will be music on stage from 7pm each evening from the following artists:
Sunday 28th July – Euros Childs, Wigwam
Monday 29th July- Gwenno, Rosehip Teahouse
Tuesday 30th July- James Dean Bradfield, Alffa
Thursday 1st August- The Joy Formidable, Mellt
Friday 2nd August- Papur Wal, Charlotte Church's Late Night Pop Dungeon
Saturday 3rd August – Buzzard Buzzard Buzzard, Y Sybs