Black Friday 2018 UK deals starting now: Amazon, Argos, NOW TV and more
16 November 2018, 14:04 | Updated: 23 November 2018, 16:25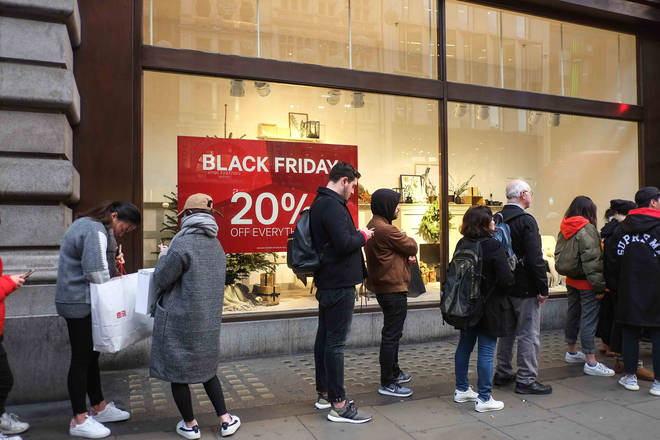 It's nearly time for Black Friday again and the 23rd of November shops will throw open their doors with some incredible deals for customers.
Black Friday might not be until November 23rd but the sales have already begun, with retailers such as Amazon and Argos launching their deals a week early.
The retail giants have launched huge reductions on their electronics, TV, laptops, Dysons, Fitbits with deals appearing all throughout the day, and some lasting just an hour or less.
What's more it's a great time for shoppers to stock up on some bargains before Christmas.
These are some of the retailers with the biggest Black Friday UK deals starting today, before the official sales kick off next Friday 23rd November...
Read more: When is Black Friday 2018?
Black Friday UK Deals starting today
Amazon Music Unlimited is luring customers with their new subscription deal which is now £0.99 a month for the first three months. You can get the deal here.
Amazon has also launched deals on TVs, laptops and even children's toys such Lego.
Argos has launched a sale on everything from Dyson vacuum cleaners to beauty products.
NowTV customers can now cash in on an incredible Sky Sports pass for just £179 for 9 months.
Currys have slashed £200 off the price of five HP Pavillion laptops
Elsewhere, there are still deals to be had next week so keep your eyes peeled...
Fashion
The online fashion king has a whole page dedicated to Black Friday that will take you straight through to all their best deals when the day arrives.
It's also worth noting that they will be running Cyber Monday offers too.
Homeware
Of course, John Lewis don't just stock homeware but their Furniture, Home and Garden departments are just some of those taking part in Black Friday with fab deals for shoppers.
They are also offering Cyber Monday deals online on the 26th November.
Classy homeware brand Le Creuset have great savings on their cookware this Black Friday including lots of special sets including ramekins, mugs and casserole dishes.
Electrical
The computer and electrical store is taking Black Friday seriously this year and even has a 'Black Friday Survival Guide' on their website to prepare
Supermarkets
Morrisons: Last year their Black Friday deals began on the 20th November so shoppers keep your eyes peeled for early deals.
Tesco: Since Tesco Direct shut down the supermarket is now focusing on it's actual stores and will likely have many offers on across home, garden and electrical if last year was anything to go by.
Lidl: Lid's Black Friday deals for 2018 cover a range of departments including tech, homeware, food and drink and beauty. To name a few of their big discounts they are offering a smart LED TV for only £199, a magnum of Prosecco for £10.99 and a Nutribullet for £39.99.
ASDA: Surprisingly, ASDA aren't participating in Black Friday despite being owned by American retailer Walmart. This is in a bid to reduce panic buying and shopping frenzies in store.
Travel
In 2017 EasyJet offered £40 off many of their flights and they are likely to offer similar savings for Black Friday this year.
They currently have a holding page on their site offering cut price holiday package deals but they are most likely to update this with Black Friday specific deals as the day looms.