Mum buys £7 'Sexy Santa' costume... and can't believe how BAD it looks
7 December 2018, 16:12 | Updated: 7 December 2018, 16:47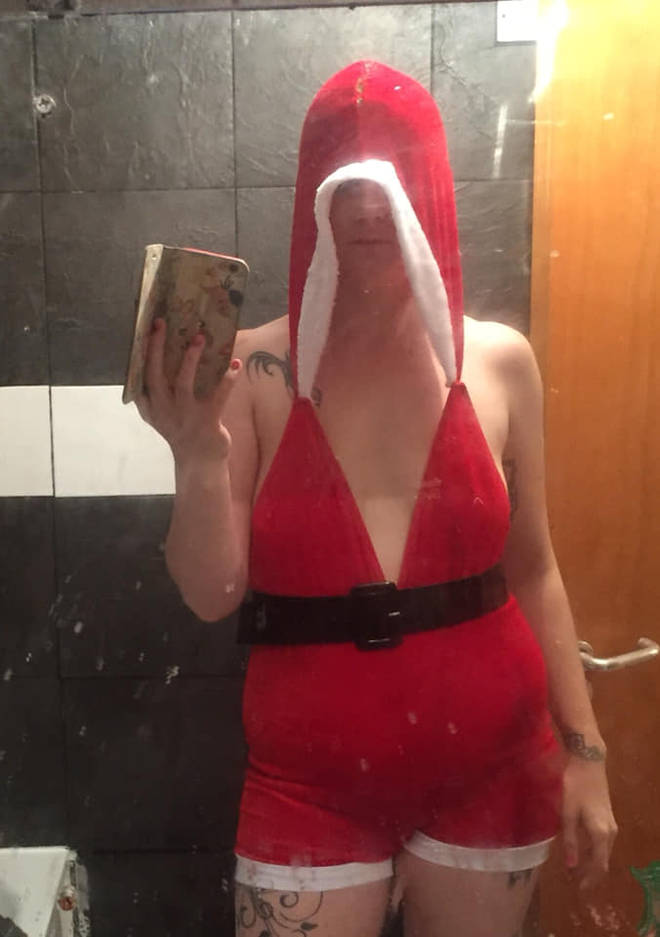 Lisa Williamson though the stretchy romper would add a bit of fun to her festive wardrobe - but it turned out to be the least flattering outfit ever made.
A mum who forked out £7 on a 'Sexy Santa' outfit for a Christmas pole dancing lesson was astounded when she tried it on and it looked like THIS.
Lisa Williamson, 28, a stay at home mum from Edinburgh, was counting down the days until its arrival after ordering it online - but it failed to live up to her expectations.
Amused, she sent a photo of her modelling the horrid outfit to a friend who urged her to post it on Facebook so others could have a good laugh, and her post has gone viral.
Although the product description read: ''It's so stretchy so you don't have to be worried about it being the exact size you need,'' Lisa struggled as she tried it on for the first time. 
In a post she said: "When your order arrives online and it's nothing like you expected.
"Been looking forward to this coming for ages - but only thing that's the same is the colour."
Read more: Prince Harry and Meghan Markle make rare double fashion fail... can you spot it?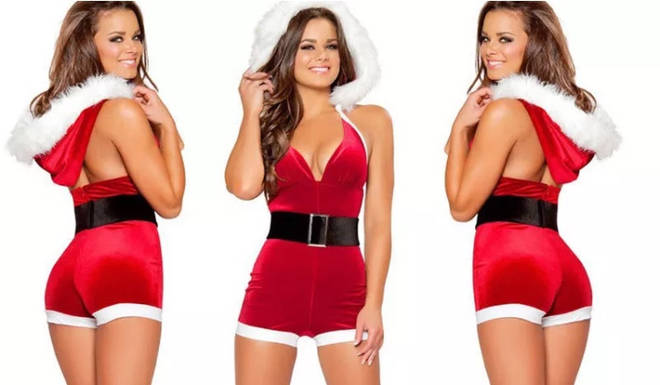 She then rounded off her post with a number of laughing face emojis - but some meanspirited types have used her bad luck as a chance to have a dig.
Lisa said: "The majority of people who have seen and commented on my posts have found it funny and tagged their friends, a few said there's no difference apart from the hood and some saying I need to get a bigger size or that it's because of the shape of my body.
"Going by the description it should have been a comfy fit and the description even says 'The costume is very good quality and looks great on'."
Lisa had spotted the cheeky red playsuit on eBay in November, and decided to treat herself.
The product description stated the costume was a 'one size fits all' item, and as she wears a dress size 8-10, Lisa believed the costume would be a perfect fit.
The red stretch crush velvet dress with 'faux fur trim' on the hoodie promised 'hooded halter top romper and belt.'
However, after unboxing the outfit, Lisa said she was left feeling 'gutted' by what received.
Hoping for a Christmas miracle, she decided to try it on anyway - reasoning it might look better on.
Lisa, who is a mum to Mia, aged eight and Morgan, aged two, said: "I wanted to get the outfit for a Christmassy pole dancing workshop where I'd be learning a pole routine - but what I got looked cheap and frumpy.
"I had found the outfit on eBay on 24th November this year. It said it was one size only and apparently a regular. I'm a size 8-10, so I just assumed it wouldn't be too small and I never really read the description properly, but going by the sizing it should have fit me fine.
"When I opened it up I instantly saw it was rubbish quality and I was a bit gutted because I'd been looking forward to getting it. Still, I thought I'd try it on anyway and found it hilarious how it looked.
"After that I took pictures and sent them to my friend Georgie, who told me I should post them on Facebook so I did to give other people a laugh.
The eBay seller has since said they would refund Lisa £2 for the mistake - and has said she can keep the outfit.