Mum UNINVITED family to baby shower after they criticised her unborn baby's name
10 December 2018, 11:06 | Updated: 10 December 2018, 12:17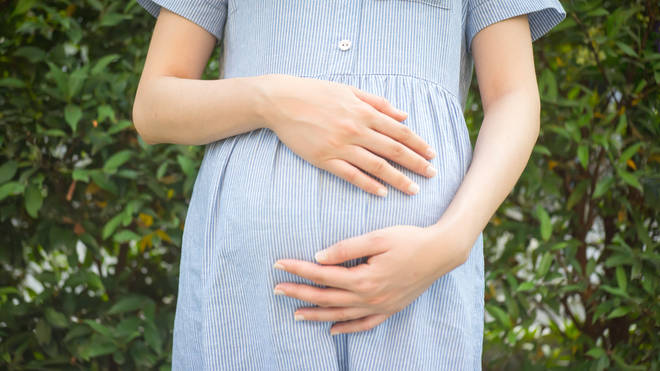 A pregnant woman claims she was forced to cancel her baby shower and throw a smaller one after guests criticised her unborn baby's name.
A woman has posted on Facebook about uninviting family-members to get baby shower because they made fun of her unborn child's name.
She revealed that she was planning a smaller event for people who had not criticised the name, which she revealed to be 'Squire Sebastian Senator'.
Read more: New trend sees parents give their baby daughters boys' names
The post, which was shared on Reddit, starts off: "Dear Members of the Squire Sebastian Senator Babyshower.
"I have a really important announcement to make. It brings me pain to have to tell you this, but I am cancelling the event. I will text you soon if you're invited to my smaller, more inclusive party. At least no one will judge me.
"Why? Why am I doing this?
"Because y'all have been talking s*** about my unborn baby. AN UNBORN CHILD. How can you judge an unborn child?? What is wrong with you??
The woman then goes on to claim that those closest to her have been giving her a hard time about the chosen name, saying: "To say this frankly, my friends and family have treated me like total s***.
"They've spread rumours and lied about my child. No, I am not crazy. No, I am not mentally unstable. No, I was not drunk when I named my child.
"His name is Squire Sebastian Senator.
"That is that.
"You cannot force me to change his name. This is the name I Was meant to give him.
Read more: Cartoons, the 70s, and BBC dramas inspire new wave of baby names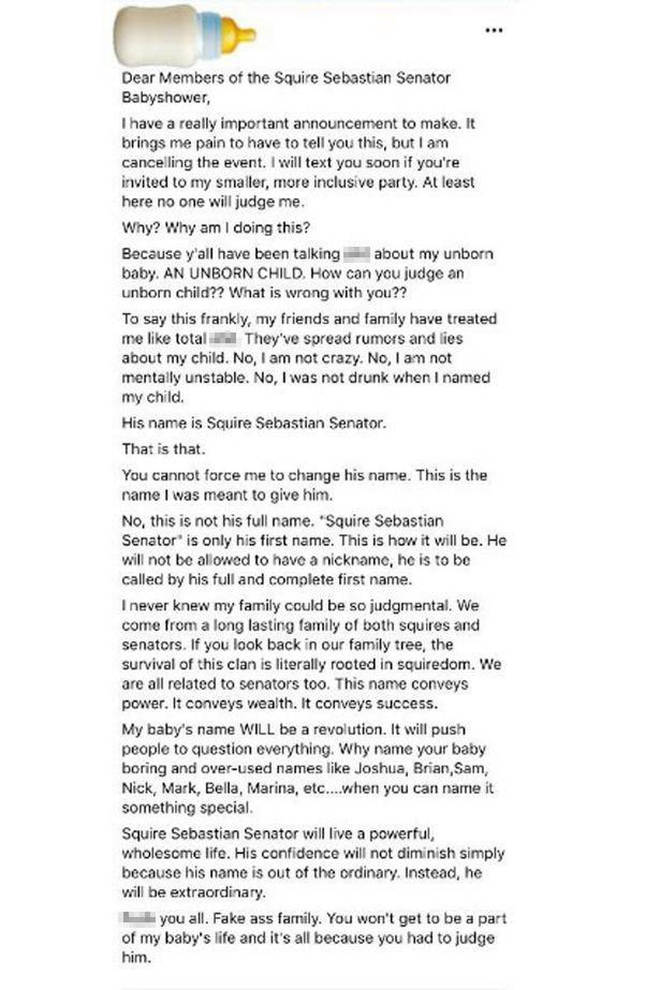 The woman goes on to clarify that the three word name is in fact just his FIRST name, and not first name, second name and surname. "No, this is not his full name. 'Squire Sebastian Senator is only his first name. This is how it will be. He will not be allowed to have a nickname, he is to be called by his full and complete first name.
"I never knew my family could be so judgmental. We come from a long lasting family of both squires and senators. If you look back in our family tree, the survival of this clan is literally rooted in squiredom. We are all related to senators too. This name conveys power. It conveys wealth. It conveys success.
She insists that the name is superior to other monikers she could have chosen, saying: "My baby's name WILL be a revolution. It will push people to question everything. Why name your baby boring and over-used names like Joshua, Brian, Sam, Nick, Mark, Bella, Marina, etc…. When you can name it something special.
"Squire Sebastian Senator will live a powerful, wholesome life. His confidence will not diminish simply because his name is out of the ordinary. Instead, he will be extraordinary.
"F*** you all. Fake ass family. You won't get to be a part of my baby's life and it's all because you had to judge him."
NOW READ:
New research claims SUCKING your baby's dummy reduces allergy risk
Baby bouncers and walkers are HARMING your child
A singing Baby Shark toy is being released just in time for Christmas