Watch the heart stopping moment toddler gets lifted into the air by garage door
16 November 2018, 12:36 | Updated: 16 November 2018, 13:27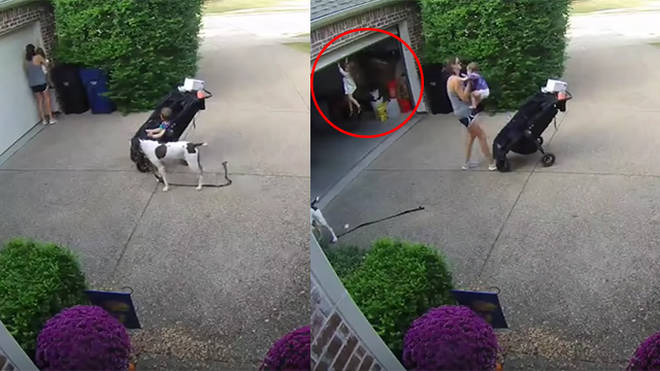 The little girl grabbed onto the garage door while her mum's back was turned and gets pulled into the air in this shocking footage.
Mum of two Erica Dilley shared shocking footage that showed her daughter get lifted up in the air by a garage door.
The video shared on her YouTube page is living proof that parents need eyes in the back of their heads.
In the clip, her daughter can be seen flying in to the air as the electronic garage door opens.
Read more: Mums horror at finding her 6-month old locked in nursery after it closed
In the video - titled 'Toddler Ninja Warrior' - Erica is seen tending to her youngest child in a buggy and turns around for only a matter of seconds.
In the meantime, her toddler has wandered over to the garage door and grabbed it while it is opening.
She doesn't let go, and is quickly hoisted into the air and dangled over the entrance to the garage before Erica notices and rushes to get her down.
Thankfully her little girl wasn't hurt but it has gone viral online as a lesson in how turning your back for a split second can be dangerous - or even fatal.