December Lust List: Festive goodies, new releases and more out this month
8 December 2021, 17:54 | Updated: 17 December 2021, 14:32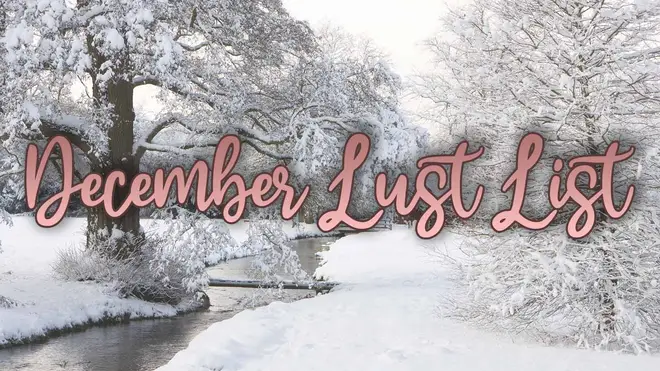 We've found loads of brilliant (and delicious!) new releases and openings coming this month, you might want to add them on your Christmas list while there's still time...
Catrice New Year's Countdown Calendar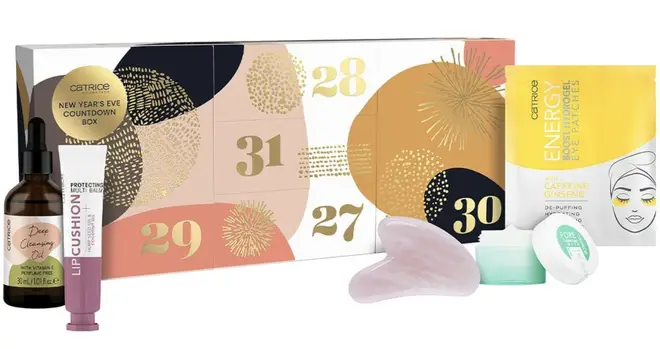 There's something strangely bittersweet about opening door 24 on your advent calendar - even if you know there's more presents waiting for you the next day.
Reignite the joy-of-opening-windows with this calendar designed for the no man's land between Boxing Day and New Year's Eve.
There are five products that will give you a boost and a touch of glam on the big night waiting to be discovered from December 27 until the 31st.
Where to buy: Just My Look, £12.35 (reduced from £18.95)
Mince pie waffle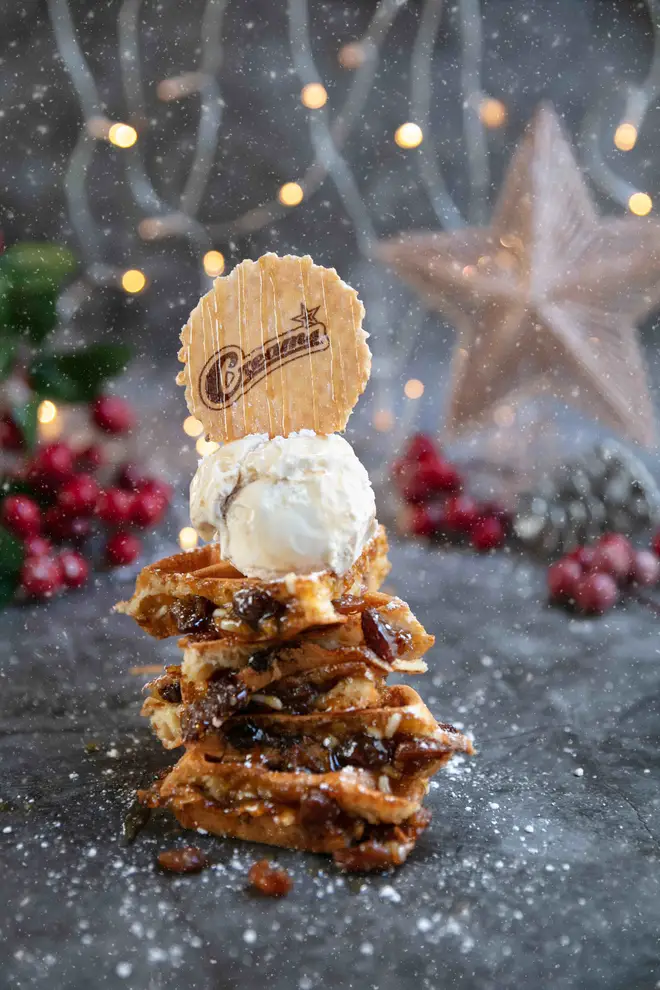 It's never too cold for ice-cream, but you can definitely make it more festive by throwing in a mince pie waffle!
It's the latest creative creation from the team at Creams, and features one of their classic golden waffles stuffed with indulgent mincemeat, topped with sumptuous salted caramel gelato and sticky maple syrup with a dusting of cinnamon and icing sugar, along with a crisp Creams wafer.
Where to buy: Creams Café
Christmas Mini Babybel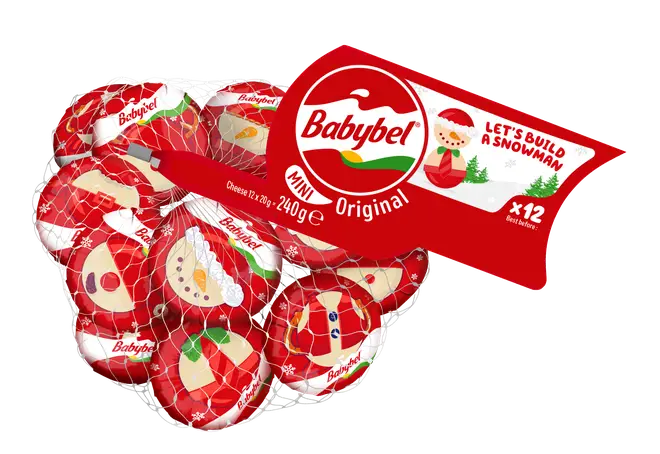 It's not just Santa who is famous for his snug red outfit, Mini Babybel cheeses rock the look too!
And this year they have even more in common with their festive fashionista twin as special Christmas editions are released.
There's an array of fun festive designs in packs of 6, 10, 12 and 15 Original and Light Babybel, featuring Santa faces and festive outfit options - perfect to mix and match!
Where to buy: Available until 2nd January, at supermarkets nationwide
Sprouts Direct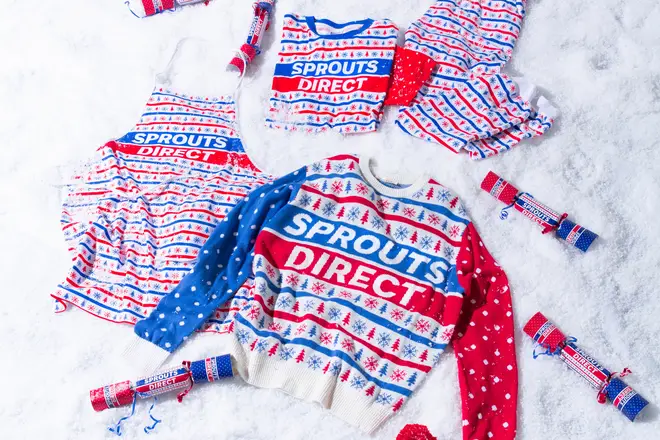 Office workers know that the giant Sports Direct mug is the most valuable chalice of the tea break.
And now everyone's favourite sports shop has ventured in to the world of Christmas clothing with a cheeky twist on its brand name - get ready for Sprouts Direct.
Available in sizes XS to XXXL the whole range includes...
Malibu Christmas goodies
Proving that Malibu Rum is not just a perfect summer tipple, they have just brought out a new line of Christmas merch, including furry bucket hats, fluffy stockings and faux fur sliders.
Paying homage to the coconut flavoured rum's iconic white bottle, their soft texture also looks very snow-like. Cheers!
Where to buy: Malibu store, prices start £19.99
No pigs in duvets prosecco brunch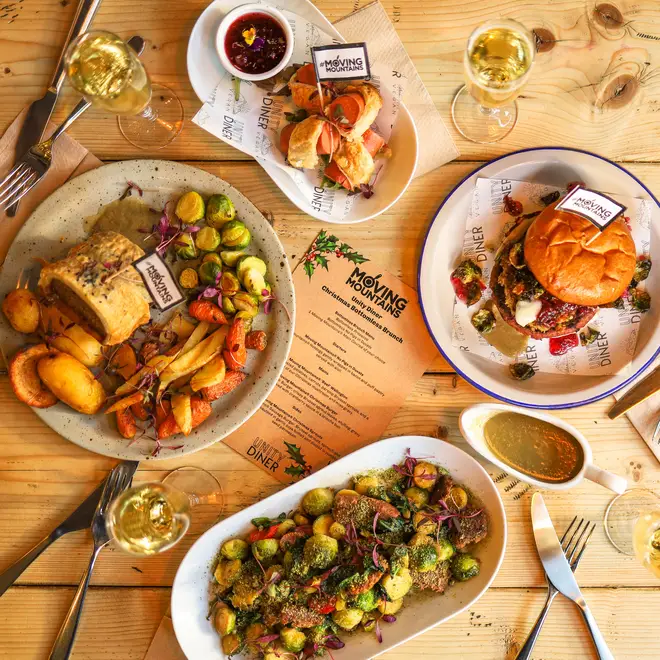 To celebrate the launch of their festive menu, Moving Mountains has teamed up with Unity Diner to offer the No Pigs in Duvets Bottomless Brunch.
It is running throughout December between 12-5pm, Tuesday - Friday and for £45pp, diners can choose a main course which will come accompanied by an unlimited supply of Moving Mountains'® No Pigs in Duvets and Prosecco!
Unity Diner is located at 60 Wentworth Street, London, E1 7AL.
Everleaf X RALA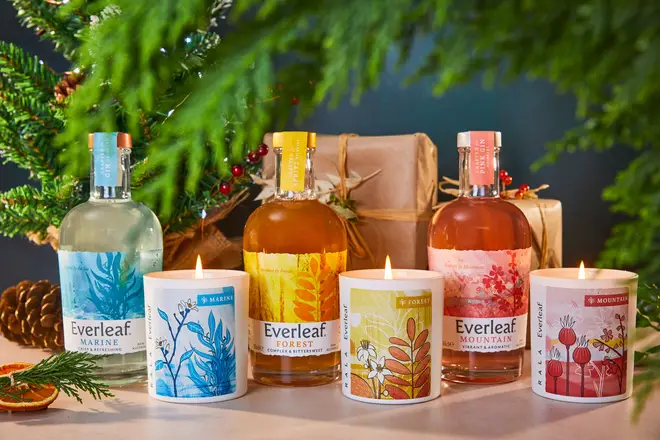 If just the thought of going to a Christmas party gives you a sore head, it might be good opportunity to get acquainted with non-alcoholic cocktails and spirits, like Everleaf.
The award-winning non-alcoholic aperitif has partnered with vegan natural independent candle brand, RALA, to create a range of limited edition luxury candles.
Each candle delivers a perfect encapsulation of each of Everleaf's three expressions, and 20% from each bundle will be donated to the global conservation charity, Fauna & Flora International (FFI).
Where to buy: Everleaf, £40 each
Vegan Boursin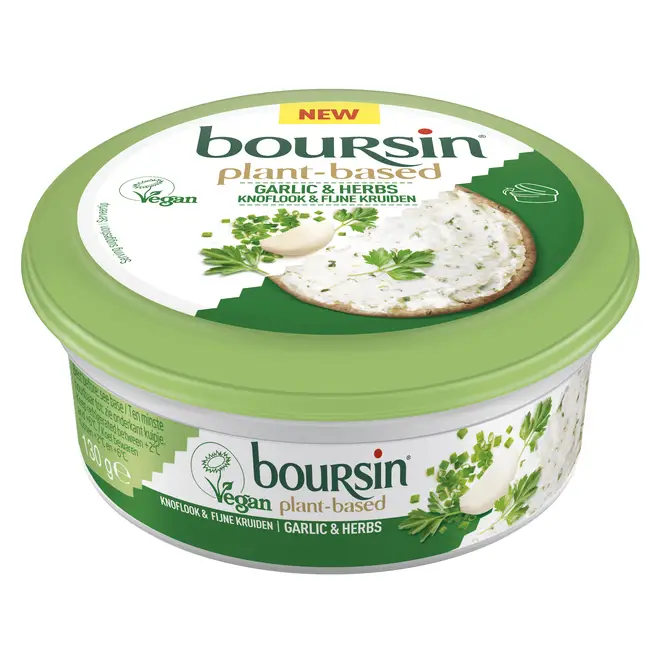 Boursin Plant-Based Garlic & Herbs is inspired by the recipe of the original Boursin with a delicious combination of intense garlic, fragrant parsley and chives, while a sunflower oil base gives it a deliciously spreadable texture.
It will be available nationwide from February 2022, but for now (and throughout Veganuary) it will be available in Sainsbury's.
Where to buy: Sainsbury's, RRP £3
Happy Face Pizza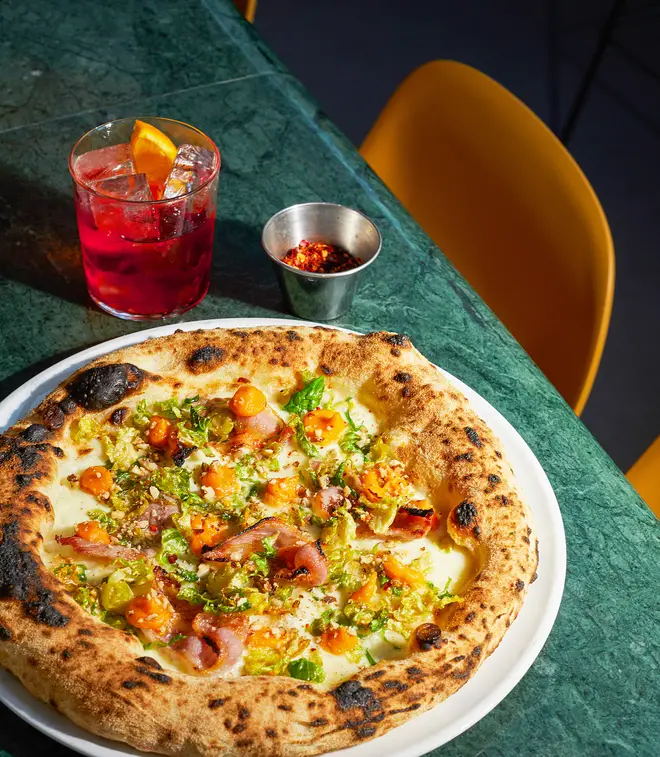 The new Xmas Special Pizza at super-cool London restaurant Happy Face takes festive cheer to a whole new level.
It's topped with fresh mozzarella, crisp guanciale, butternut squash, walnuts and crispy fried Brussel Sprouts.
At the bar, there's the Festive Negroni - Gin, Campari and Vermouth mulled with cinnamon, cloves, and star anise.
Get to Kings Cross during December to give them a try - you won't regret it!
For more information visit Happy Face Pizza
Mr. White's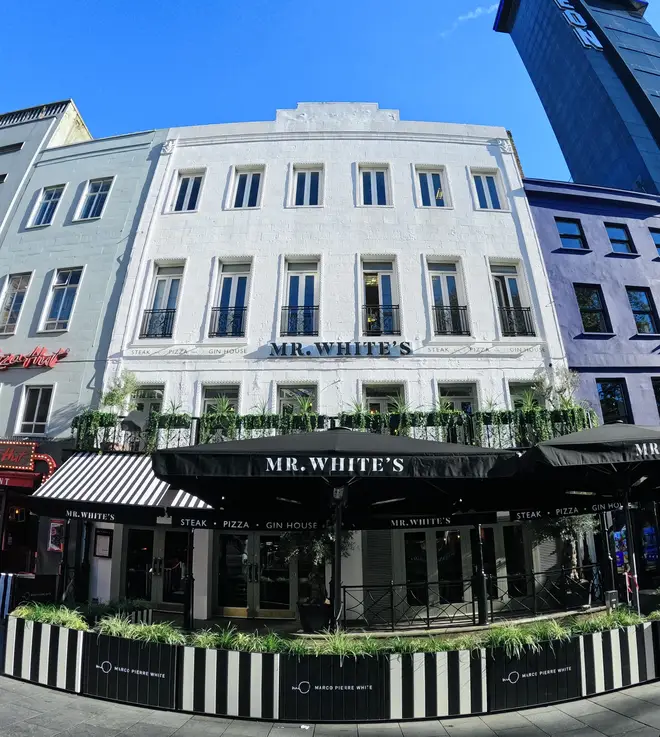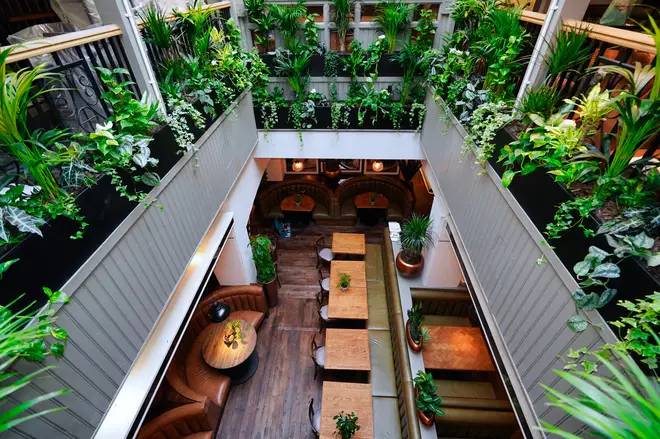 The newest restaurant from Marco Pierre White, Mr. White's serves succulent steaks, authentic Italian pizza and Mr. White's very own London Dry Gin in a vibrant and lively restaurant and bar.
Located in Leicester Square, it's the brilliant place to grab a meal before heading out to the bars or theatre, or after a long day Christmas shopping on Oxford Street.

Visit the Mr. White's website for menus and booking
Tastily festive meal delivery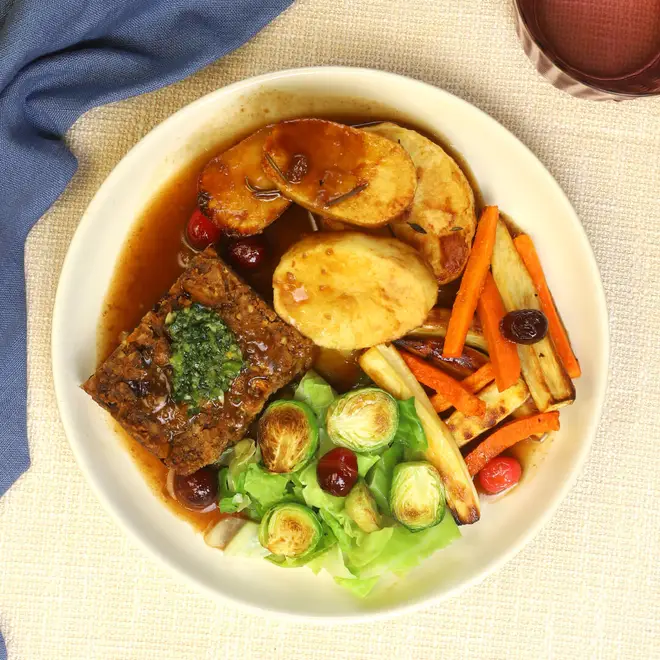 Tastily is a fresh, pre-made meal subscription service, that delivers delicious and nutritionally meals created by Michelin-trained chefs direct and fresh to food lovers across the nation.
They have now released their festive menu which includes Vegan Chicken Dinner with fondant potatoes, caramelised maple carrots and parsnips, steamed greens and roast Brussel sprouts.
Meanwhile, their Chestnut & Cranberry Nut Roast is made with a delicious mix of squash, herbs, spices, nuts, chestnuts, dried fruits and chickpeas.
The Trade Xmas Sandwich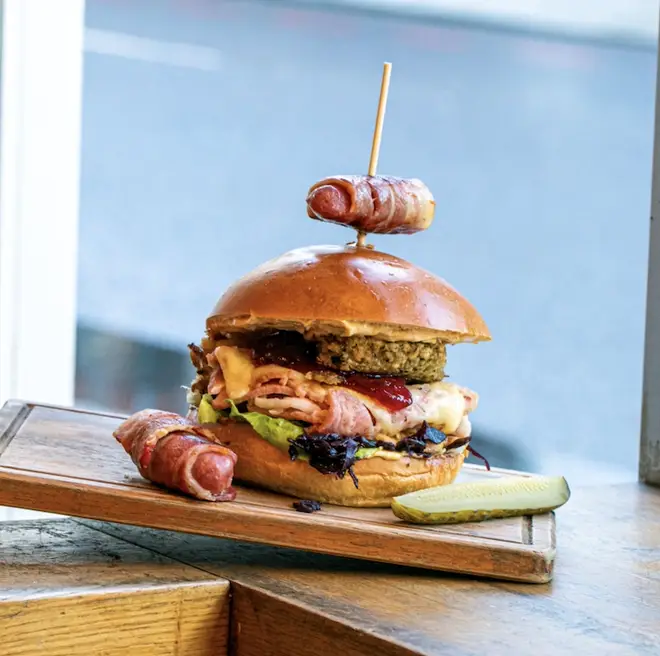 If you're in London this month and feeling extra hungry, Trade's enormous Christmas sandwich will fill the gap.
It's filled with smoked turkey, bacon, cranberry sauce, stuffing, red cabbage, and pigs in blankets - and a bit of lettuce!
They have stores at Old Street, Essex Road and Spitalfields.
Where to buy: Trade, £14
Doña Party Box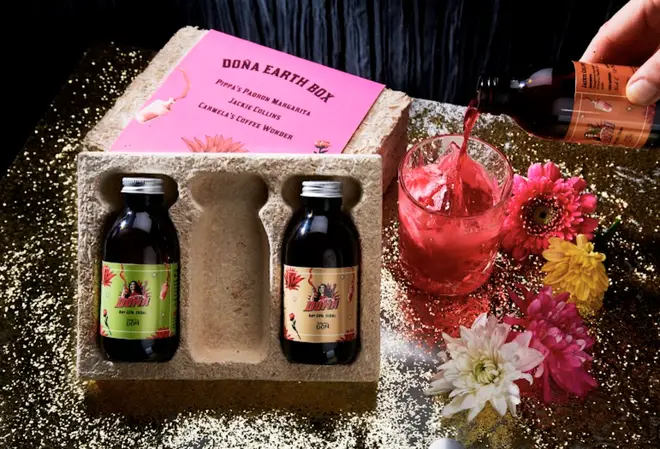 Need to chill after a hectic day of wrapping or want to send a surprise gift to a pal for being the best Christmas shopping buddy ever?
The eccentric and passionate Doña duo, Thea Cumming and Lucia Massey have teamed up with The Drinks Drop and created a great gift for mezcal lovers, a box of three delicious pre-mixed cocktails.

Pippa's Padron Margarita - Padron Pepper infused Dangerous Don Espadín, Orange Liqueur, Agave, Sherry, Supasawa
Jackie Collins - Dangerous Don Mandarina, Hibiscus, Vanilla, Essex Honey, Soda
Carmella's Coffee Wonder - Dangerous Don Café, Sweet Vermouth, Coffee Liqueur, Espresso, Coconut
Where to buy: Doña Party Box, £30 with delivery nationwide
Papa John's dip baubles
Thrill the pizza lover in your life with a special bauble containing a delicious Papa John's dip.
Perfect for office Secret Santa, the set has three baubles each containing one of the delivery chain's beloved dips, including iconic Special Garlic.
Not only are they fun but they help raise funds for Crisis, a charity that aims to end homelessness across the UK.
Where to buy: Papajohnsdipbaubles.co.uk, £5.99
PAUL Christmas sandwiches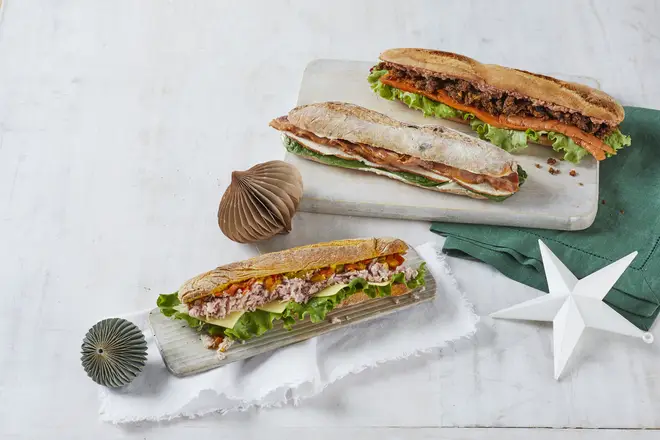 Don't wait until after Christmas for a mouth-watering turkey sandwich - grab one from PAUL now.
The French bakery also has vegan and ham hock filled baguettes available, plus some VERY indulgent pastries - the chocolate orange pain au chocolat especially went down a treat in the office!
There's also a Baileys eclair, and their seasonal favourite, the 'mince pie croissant'.
Where to buy: PAUL, nationwide