Woman charges husband £250 a month for cleaning their house
18 August 2023, 12:27 | Updated: 18 August 2023, 13:39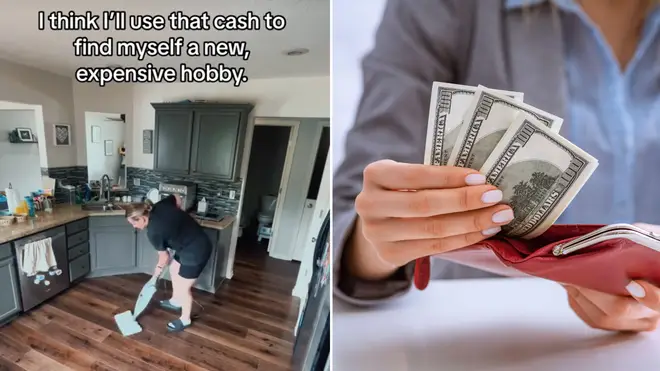 The savvy wife secretly pocketed the cash and planned to put it towards an "expensive hobby".
A woman has been praised for charging her husband $250 a month for deep-cleaning the house they share with their children.
The busy mum, who goes by @themamabrianna on TikTok, shared a time-lapse video of herself steam-mopping her kitchen floor with a message written over the top to explain the backstory.
She began: "On the first of every month, $250 comes out of my husband's bank account. It's for our house cleaner. The house gets deep cleaned on the first of every month."
Brianna, who shares two toddlers with her husband, admitted she first asked for help at home when she was expecting her second baby.
"I asked for a house cleaner years ago, when I was pregnant and vomiting ten times a day while also caring for our one year old," she revealed.
"At the time, my husband said it wasn't in our budget.
"But a few months ago, he asked if I still wanted to have a regular house cleaner.
"Obviously, I said yes," she confirmed.
The social media star, whose video has since gone viral with over 7.6million views, explained that she told her partner she would set it all up and just needed "$250 cash monthly to pay her".
She added: "So he's been getting $250 in cash for me every month to pay the house cleaner, but what he doesn't know, is that I'm the one who's been deep cleaning the house on the 1st of every month.
"I've just been pocketing the cash.
"I think I'll use that cash to find myself a new, expensive hobby.
"My husband doesn't seem to mind those."

Mothers and wives who follow the TikToker were quick to applaud Brianna's savvy trick to earn some extra cash.
"As a professional house cleaner, I feel you STRONGLY need to increase your house cleaner's pay. Far too cheap ;)," joked one user.
But many highlighted the deeper message the content creator was trying to communicate and applauded her for sharing the potentially life-saving tip.
At the end of the video, Brianna wrote: "If you feel the need to hide money from your partner in order to plan your escape, check the resource in my bio," with a link to the National Domestic Violence Hotline.

An outpouring of messages flooded her post following the heartbreaking finish, which hit a nerve with many of her followers.
One women's aid worker wrote: "From someone who works at a domestic abuse shelter thank you for what you do!"
"Sad how I immediately knew it was for a way out. I say the cleaner raises prices to $500/monthly starting on this month," wrote another.
A third urged: "To the wives thankful they've never had to save secret money - please start saving secret money!"
While some fans were confused by the content, one follower summarised what Brianna was trying to get across, writing: "To make sure I've got this right, she's safe, she just wants an expensive hobby but this could be a good idea for ppl that need to get out?"
The TikTok star confirmed that was her exact intention, simply replying: "WINNER WINNER".
Read more: